Rani Ki Vav – The Queen's Stepwell
Rani ki Vav is considered as the finest and one of the largest example of stepwell architecture in Gujarat, India. It was built at the height of craftsmens' ability in stepwell construction and the Maru-Gurjara architecture style, reflecting mastery of this complex technique and beauty of detail and proportions.
Situated in the town of Patan, Gujarat, India, it is the finest and one of the largest examples of its kind and designed as an inverted temple highlighting the sanctity of water. The stepwell is divided into seven levels of stairs with sculptural panels; more than 500 principal sculptures and over a thousand minor ones combine religious, mythological and secular imagery.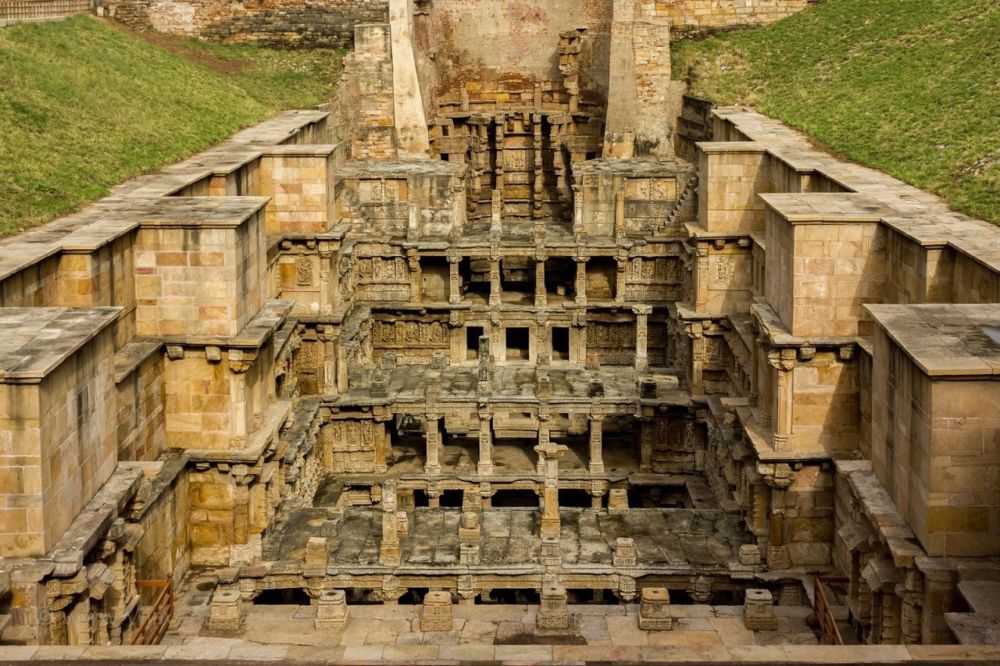 The construction is attributed to Udayamati, daughter of Khengara of Saurashtra, queen of the 11th-century Solanki dynasty and spouse of Bhima I. Silted over, it was rediscovered in 1940s and restored in 1980s by the Archaeological Survey of India. It has also been listed as one of UNESCO's World Heritage Sites since 2014.
Rani ki Vav measures approximately 65 metres (213 ft) long, 20 metres (66 ft) wide and 28 metres (92 ft) deep. The fourth level is the deepest and leads into a rectangular tank 9.5 metres (31 ft) by 9.4 metres (31 ft), at a depth of 23 metres (75 ft). The entrance is located in the east while the well is located at the westernmost end and consists of a shaft 10 metres (33 ft) in diameter and 30 metres (98 ft) deep.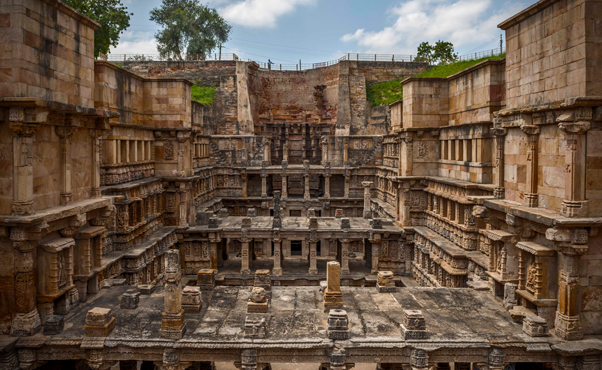 The walls, pillars, columns, brackets and beams are ornamented with carvings and scroll work. The niches in the side walls are ornamented with beautiful and delicate figures and sculptures. There are 212 pillars in the stepwell.
The ornamentation of stepwell depicts the entire universe inhabited by gods and goddesses; celestial beings; men and women; monks, priests and laity; animals, fishes and birds including real and mythical ones; as well as plants and trees.
The stepwell is designed as an underground shrine or inverted temple. It has spiritual significance and represents the sanctity of water. The sculptures in stepwell depicts numerous Hindu deities including Brahma, Vishnu, Shiva, goddesses (Devi), Ganesha, Kubera, Lakulisha, Bhairava, Surya, Indra and Hayagriva.
There are large number of sculptures portraying women in their everyday life and activities. These women sculptures are adorned with jewelry including bangles, earrings, necklaces, waist girdles, anklets and others as well as with elegant clothes and well combed hairs. The variety of expressions and emotions are depicted in them. They represent beauty as well love in its sublime and seductive form signaling eroticism.
There are sculptures representing maternal love such as a woman holding her child and pointing to moon to divert his attention, a woman raising her child high to let him pick a mango from tree, a woman in a mango grove with children with her.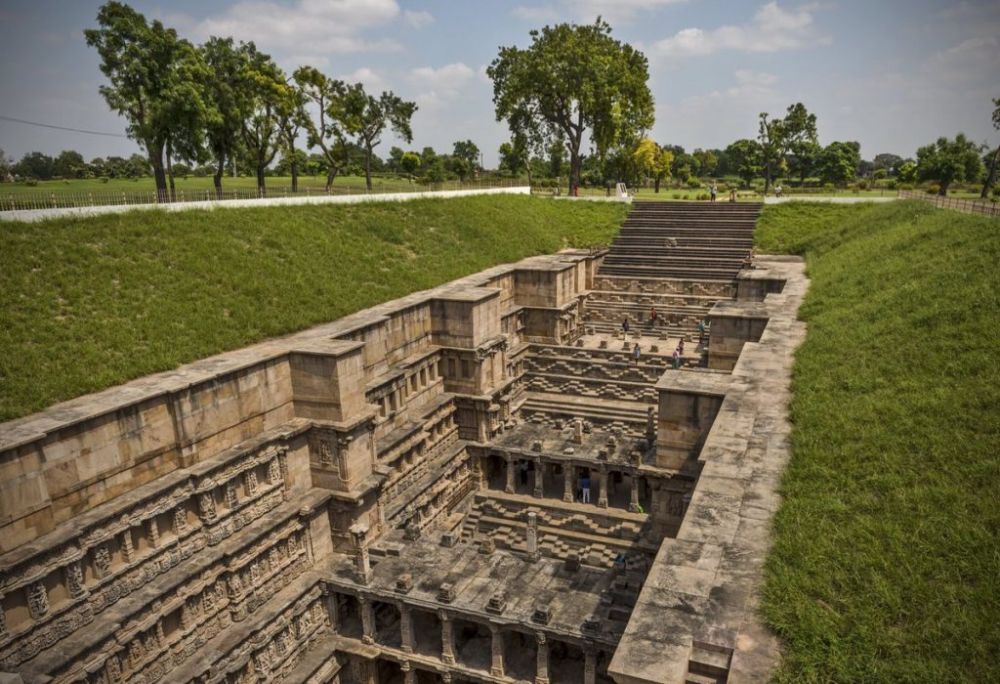 Cantilevered brackets in well shaft Geometric lattice patterns and designs resembling Patola textile designs. There are gradually increasing cantilevered brackets in the well shaft which are profusely ornamented. There kalpavriksha carvings on the wall repent fertility and nature worship while kirtimukhas and makaras adorn the basements and capitals of pillars.
On the northern side wall of entrance of the stepwell, there are geometric lattice patterns and designs resembling designs of local textile tradition of Patola. They may have been adapted from the wood carvings and the ceilings of the temples. Animal figures of horses, elephants and lions are used as decoration of pillars and basement moldings. Since July 2018, the ₹100 banknote of Mahatma Gandhi New Series, features Rani ki vav on the rear side.
With inputs from the various online sources