Tropical theme bakery– Architect Asit B Gupta
Architecture is a fascination with life. Architecture is a celebration of life. This understanding explains the core design philosophy of the team 'Studio Clay'. Established in the year 1999, Studio Clay is a design firm based in Meerut, specializing in Architecture, Interior, and landscape design. Founded by Architect Bharat B Gupta and headed by principal architect Asit B. Gupta, the firm designs spaces from home to workplaces.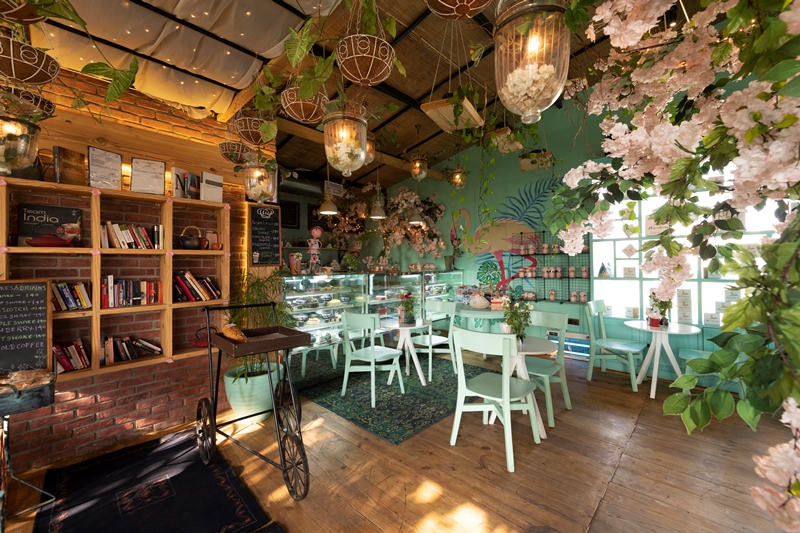 The firm has recently renovated refurbishing & reorienting a sparsely used warehouse for their old client. "The client's brief was simple in words but complex in conception. This warehouse, standing on the periphery, was a later addition to 'Grand 5', a sprawling banquet and fine dining complex, which was also designed some years back by us." architect Asit Gupta.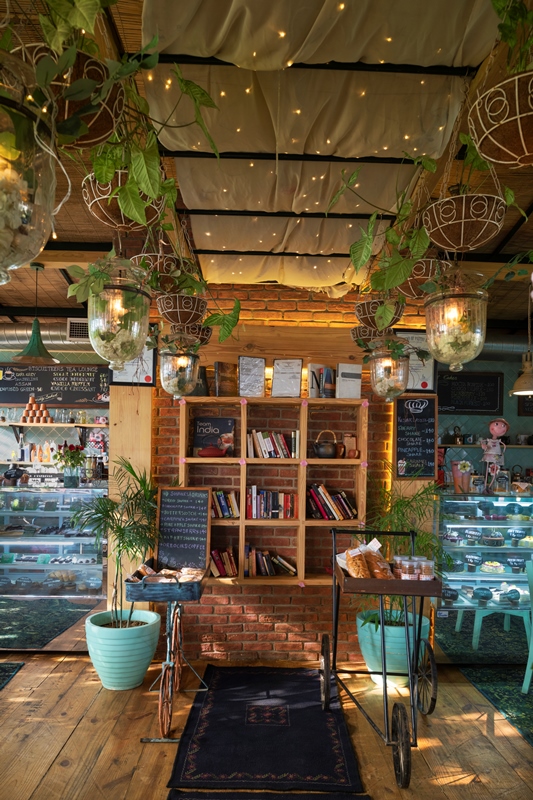 "Our client's vision was now to convert this existing structure into a bakery, to extend his catering and banquet portfolio. He visualized it as a spacious social space which would stand out for its out of the box approach and lively feel. Space, given the size of the building, was not going to be a problem but to negotiate around the cramped glitz associated with bakeries of Meerut was easier said than done, he added"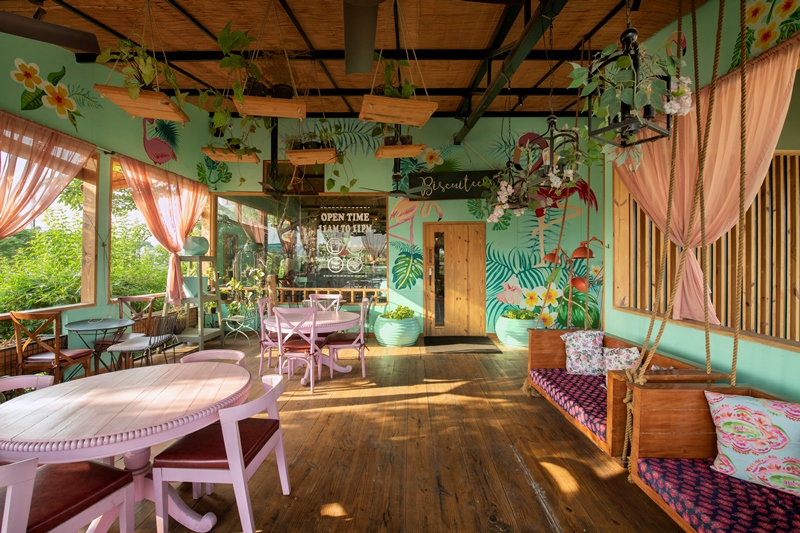 Existing bakeries of Meerut city followed a set template – mirrored walls, over-lit interiors, and overflowing displays. We were asked to eschew all of this. Our team brainstormed on and toyed with, lots of ideas ranging from Irani eateries of Mumbai to old Milanese cafes, but all the different elements were not falling into one coherent theme until we decided to build upon the central element of the original 'Grand 5' complex – green landscaped spaces.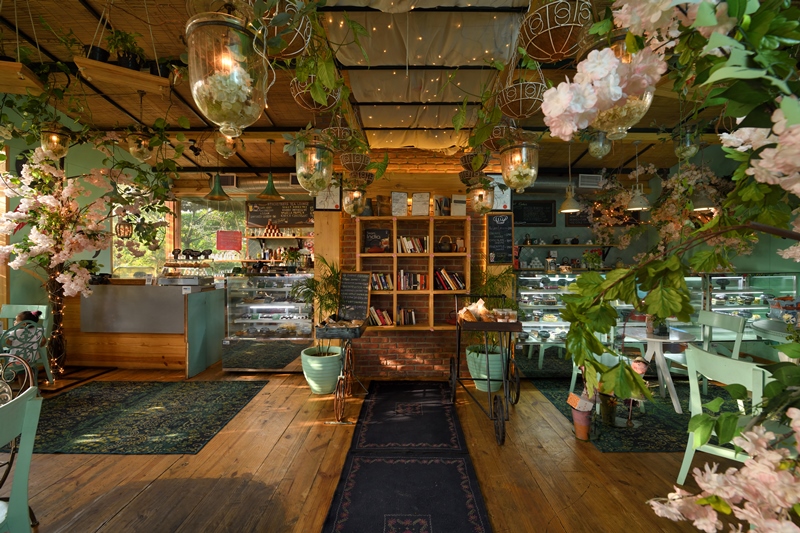 'A theme which could strengthen the existing green environment of the banquet.' Due to the constraints of the preexisting structural design, we had to mass the entire bakery and the attendant seating area on the first floor, and designate the ground floor for holding small parties and banquets.
To execute then our theme of open tropical space, we decided to use lots of wooden hanging flower pots in addition to big potted plants on the floor. Projection of the staircase landing was not covered and used as a selfie point while rest of the remaining perimeter was paneled with transparent glass to not only enhance the outdoor feel but also to make full use of the landscaped lawns of the 'Grand 5' complex.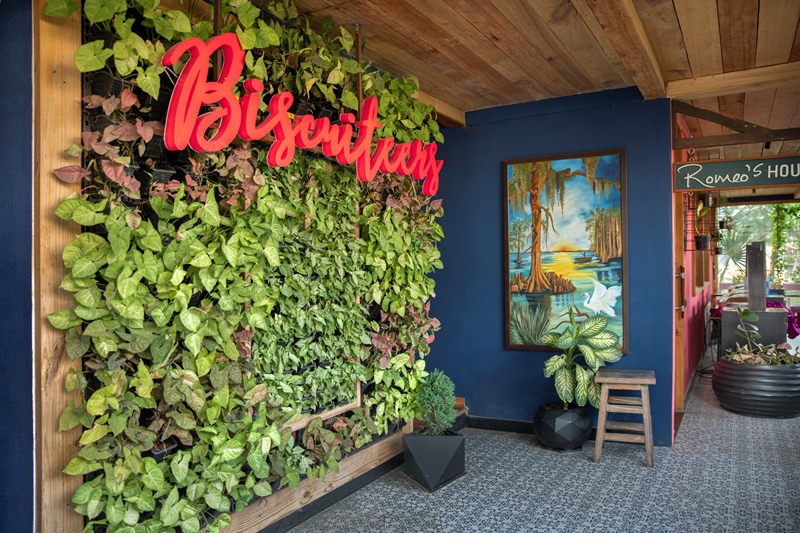 The execution was successful as much that patrons sitting would feel that they are in a Hawaiian space where minimal structural elements are jutting out here and there – the interplay of greenery and building is loaded firmly in favor of the former. So much so, that in extending party space on the ground floor, it was decided to build around an existing tree rather than cutting it. Juxtaposed with this is the centrally placed bakery on the first floor.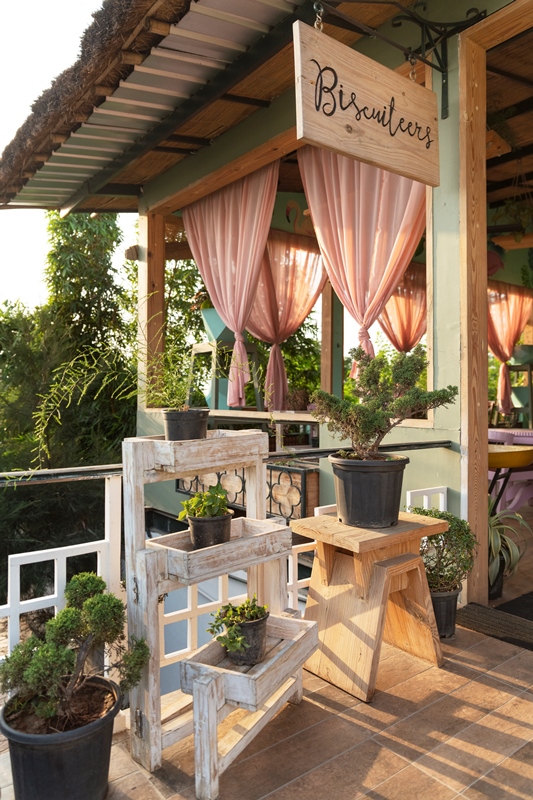 The wooden display and counter spaces shun clutter and are, with the help of subdued lighting, reminiscent of the bakeries still found in some colonial towns such as Dehradun. Old world charm is complemented by unostentatious wooden table-chairs and swings where people of different tastes and age can socialize according to their mood.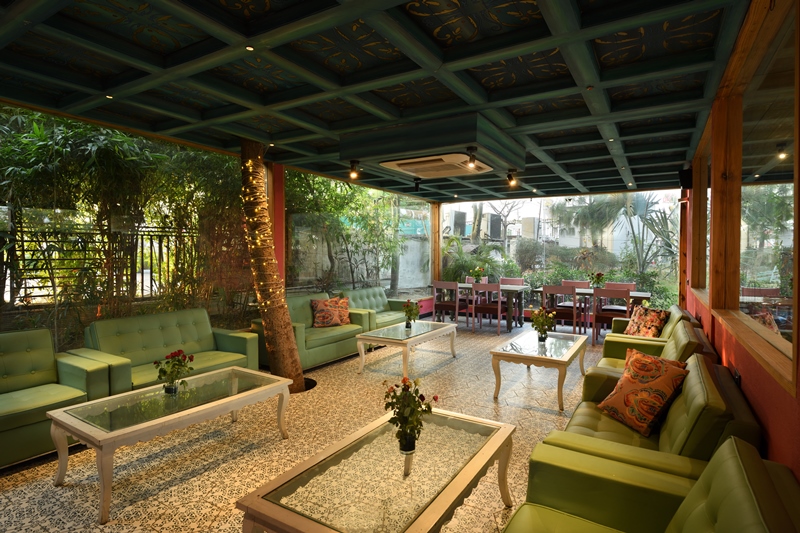 This teaky arboreal look is sealed with wooden flooring and environmental friendly hatch roof. In fact, when Robin wanted to add to seating choices by casting a 'chaupal' like space in one nook, we went in for ethnic looking seat in polyresin, cast in situ, to not disturb the thematic feel; the earth tones match very well with the greenery to simulate the outdoors. Even accoutrements like window draperies in pastels ensure that they should not overshadow the central motif by standing out.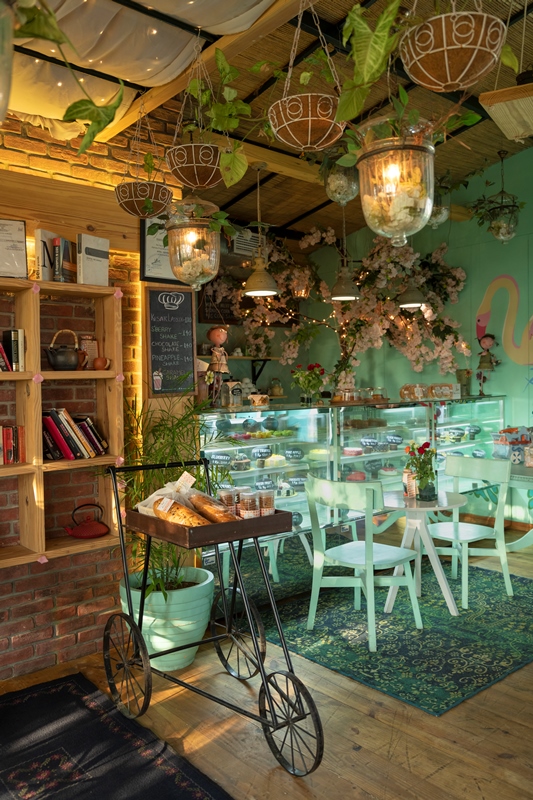 The design team in the end could justify the trust reposed in it by the client in creating an enclosed space that feels open and green with a lush garden or home lawn feel. Inside, lulled by the designed atmosphere, you can but scarcely believe that one is sitting next to a busy highway and not in some remote tropical island resort sipping a cappuccino and nibbling biscotti.