Tips for Greco Roman Decor Style
Greco Roman style décor looks grand and is just right for this season. We present some quick and easy ways to infuse this style into your space.
We may or may not notice it, but the Greco-Roman style is all around us. It has been one of the most enduring styles in architecture and design. Greco-Roman can provide a dash of instant opulence to an otherwise simple room with very easy additions.
Popular ways of incorporating Greco-Roman style include stately columns, detailed sculptures, and intricately scrolled ironwork. It has an air of formality, with a sense of grandeur, and can be used for any space with wonderful results. We provide you with some easy ideas to bring Greco-Roman to your space:
1.Colors
Greco-Roman style consists of traditional colors such as natural browns, reds, and greens which are inspired by the nature and earth. The natural palette feels comfortable, and it can be played up with deeper tones for more richness. The Greek influence can be highlighted with a white base with pops of cool colors such as Mediterranean blues, sea foam greens, and royal plums. The light colors strikingly contrast with the cool colors and pops of unexpected bright yellows can make for cheery spaces. Additionally, this palette lends itself well towards a Greco-Roman beach style.
A common color is gold and is used as an accent to give that touch of regality attached to this style. Just make sure not to go over the top and balance with the other natural palette.
An easy way is to create accent areas with mosaic tiles, with topped tables, borders of walls, centers of rooms, or ceilings. You can create a mosaic tile around the important areas such as the dining area, washbasins, bars etc. Mosaic tiles not only add color, the stone emphasizes the natural quality of Greco-Roman style.
You can also paint a wall mural in the Greco-Roman style, adding traditional Greek designs like olive branches, birds or figurines.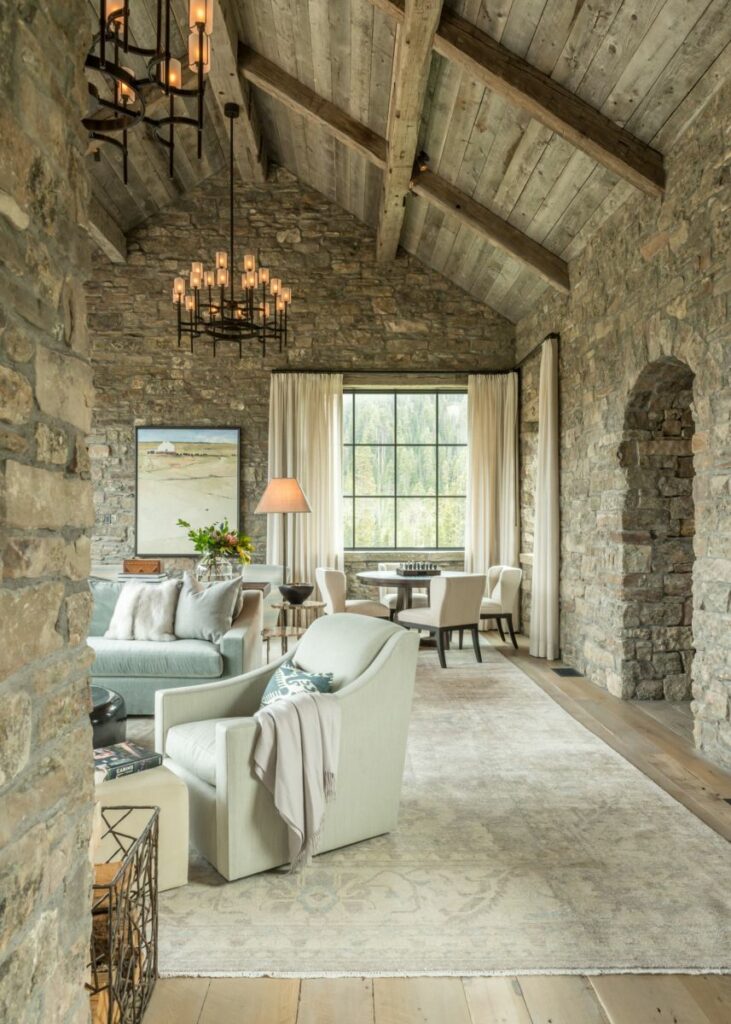 2. Textures & Fabrics
Greco-Roman style emphasizes natural textures and fabrics in conjunction with elegant detailing. Look for leather, linen, silk, and wool fabrics or you can also use light weight drapery in silk or linen to add a level of casual richness. To heighten the look you can use Roman shades, they will also help in blocking out the sunlight.
Floors need to have stone and concrete with the mandatory mosaic tile detailing. Wooden floors work well too, especially darker wooded floors. Use rugs sparingly and if absolutely essential than remember to choose grey or stone colors.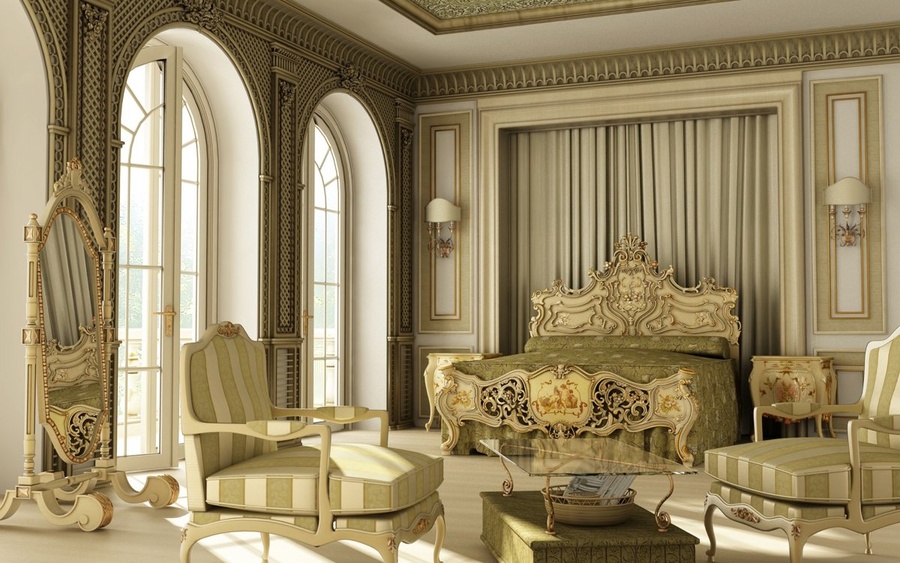 3. Furniture Styles
The perfect furniture for a Greco-Roman style décor should either be wood or stone. Look for weathered wood pieces particularly with carved detailing, scrolled iron legs. Many stores even offer tables featuring glass tops on columns or statues of lions. These add a sort of elegant grandeur that is a little larger than life. When seeking seating, look for straight-lined sofas for a touch of formal luxury.
Things to Consider:
Before you start, consider whether you want masculine Greco-Roman or modern, feminine Greco-Roman. Based on your choice choose décor items that will give the corresponding energy to space. Masculine will bring a lot of male figurines, statues, and emphatic detailing such column décor, etc, female décor ideas will comprise of female figurines, statues that can also be flower vases, coiled iron artwork, dried flowers, etc. The objects within a room play a dominant role in deciding what underlying themes will be represented.
Color Image Courtesy: Masquespacio for Roca- Casa Decor
Textures & Fabrics Image Courtesy: JLF & Associates, Inc.
Furniture Styles Image Courtesy: zingyhomes