Aym Design Pte Ltd recently completed a project for the Select Metals Group in Singapore, we bring to you a look…
Amy Picanco originally trained as an Interior Architect in the UK but became deeply inspired by the diverse mix of cultures and styles that Asia offered. After a move to Singapore she finally founded Aym Design she finally founded Aym Design is an Interior Architecture + Design Studio based in Singapore.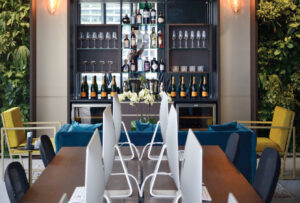 They have a very holistic approach to design and believe not only in the importance of building a strong relationship with their client but also in generating a rich understanding of the client's company as a whole. They offer many services including developing layout plans that are very focused on design development and are known for their project management skills.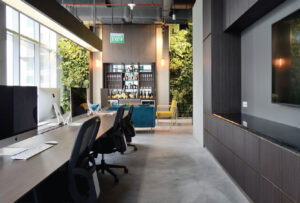 Efficient and creative, their design palette helps you to bring the intangible to a tangible level with the extensive use of mood-boards, atmospheric drawings, and 3D images. It provides a multifunctional workplace, seamlessly marrying the social and practical aspects of the modern- day office.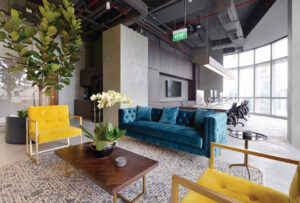 The sleek and performance oriented design utilizes a refined palette of raw concrete, brushed brass and dark chocolate wood tones. Greenery was integral to the client's vision- to employees and guest are with a three-meter potted tree at the entrance. This immediately brings the outside in and maximizes the interior volume. Two lush 5metre floor-to-ceiling vertical gardens enhance the drama of space and frame an art deco style bar. The social space situated by the bar invites visitors and guests to take in the surrounds, have a break and relax after hours. It's the perfect space for entertaining in a relaxed atmosphere designed with a suave sophistication.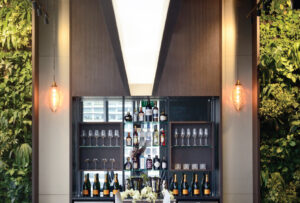 (The article was originally produced in The Tiles of India magazine, May-June 2018 issue)