Reading Time:
3
minutes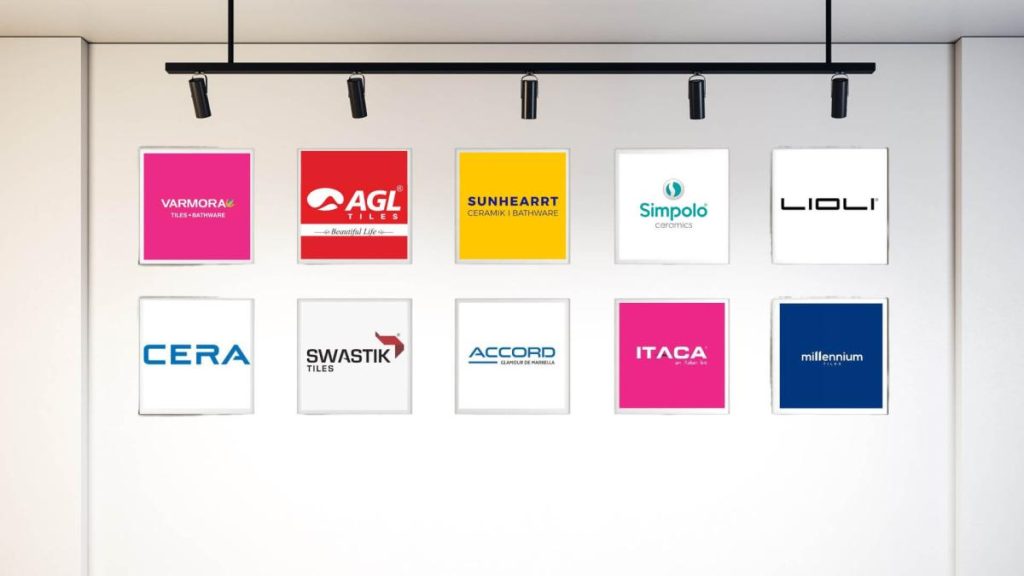 Gujarat's Morbi: The Ceramic Hub of India
When it comes to the world of ceramics, one name that immediately springs to mind is Morbi in Gujarat, India. Over the years, Morbi has transformed into one of the largest ceramic tile clusters globally, earning a well-deserved reputation for its prowess in the industry with the leading tiles manufacturers in Morbi. With countless factories operating ceaselessly to meet the global demand for tiles, The Tiles of India team proudly presents the definitive list of the Top 101 Tile Manufacturing Companies in Morbi, Gujarat.
The Rise of Morbi: A Ceramic Mecca
Morbi, located in the western of Gujarat, has emerged as a thriving hub for ceramic production over the past 2 decades. Its journey from a small town to an international ceramic powerhouse is nothing short of remarkable. Today, Morbi stands tall as a testament to the ingenuity, hard work, and entrepreneurial spirit of its local people. With an ecosystem that nurtures innovation and collaboration, Morbi has become synonymous with excellence in ceramic manufacturing globally.
Unveiling the Top 101 Tiles Manufacturers in Morbi
The Tiles of India team has meticulously researched and compiled an exclusive list of the 101 top tile manufacturing companies in Morbi, Gujarat. From large-scale enterprises to niche boutique manufacturers, this comprehensive guide showcases the diversity and talent that thrives within the region. Each company on this list has been carefully selected based on their exceptional quality, cutting-edge technology, and commitment to customer satisfaction.
Pioneers of Innovation and Quality
The tile manufacturing companies in Morbi are at the forefront of innovation, constantly pushing boundaries to deliver products of unparalleled quality. Equipped with state-of-the-art machinery and employing skilled artisans, these companies utilize the latest techniques and materials to create tiles that are not only aesthetically pleasing but also durable and sustainable.
Meeting Global Demand with Local Expertise
Morbi's tile manufacturing companies have not only conquered the domestic market but have also made their mark on the global stage. With their remarkable local supply chains and export capabilities, they are fulfilling the tile requirements of customers worldwide. From exquisite designs to a wide range of finishes and sizes, these companies offer a vast selection of tiles that cater to diverse tastes and project requirements.
Driving Economic Growth and Employment
The thriving ceramic industry in Morbi has had a significant impact on the region's economic growth, contributing to job creation and prosperity. The presence of these manufacturing companies has created employment opportunities for thousands of skilled and semi-skilled workers, strengthening the socio-economic fabric of the community.
Let's explore our list of 101 Top Tiles Manufacturers in Morbi, Gujarat
Morbi, Gujarat, stands as a shining example of how a small town can transform into a global ceramic powerhouse. The top 101 tile manufacturing companies in Morbi exemplify the industry's commitment to innovation, quality, and customer satisfaction. With their remarkable products, they continue to shape the ceramic landscape not only in India but also around the world. The Tiles of India team invites you to explore this definitive list and discover the exceptional craftsmanship and ingenuity that Morbi has to offer.
Kajaria Ceramics
Rak Ceramics India
Varmora Granito
Sunhearrt Ceramik
Simpolo Vitrified
Asian Granito India (AGL)
Somany Ceramics
H.& R. Johnson(India)
Metrocity Tiles
Nitco Tiles
Lioli Ceramica
Orient Bell Limited
Qutone Granito
Antiek Vitrified
Accord Vitrified
Vita Granito
Sega Ceramics
Lovin Tiles
Cruso Granito
Kripton Granito
Kera Vitrified
Sentosa Granito
Millennium Tiles
Delfina Ceramic
Itaca Ceramics
Sunquro Ceramic
Lorica Tiles
Eddica Ceramic
Letina Ceramic
Skytouch Ceramic
Mod ceramic Industries
Florice Ceramic
Calypso Ceramic
Jubely Tiles
Clay Stone Granito
Simora Tiles
Itoli Granito
Segam Tiles
Simanto Vitrified
Sakar Granito (India)
Finolite Ceramic
Sisam Granito
Logan Ceramic
Rey Cera Creation
Sanvis Ceramic
Silventa Ceramic Tiles
Ashutosh Tiles
Mega Tiles
Mozart Vitrified
Graystone Ceramic
Olivia Ceramics
Scotto Tiles
Sega Granito
Ivanta Ceramics
Sunland Ceramic
Lepono Porcelano
Lexicon Ceramic
Levinza Ceramic
Maps Granito
Lavish Granito
Cygen Ceramic
Vento Ceramic
Cibela Vitrified
Itaca Ceramics
Crevita Granito
Enzo Ceramic
Monolith Surface
Italake Ceramic
Lanford Ceramic
Spento Floor Tiles
GemStone Ceramic
Sisam Ceramics
Jai Ganesh Vitrified
Kia Ceramic
Lizzart Granito
Bronze Granito
Crizal Tiles
Letina Ceramic
Alient Ceramic
Captiva Ceramic
Astis Ceramic
Evona Wall Tiles
Eurocoin Ceramics
Q7 Ceramic
Freedom Ceramic
Bonza Vitrified
RosaBella Ceramic
Spentagon Ceramic
Adicon Ceramic
Big Tiles
Scientifica Tiles
Dunexo Ceramic
Renite Vitrified
Segal Ceramic
Ambani Vitrified
Fusion Granito
Setmax Ceramic
Livenza Granito
G.C Granito
Nobel Wall Tiles
Croma Ceramic