Beijing Daxing International Airport
Beijing Daxing International Airport is a new airport in the Daxing district 46km south of the city center (20 minutes by express train) designed by Zaha Hadid. Developed to alleviate congestion at the capital's existing airport, Beijing Daxing will be a major transport hub for the region with the world's fastest-growing demand for international travel and is fully integrated within the country's expanding transport network.
Initially serving 45 million passengers per year, Beijing Daxing will accommodate 72 million travelers by 2025 and is planned for further expansion to serve up to 100 million passengers and 4 million tonnes of cargo annually.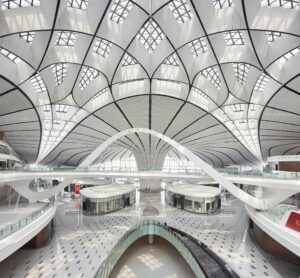 Beijing Daxing's 700,000m² passenger terminal includes an 80,000m² ground transportation center offering direct connections to Beijing, the national high-speed rail network, and local train services, providing a catalyst for economic development in Tianjin and Hebei Province.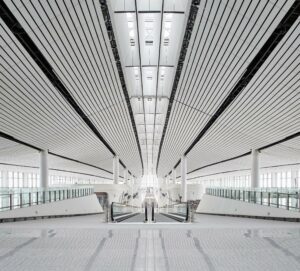 Recently assigned the airport code 'PKX' by the International Air Transport Association, Beijing Daxing sets a new standard in air transport services, serving the region's growing population within a compact and efficient passenger terminal that is adaptable for future growth. Echoing principles within traditional Chinese architecture that organize interconnected spaces around a central courtyard, the terminal's design guides all passengers seamlessly through the relevant departure, arrival, or transfer zones towards the grand courtyard at its center – a multi-layered meeting space at the heart of the terminal.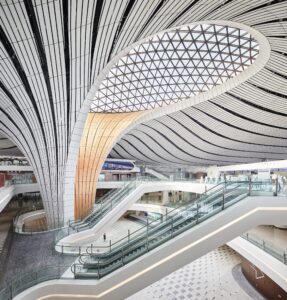 Six flowing forms within the terminal's vaulted roof reach to the ground to support the structure and bring natural light within, directing all passengers towards the central courtyard. Natural light also enters the terminal via a network of linear skylights that provide an intuitive system of navigation throughout the building, guiding passengers to and from their departure gates.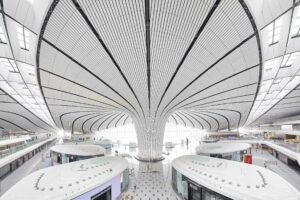 Structural spans of up to 100m create the terminal's generous public spaces and allow the highest degree of flexibility for any future reconfiguration.

The compact radial design of the terminal allows a maximum number of aircraft to be parked directly at the terminal with minimum distances from the center of the building, providing exceptional convenience for passengers and flexibility in operations. 79 gates with airbridges connect directly to the terminal which can rapidly process the passengers of six full A380 aircraft simultaneously.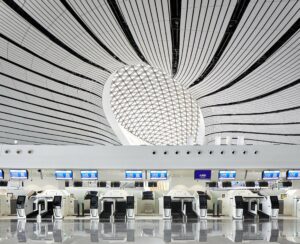 Five aircraft piers radiate directly from the terminal's main central court where all passenger services and amenities are located, enabling passengers to walk the comparatively short distances through the airport without the need for automated shuttle trains. As a result, the terminal's compact design minimizes distances between check-in and gate, as well as connections between gates for transferring passengers. This radial configuration ensures the farthest boarding gate can be accessed in a walking time of fewer than 8 minutes.
Contact Details: www.zaha-hadid.com