Artist Joel Dean Stockdill and Yustina Salnikova have built a life-size blue whale
Artist Joel Dean Stockdill and Yustina Salnikova have built a life-size blue whale out of plastic trash for Monterey Bay Aquarium.
Oceans all over the world is choking with the high quantity of plastic waste that we release into them. Blue whales, the largest animals known to ever exist, weigh as much as 300,000 pounds — equal to the weight of plastic waste that ends up in the ocean every nine minutes.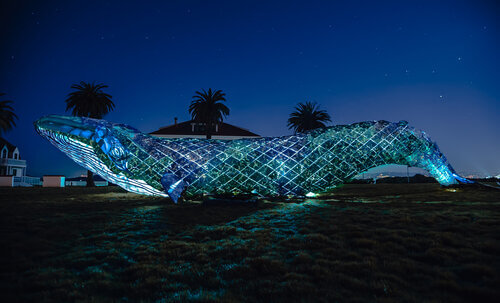 The Monterey Bay Aquarium wanted to highlight this issue through a life-sized whale art made from single-use plastic. Artists Joel Dean Stockdill in collaboration with Yustina Salnikova was commissioned by the Monterey Bay Aquarium to create an 82-foot-long blue whale sculpture, which will be on display at Crissy Field in San Francisco, using hand-recycled plastic trash. The whale took four-and-a-half months, including 15 weeks to hand-recycle the plastic panels, four weeks to fabricate the steel frame, and three weeks to sculpt and screw on the panels.
The goal of the art installation will be to draw awareness to the issue of ocean plastic pollution. Some of the most common items used to create the whale were laundry detergent bottles, shampoo bottles, juice containers, milk jugs, and a lot of old, broken trash cans.
Joel Dean Stockdill, a San Francisco Bay Area artist known for creating art from reclaimed materials, worked with Yustina Salnikova to create the whale. The two worked with a team to sort, clean, and cut the plastic trash by hand before melting it down and transforming it into panels for the whale.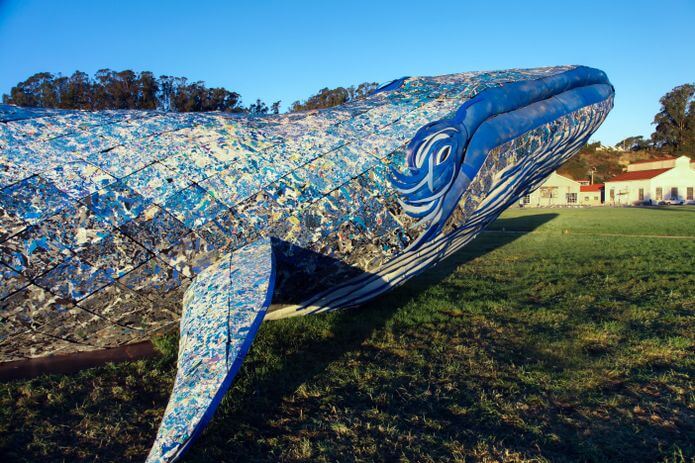 "Plastic is filling up our landfills and only 9 percent of it has been recycled. As a society we need to reduce our reliance on single-use plastic," Stockdill said in a prepared statement. "That's why I wanted to be a part of this effort."
The artists worked with engineers to ensure the sculpture will stick together and not end up as plastic waste in the San Francisco Bay or the Pacific Ocean.
It was designed so that it can be taken apart and transported and then reassembled and they are already getting interested from other organizations about potentially housing the whale.
They named the sculpture, "Ethyl," a nod to polyethylene, the most popular plastic in the world. The piece was initially installed on the Golden Gate National Recreation area, flanked by palm trees that shot into the air like water spouts. It was then sold to Meow Wolf, a public benefit arts and entertainment group based in Santa Fe, New Mexico, and transported to the campus of Santa Fe Community College.
Laundry detergent bottles, old recycling bins, plastic milk jugs, and discarded toys, all this "waste" were painstakingly washed, broken down into small pieces, melted down and shaped into diamond-shaped tiles, each one resembling a miniature abstract painting itself, they were then pieced together and mounted to a steel skeleton, these tiles formed the bulk of sculpture. Due to its staggering size, the majestic blue whale can only be seen in its entirety from a distance.
The 'Ethyl' is an important piece of art, it forces us to think about what is our future and is this the future we want for our next generation…
With inputs from various online sources
Contact Details: www.joeldean.me