Outdoor tile applications offer various advantages with enhanced qualities like strength, durability, good looks, slip-resistance, and they do not fade when exposed to direct sunlight. When we are talking about outdoors there are so many areas which come to our mind like the Parking area, Balcony, Terrace, Porch, Swimming Pool etc. Outdoors are as important as indoors, so keeping your outdoors up-to-date is important. But when it comes to redoing your outdoor space, it is difficult to find the right kind of tiles as there are so many materials available today so choosing the right one is important.
We present you the 8 best types of exterior and outdoor tiles which can never go wrong. They are durable, strong and at the same time, attractive & stylish. There are so many tile designs available today with, so go for it and create your own stunning outdoor space.
1. Porcelain Tiles
Porcelain tile is a particularly dense and strong form of ceramic, and so most porcelain tiles rated for flooring use can also work in many patio applications. The best choices will be textured, matt tiles without a highly glossy surface that will be slippery when wet. Most porcelain tiles are thick and sturdy enough to use on floors, but make sure your product is rated for such use. Prices vary quite widely for porcelain tile.
2. Carpet Tiles
These tiles are best for various climatic conditions. They are used in garden and other outdoor areas. They come in various forms so you can choose the best option on how to use it and how much area you would like to cover. They can withstand all the climatic conditions.
3. Rubber Pavers
Rubber Pavers give the look of natural brick and concrete. They are more affordable than natural brick. They come in various colours and give a look similar to natural tiles. They are very comfortable and look attractive too.
4. Brick Tiles
Brick tiles are again a great option for outdoor areas. They are very popular and easy to place. They can be a perfect choice for outdoor patio or porch flooring as they give a lot of colour options and forms. Perfect for cozy patios or near fire area, these tiles are gorgeous and stylish in appearance.
5. Composite Decking
Composite decking has made a huge place in outdoors. They are used best in your porch areas. They can be easily placed over existing tiles, making the installation very easy. They can also withstand most climatic conditions.
6. Natural Stone
Stone floors are undoubtedly the most stunning material for indoors and outdoors. And if you are planning for outdoor flooring that is natural, durable, and long-lasting then stone flooring is a wonderful choice. Stone has a timeless quality to it and regular upkeep can help stone last for more than 30 years. Outdoor environments are harsh; floors get exposed to extreme winds, humidity, and sunlight. Most of the flooring types cannot resist these changes and get damaged easily, but stone flooring being natural material resists most of these changes. Natural stone is expensive comparatively but is the most excellent choice.
7. Rooftop Tiles
Rooftop tiles are designed to protect rooftops from loud walking, punctures, temperature transfer, which is perfect for heavy footfalls. These durable tiles have got you, and your roof, covered! The thing about rooftop flooring is that it's going to be constantly exposed to the elements. There's nothing up there to provide shade or protection from the rain. For those reasons, it's really important you get something that holds up well to challenges. Rooftop flooring is built to withstand moisture, UV radiation, high traffic, and just about anything else you can throw at it.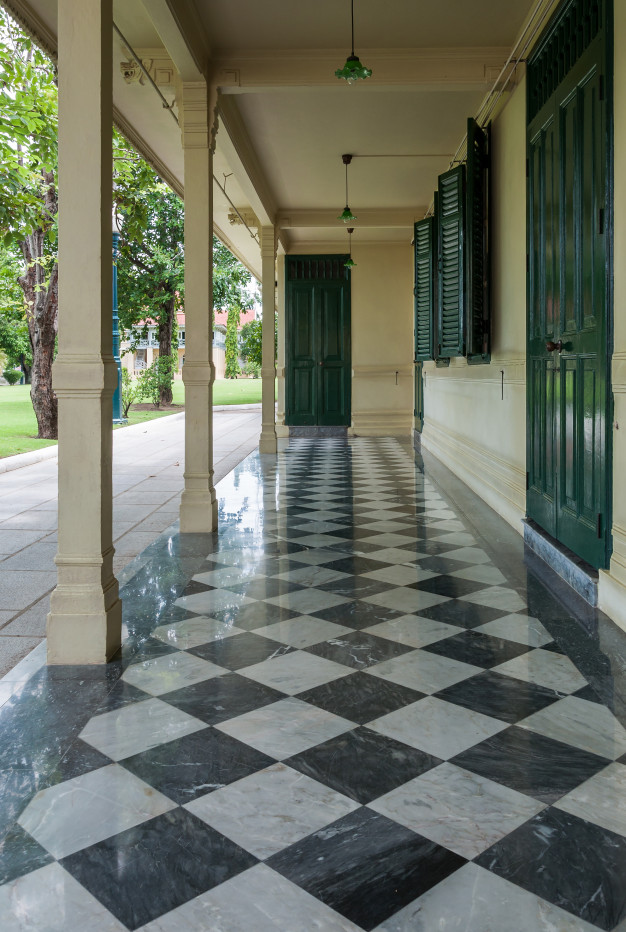 8. Marble Tiles
Marble is more porous and less hard compared to other material, so making it withstand heavy footfalls and slip resistant, it needs a sealing. Its unique veins will give your area a sophisticated look. Marble are available in different colors from white to black and smooth polished to rough finishes. Smooth polished marble looks chic but for outdoor flooring it is recommended to go for slip-resistant rough marble tiles.