Reading Time:
4
minutes
Sustainably designed and handcrafted in South Cornwall, Tom Raffield's iconic homeware collections draw inspiration from the natural world. Every piece is made using the brand's innovative steam bending technique to create truly timeless designs that will last a lifetime.
Tom Raffield's latest collection, a range of ash wood storage and home accessories showcases the brands unique curved aesthetic with playful shapes, paired-back functional design and signature steam bent twists. Inspired by the sculptural tree canopies that surround their Cornish studios, the new range of wooden shelving, mirrors and wall hooks brings the outdoors in, combining function and elegance and celebrating the strength, versatility and unique character of sustainably sourced ash wood.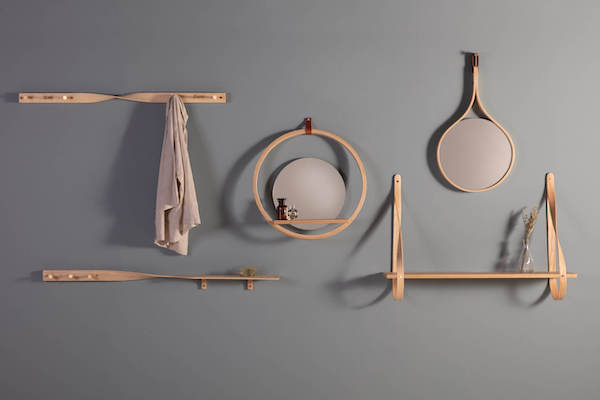 "This new collection celebrates the beauty of ash wood in all its varying tones and grains, making for a cohesive yet unique range of products. Sustainability is really important to us, so using ash wood was the obvious choice for this collection as it's the fastest growing hard wood and also self-seeding, which means it grows in plentiful supply. This durable and supple material, paired with our ecological process, allows us to create these complex shapes with minimal wastage." – Founder, Tom Raffield.  
Maximising space with minimalist design, Raffield's versatile new range can be positioned in different spaces in the home, providing multiple functions. The ash wood designs can be displayed both alone, providing smart storage solutions for compact living, or in multiples, to create a unique focal point in larger spaces.
Favourites from the range include the distinctive, teardrop shaped Lusow Mirror and the sculptural, multifunctional Housel Shelf with Mirror. Both pieces are available with a choice of three leather hanging straps – tan, brown and black – enabling the consumer to customise the design to suit their interior scheme.
The collection includes five new designs:
Burgh Coat Hook:
Handcrafted from a single stretch of solid ash wood, the Burgh Coat Hook yields a striking aesthetic with its central steam bent twist. With an elegant slim profile, the Burgh has been designed to sit comfortably in a modest hallway, or as a sculptural focal point in a bathroom or bedroom, and is finished with three brushed brass tipped coat hooks that complement the natural warm tones of ash wood.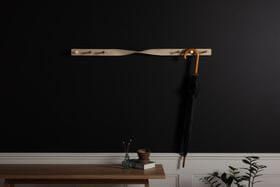 Tor Twist Shelf:
The unique Tor Twist Shelf is carefully sculpted from tonal ash wood, gently twisting in the centre and elevating itself above three brushed brass tipped coat pegs. This versatile piece can be either left or right aligned to suit your space and looks just as compelling alone or in a pair, sitting perfectly in a kitchen or hallway to house your everyday essentials.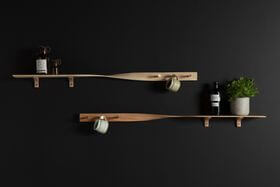 Housel Shelf:
Shaped from supple ash wood, the fluid curves of the circular Housel Shelf challenge everyday linear storage solutions. A solid wooden shelf seamlessly floats within a flowing steam bent hoop, creating a practical space to display your favourite pieces. Style the Housel Shelf by itself for a minimal aesthetic, or pair with the Housel Shelf with Mirror to create a unique focal point. Customise with a tan, brown or black leather hanging strap complete with a brass screw cover to complement your space.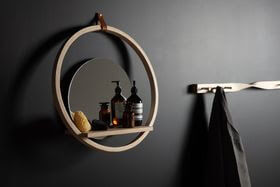 Lundy Shelf:
A contemporary and versatile addition to any space, the fluid form of the Lundy Shelf showcases Tom Raffield's skilled craftsmanship and unique steam bending technique. Two curvaceous lengths of ash mimicking twisted leather straps support a solid wood shelf with brushed brass details, creating an intuitive place to store books, plants and accessories. Keep styling minimal to let the craftsmanship speak for itself.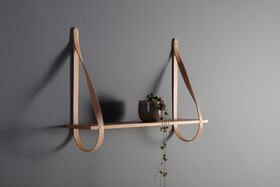 Lusow Mirror:
An elegant steam bent curve draws together to create a distinctive, teardrop-shaped mirror. Meaning 'ash' in Cornish, the Lusow Mirror is true to its roots and offers a simple aesthetic to suit a variety of spaces. Choose from a tan, brown or black leather strap to compliment your interior and style alone or in a cluster to accentuate the different tones in the wood and leather.