Antoni Gaudi the master of craftsman creating surreal spaces
Antoni Gaudi the master of craftsman creating surreal spaces was born in 1852. He was a Spanish Catalan architect from Reus and the best-known practitioner of Catalan Modernism. Gaudi's works reflect an individualized and distinctive style. Most are located in Barcelona, including his magnum opus, the Sagrada Familia. Gaudi's work was influenced by his passions in life: architecture, nature, and religion. Gaudi considered every detail of his creations and integrated into his architecture such crafts as ceramics, stained glass, wrought iron, work forging and carpentry. He also introduced new techniques in the treatment of materials, such as trencadis which used waste ceramic pieces.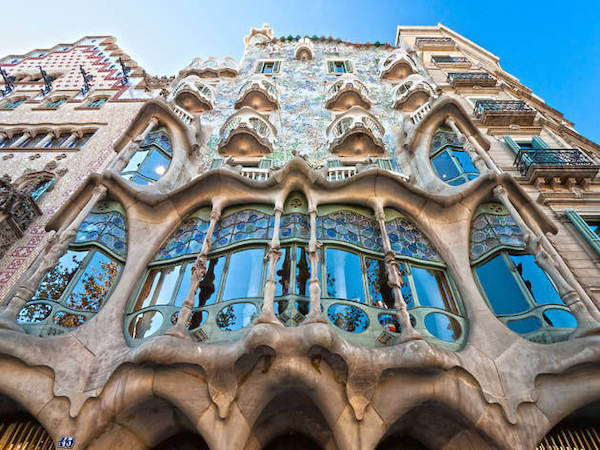 Under the influence of neo-gothic art and oriental techniques, Gaudi became part of the Modernists movement which was reaching its peak in the late 19th and early 20th centuries. His work transcended mainstream Modernism, culminating in an organic style inspired by natural forms. Gaudi rarely drew detailed plans of his works, instead preferring to create them as three-dimensional scale models and molding the details as he conceived them.
Gaudi's work enjoys global popularity and continuing admiration and study by architects. His masterpiece, the still-incomplete Sagrada Familia, is the most-visited monument in Spain. Between 1984 and 2005, seven of his works were declared World Heritage Sites by UNESCO.
Gaudi's first projects were the lampposts he designed for the Plaça Reial in Barcelona, the unfinished Girossi newsstands, and the Cooperativa Obrera Mataronense (Workers' Cooperative of Mataro) building. He gained wider recognition for his first important commission, the Casa Vicens, and subsequently received more significant proposals.
At the Paris World's Fair of 1878 Gaudi displayed a showcase he had produced for the glove manufacturer Comella. Between 1904 and 1910 he constructed the Casa Batllo (Batllo house) and the Casa Mila (Mila house), two of his most emblematic works. During his time as a student, Gaudi was able to study a collection of photographs of Egyptian, Indian, Persian, Mayan, Chinese and Japanese art owned by the School of Architecture. The collection also included Moorish monuments in Spain, which left a deep mark on him and served as an inspiration in many of his works.
Gaudi's position in the history of architecture is that of a creative genius who, inspired by nature, developed a style of his own that attained technical perfection as well as aesthetic value, and bore the mark of his character. Several of Gaudi's works have been granted World Heritage status by UNESCO. The work of Antoni Gaudi represents an exceptional and outstanding creative contribution to the development of architecture and building technology in the late 19th and early 20th centuries. An exemplary life and an extraordinary craftsman, he died in Barcelona at the age of 74.
(This story was originally published in The Tiles of India March-April 2017 issue)