Ceramica Cielo project with Jumeirah Saadiyat Island Resort in Abu Dhabi
Ceramica Cielo has embellished the rooms of the exclusive Jumeirah Saadiyat Island Resort in Abu Dhabi with their signature collections designed by famous Designer Paolo D'Arrigo, Designer Marco Piva and Architect Claudio Silvestrin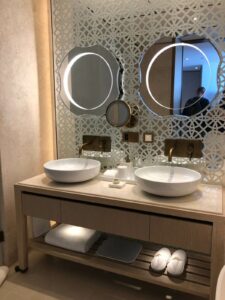 Ceramica Cielo once again confirms itself as a partner of excellence in the contract world and signs the bathrooms of the new prestigious Jumeirah Saadiyat Island Resort in Abu Dhabi: an architectural luxury jewel located within a protected natural area, nestled between the crystal clear waters of the ocean and 400 meters of spectacular white sand dunes.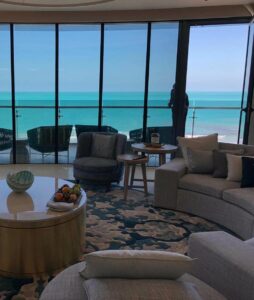 Located on the exclusive Saadiyat Island – designed to become the main cultural hub of the United Arab Emirates – the majestic structure, consisting of 293 rooms, is characterized by the perfect combination of architecture, contemporary design, and eco-sustainability, a concept that inspired the development of the whole project.
Inside the resort's bathrooms, which skilfully mix art, comfort, and style, the Ceramica Cielo collections are well integrated, contributing to creating a unique allure to the ambiance. In this exceptional setting, the Shui, Fluid and Le Giare collections are unprecedented suggestions with a cosmopolitan mood and provide character and personality to the bathrooms, in perfect balance between elegance and functionality.
An excellent synthesis between design and versatility, the Shui collection, designed by Paolo D'Arrigo, stands out for its subtle thickness that enhances the formal purity and practicality of the products.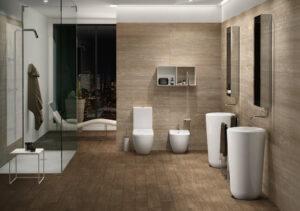 Fluid, designed by Marco Piva is inspired by the fluidity and movement of water which, through the plasticity of ceramics, gives the shapes a sculptural value, yet is characterized by its soft and sinuous design. Finally, Le Giare, with the signature of the famous architect Claudio Silvestrin, presents natural shapes and harmonious curves, which are generously expanded to merge into a balanced fusion of compositional freedom and functional rigor.
Contact Details: www.ceramicacielo.it