Flexible chairs designed by Karim Rashid
Heartbeat is a flexible chairs designed by Karim Rashid for Nienkämper, a leading furniture brand unveiled a new versatile lounge seating design at the commercial design industry's biggest show, NeoCon.
Heartbeat addresses the social alienation that contract design can often impose on public spaces. With this in mind, designer Karim Rashid created Heartbeat to alleviate stagnation and spark conversation with one's fellow human beings. This reconfigurable and scalable system is composed of three distinct seating elements— Straight, Concave, and Convex— which allow for it to grow and change depending upon the needs of its environment. Repositioning these three elements allows for the creation of unique, morphing, undulating, physical landscapes.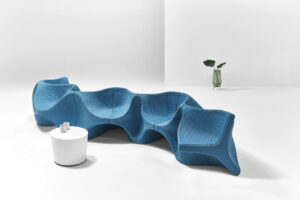 Instantly recognized for its unique sculptural form and layout, Heartbeat is flexible and one-of-a-kind, resembling a wave or a pulse, keeping guests from being seated back to back, and allows for effortless interaction.  Heartbeat possesses an indestructible rigid foam construction with a highly resistant flexible foam cover.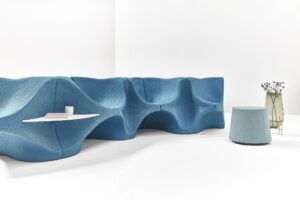 The sofa sections are dowelled together with wood and steel to ensure a solid construction. Optional magnetic connections provide additional flexibility, reconfiguration, and ease of assembly.
Contact Details: www.karimrashid.com