Marazzi unique surface and wall collections are both exquisite and sophisticated
Marazzi, a leading international player in the ceramic tiles sector has been defining living spaces since 1935, combining aesthetics and top quality materials. Experience, innovation capability, creativity, design, tradition and culture, a passion for ceramics along with environmental awareness are the forte of Marazzi ceramics.  Marazzi has always made aesthetic research a strong point of its offering. It was the first company to pick up on the need for ceramic tiles to become a furnishing and architectural feature, placing the responsibility for product creation in the hands of leading designers. The brand has launched unique collections inspired by wood, stone, and concrete in various colors and large sizes.
Have a look at these latest collections
Treverkmust
The wood-effect porcelain stoneware, recreated on a timber style surface with a light brushed finish, in which the boards are "smoked" and oiled, with slightly faded coloring. The surface features large grouted knots, distributed cracks, and color changes. This collection is available in the "Selection" version, with a choice of more uniform boards lacking excessively evident knots, cracks, or color variations. Treverkmust can be used to create a wall or floor surfaces in residential surroundings or light commercial premises.
Colors: White, Beige, Taupe, Brown;
Sizes: rectified 25×150 cm, 73.2×11.8 cm (on demand) for chevron laying scheme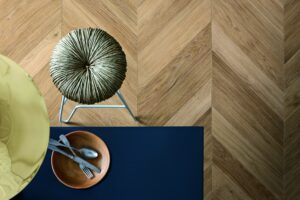 Stone_art
Stone_art is a large size wall tile – 40×120 cm – with the slimline thickness (6 mm), reflecting the innate beauty and elegance of naturally occurring limestone and perfect for creating enchanting atmospheres in a contemporary mood. The decorative contribution of this series offers the ideal interpretation of sophisticated and comfortable spaces that insist on a note of modernity.
Colors: Steel, Ivory, Taupe, and Moka
Size: 40×120 cm rectified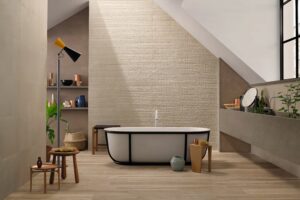 Powder
Drawing its inspiration from concrete, this tile features graphics with soft and well-proportioned nuances. Subtle blooms and delicate smudges give the material an original appearance by highlighting imperfections. The powder can be used to create wall or floor surfaces in residential and light commercial premises
Colors: Sand, Crete, Mud, Smoke, and Graphite;
Sizes: 75×150 cm rectified, 75×75 cm rectified and 21×18.2 cm hexagonal, available in all colors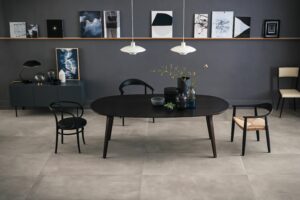 Contact Details: www.marazzigroup.com