Sicis new collection in Coverings 2019
The creative intuition, combined with the deep knowledge of the sector and a firm awareness of the importance of research to develop new materials, has driven the creation of the collections exhibited at Coverings. The company presents products that express evolution in the concept of covering to answer to new needs dictated by rhythms and lifestyles now changed.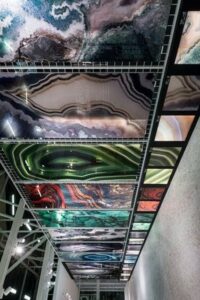 The sensitivity lies in seeing every surface, walls, floors, as fundamental elements in the completeness of the interiors space. Hence the strength to transform the mosaic, Vetrite, and every other material studied, in a sort of connection among furnishings, details, and interior design. Vetrite is certainly one of the most versatile materials that the Company has conceived recently, ideal for designing kitchens, washbasins, taps, tubs, and more.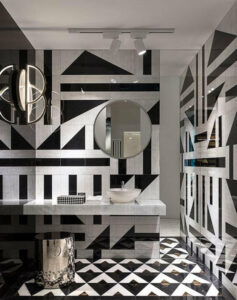 The new production techniques allow the creation of slabs that recall typical textures of natural materials such as marble, stones, and precious gems, with the undoubted advantage of offering lower costs and easier maintenance.
A line of backlit Gem Glass Vetrite has also been developed, thus transforming it into a light point, capable of giving life to surprising atmospheres. The combinations of Vetrite and artistic mosaic in vitreous paste, marble, and other materials, elaborated by the expert hands of SICIS masters, are also interesting; refined surfaces combined with precious finishes, such as handles in minute mosaics, often in gold or silver mosaic.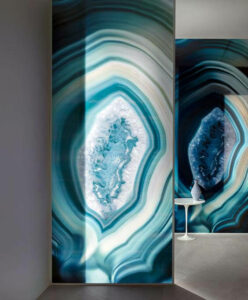 In addition to all this, there are remarkable collections of mosaic and inimitable panels realized with the artistic mosaic technique. The hexagonal shape joins the numerous and varied forms of SICIS tiles. It allows the elaboration of particular patterns and figures also in combination with other collections of SICIS mosaic tiles in the vitreous paste and other materials. In the various environments, the abstract is the predominant theme, declined through geometric games and chromatic alternations, even though the figurative and ornamental themes confirm all their appeal.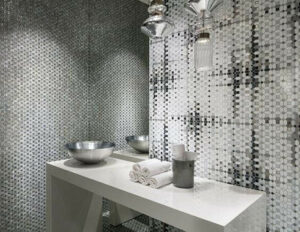 Contact Details: www.sicis.com