Modular bathroom and washbasin design by designers Andrea Parisio & Giuseppe Pezzano for Ceramica Cielo
Ceramica Cielo and designers Andrea Parisio and Giuseppe Pezzano have come together to create splendid collections of washbasin designs and modular bathrooms.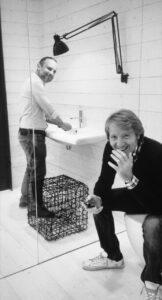 Cielo's products are sophisticated and unique in style. Made of pure, essential lines that portray the bathroom in an unmistakable way through a modern mood. The brand is able to enhance it as a place of wellbeing characterized by a glamorous soul, full of influences coming from interior design. The success of this strategy, which sees the Artistic Direction lead by the designers Andrea Parisio and Giuseppe Pezzano, is evidenced not only by the numerous signed references from all over the world but also by the important international acknowledgments achieved.
Among the latest are the Archiproducts Design Awards 2018, Red Dot Design Award: Product Design (Ed. 2017, 2014, 2012), the German Design Award (ed. 2016, 2015, 2013 MUUZ International Award 2014. Ceramica Cielo has also launched a showroom in the heart of Brera, which called for an elegant setting for the sophisticated products of the brand and has now become a reference point for designer bathroom furniture, enriched with new shop front windows.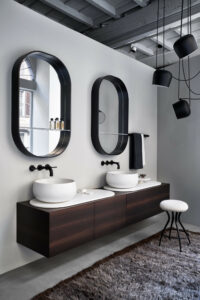 Kyros washbasin system designed by Andrea Parisio and Giuseppe Pezzano is marked by a strong, rigorous project with a unique design. Its oval shape reinterprets the concept of space in the bathroom environment going beyond the rigid boundaries of tradition.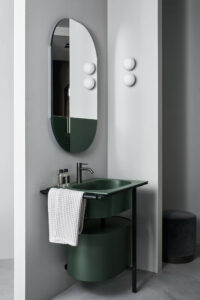 Siwa, the new washbasin designed by Andrea Parisio and Giuseppe Pezzano is the result of the tireless pursuit of the brand to discover creative solutions under the banner of maximum stylistic innovation. With its contemporary lines, Siwa is an evocative object, a "nomadic" washbasin with a colonial taste that rests on trestles and enhances the infinite pleasure of a relaxing beauty break in the bathroom, as after a long journey.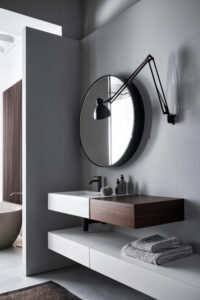 (The article was originally produced in The Tiles of India magazine, Jan-Feb 2019 issue)
Contact Details: www.ceramicacielo.it