Bespoke Furniture Designs- Temple Town
Temple Town founded by designer Meera Pyarelal is a beautiful Indian handmade furniture connoisseur brand of refined luxury.
After two decades of working in the interiors industry designer, Meera Pyarelal decided to set up her own eponymous brand Temple Town with the aim of designing and manufacturing sophisticated pieces of furniture. Based out of Thrissur, the cultural capital of Kerala, Temple Town offers a wide range of bespoke services, from one-off furniture designs to complete designing and execution for an entire home or apartment. The brand stands for a new "Indian chic" combining Indian traditional crafts with all the cultures of the world through a uniquely Indian perspective.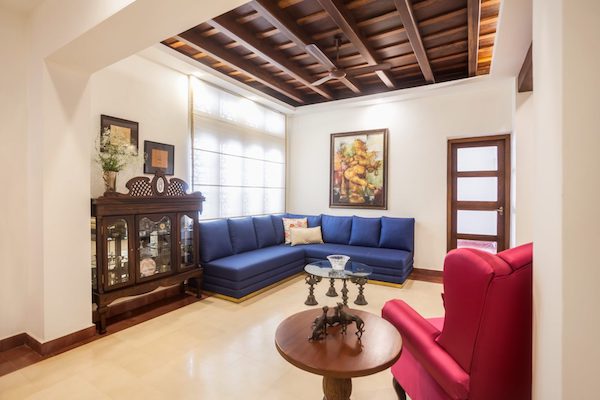 The furniture is inspired by antiques, beautifully reimagined for modern living. They are hand made using the same crafts skills and materials as the originals. With Temple Town, my aim has been to create a refined take on opulence. Temple town offers a good range of bespoke services from one-off beds and furniture designs to complete designing and execution for an entire home. From elegant cushions, antique replicas, handsome home-ware, beautiful light fixtures and an ever-growing range of art, they provide you with everything you need to create truly magnificent rooms. "Change is the only constant, and it is coming soon and it is refined, opulent and unapologetically extravagant", says the designer.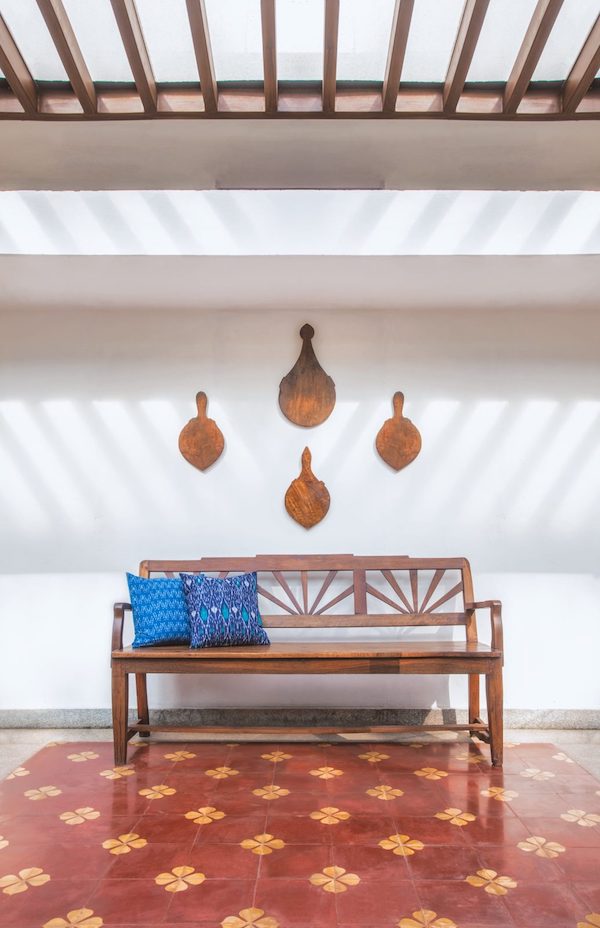 Their recent project is a plot of ancestral land passed on from father to son, spread over 20,000sqft home in Thrissur is the house of the founder of the Elite Group of Companies. The home is a vision of Kerala heritage melded with colonial comfort and ease. After a meticulous six year renovation by his daughter in law, the founder and creative head of Temple Town a colonial furniture company in Thrissur, Kerala the house has been brought up to date.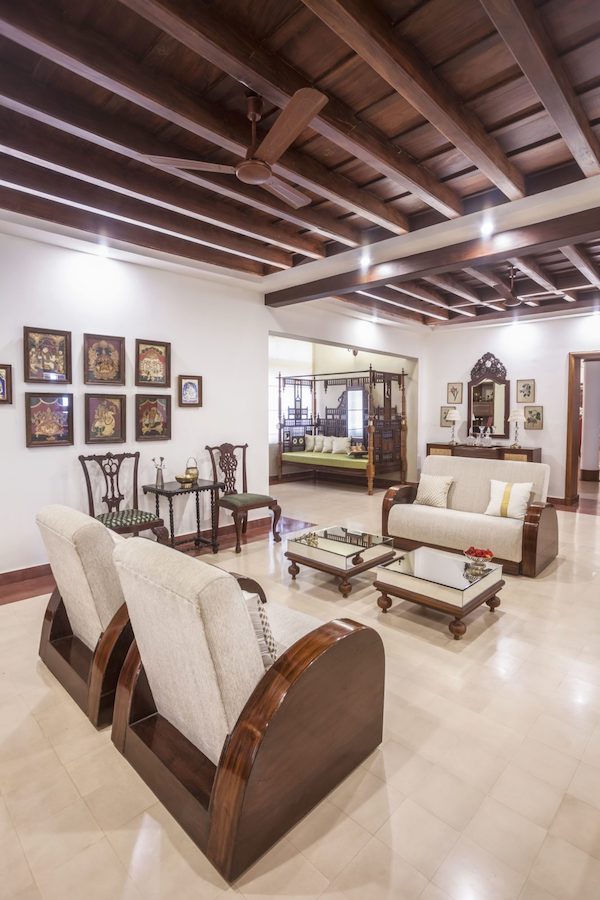 Behind the stately façade, are seven bedrooms, three living rooms, a sixteen seater dining room, home theater and gym. We have created a comfortable family home that combines sophistication and glamour in its main reception rooms, with a more relaxed feel for the bedrooms and upper level.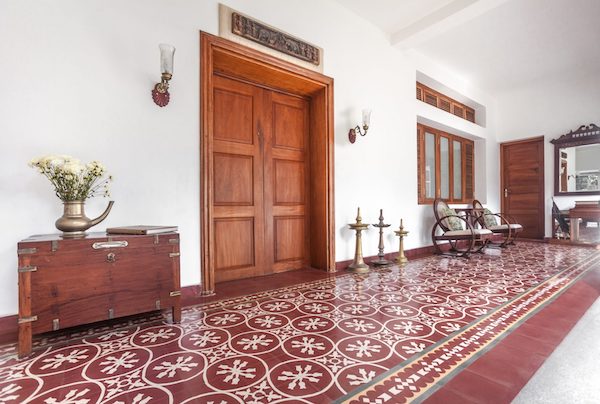 The home is a celebration of everything traditional and Indian. Ancestral treasures were maintained and new pieces were made to seamlessly blend in. Wooden ceilings, bold patterned traditional Athangudi tiles, tanjore paintings and original art deco furniture reupholstered in jewel tones sets the tone for the rest of the house.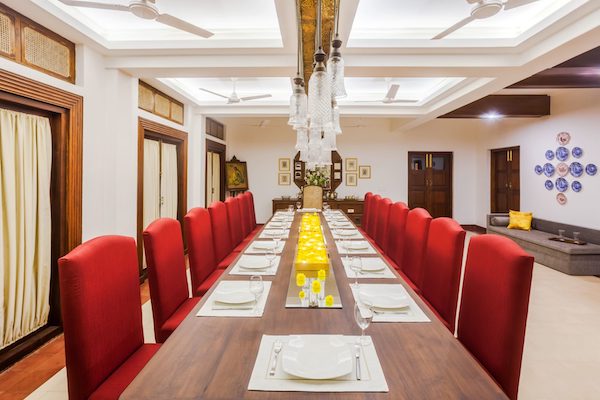 Old Kerala massage beds have been converted into beautiful coffee tables, elaborately carved day beds, cane back Irish Chippendale dining chairs, custom made droplet chandeliers and touches of gilt bring together an individual home.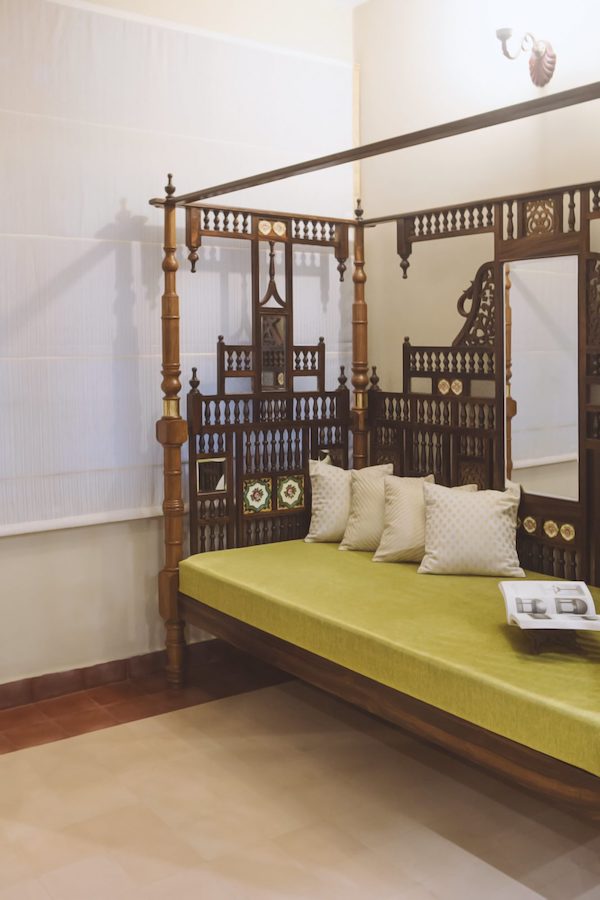 The kitchen is reminiscent of an old Kerala home however every modern amenity has been carefully added for modern Indian living.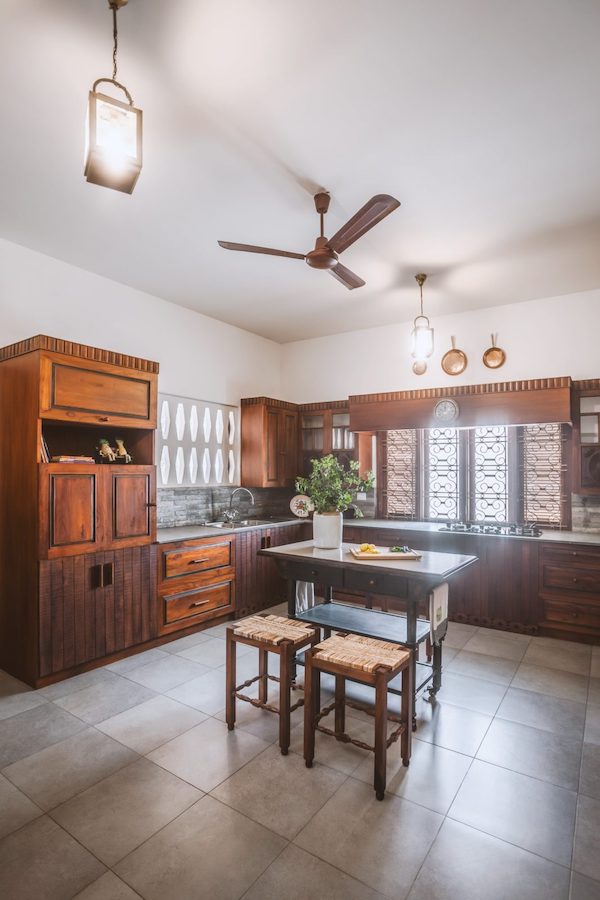 Throughout the house vintage furniture, antiques and original art, look very much at home. With this renovation Temple Town has achieved the feat of remaining firmsly rooted in the present, whilst curating the homes past with pride and effortless elegance.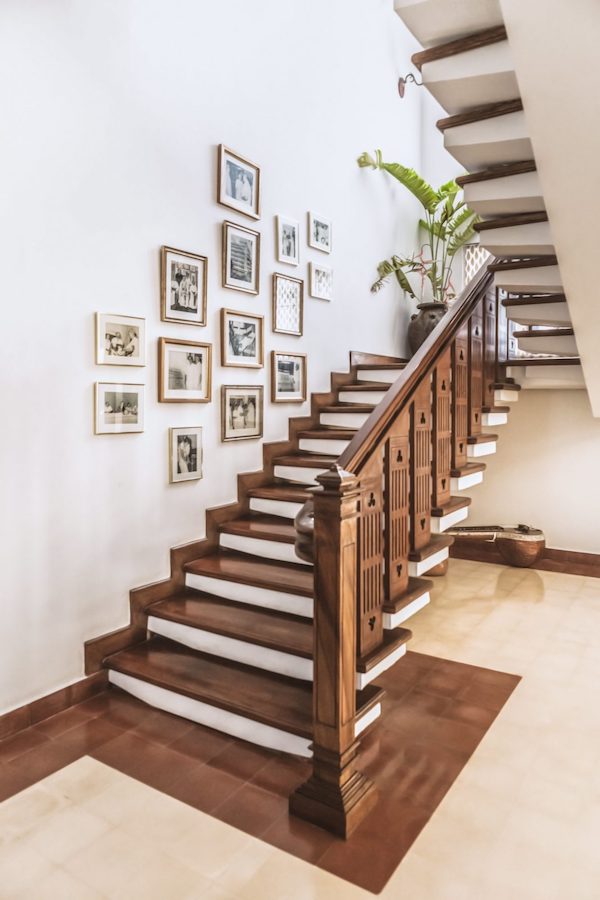 All Images: Courtesy Temple Town
Contact Details
www.templetown.co