Karim Rashid
America's famous architect and industrial designer Karim Rashid's HILL8 project in Moscow, Russia is a true work of art with elegant curves which sharpen your senses.
Karim Rashid project HILL8 in Alexeyevsky, in Moscow, Russia accentuates natural light with the originality of every detail of the interior and contributes to well‐being. HILL8 comprises of 295 units within a 408,888 sq. ft. total building area. The interior of the lobby and spaces on the floors is designed by architect Karim Rashid. You will be stunned by the impressive lobby, which itself is a work of art. Elegant curves sharpen your senses, make understatements and let your imagination run riot.
The spacious entrance lobby is comprised of three different zones: reception, waiting area, lounge area. The impressive lobby, with 4,75 m ceilings, is in itself a work of art. The world is so loaded with information, and we are working more than ever, so our last recluse is the home and hence the lobby is your welcoming moment. Walking through the lobby you feel like you're getting away from the world, slowing down to be in the moment, and re-engaging your senses. The lobby is designed to be comfortable, positive, organic, relaxed, and calm.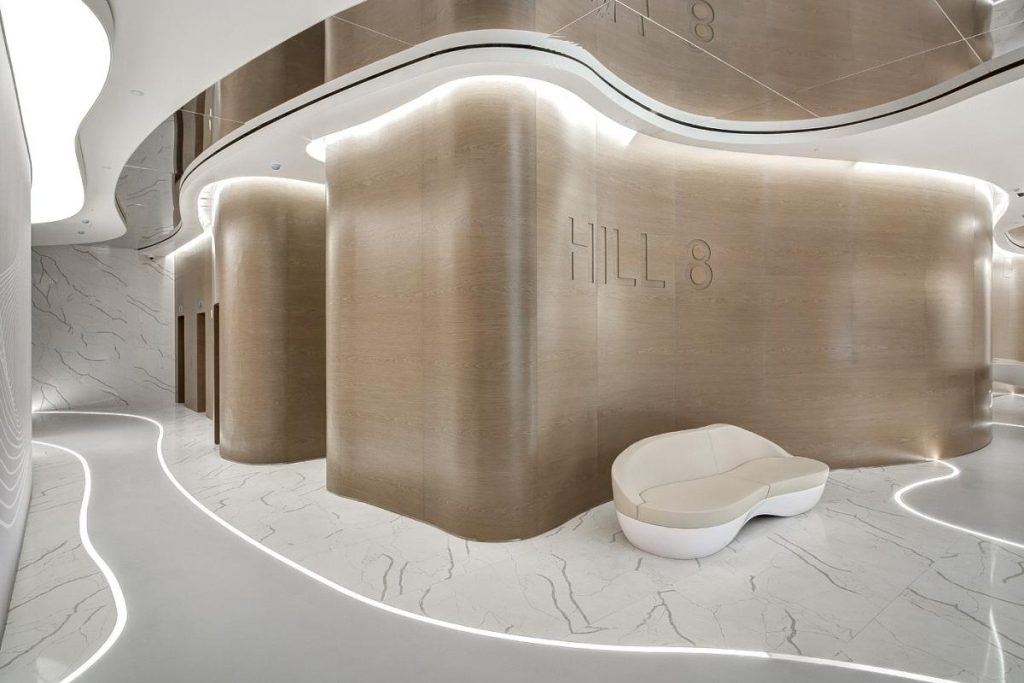 The lobby, hallways, and other spaces are all sustainable natural materials imbued with nature with a natural green wall. "I refer to the project as embracing nature and technology in our 21st century and it is a pleasure for me to contribute to the interiors of this project, one that further develops the legend about the seven hills". Karim commented. HILL8 emerges as the pinnacle of renewable and eco-friendly metropolitan efforts in the center of Moscow. The interiors will be fluid and organic, taking cues from nature to create a serene, comfortable environment for future living. Karim continues: "Working with City XXI was a pleasure. They really understood my vision and strove to create a truly unique environment concerned about every detail with precision and quality. The interior public spaces of HILL8 actively speak of the legend of the 7 Hills of Moscow, where there are references to the hilly terrains dissected by numerous rivers and ravines. The lobby is primed for rejuvenation, privacy, and luxury." 

Built according to green standard sourcing, recycled terrazzo flooring, carpet with low VOC, as well as zero VOC paint and reclaimed wood veneer wall panels, HILL8 is composed of progressive
forms with an intimate, warm palette.The building is BREEAM certified which means the building uses consumed resources (electricity, heat, water) sparingly.