Young, bright, dynamic and Ambitious Hiren Varmora, Joint Managing Director of Varmora Group talks to The Tiles of India about what drives the brand, his inspiration and plans for the future.
In conversation with Hiren Varmora…
We have observed an exponential growth in your business with ever increasing showrooms and the export numbers are also very encouraging? What drives this energy?
The biggest factors that fueled our growth in recent times are the "Exclusive showrooms" and "Exclusive Corners". We have opened 220 showrooms of Tiles and Sanitaryware across the country in just a span of 18 months. We are aiming to open more showrooms across the country. We don't limit our vision to India, as our vision is to become the "Worlds Own Brand". Keeping this goal in mind we have started placing ourself strategically across the globe and have a presence across 15 countries through our showrooms and display centres.
How has the response been to the latest product line? The MAGNIFICA COLLECTION seems to be a hit!
Magnifica collection is our premium brand in Europe (Spain) The idea behind the launch of this collection was to establish India as a country with the complete and full capability of producing fine ceramic products with distinguished design and quality like any other country in the world. We wanted to instill that sense of pride in our product and manufacturing capacities. The response has been very good!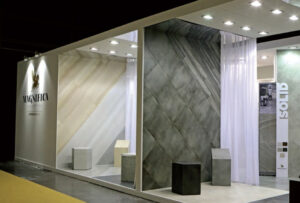 Contact Details
www.varmora.com
(The article was originally produced in The Tiles of India magazine, Jan-Feb 2018 issue.)