Daniel Libeskind- The Master Memorial Maker
"Architecture is a field of repression. You repress almost everything to produce a building. Everything is repressed because it has to fit into the context, it has to appeal to clients, and it has to be normal…"  Daniel Libeskind
An architect who defies the norm while creating his own understanding of design…who questions every set assumption and spends time researching his subject to write the exact story albeit in cement and mortar is the man known as Daniel Libeskind.
A Polish-American architect, artist, professor, and set designer of Polish Jewish descent, Libeskind founded Studio Daniel Libeskind in 1989 with his wife, Nina, and is its principal design architect. His buildings include the Jewish Museum in Berlin, Germany, the extension to the Denver Art Museum in the United States, the Grand Canal Theatre in Dublin, the Imperial War Museum North in Greater Manchester, England, the Michael Lee-Chin Crystal at the Royal Ontario Museum in Toronto, Ontario, Canada, the Felix Nussbaum Haus in Osnabrück, Germany, the Danish Jewish Museum in Copenhagen, Denmark, and the Wohl Centre at the Bar-Ilan University in Ramat-Gan, Israel. His portfolio also includes several residential projects. Libeskind's work has been exhibited in major museums and galleries around the world, including the Museum of Modern Art, the Bauhaus Archives, the Art Institute of Chicago, and the Centre Pompidou. On February 27, 2003, Libeskind won the competition to be the master plan architect for the reconstruction of the World Trade Center site in Lower Manhattan.
In 1968, Libeskind briefly worked as an apprentice to architect Richard Meier. In 1970, he received his professional architectural degree from the Cooper Union for the Advancement of Science and Art; he received a postgraduate degree in History and Theory of Architecture at the School of Comparative Studies at the University of Essex in 1972. The same year, he was hired to work at Peter Eisenman's New York Institute for Architecture and Urban Studies, but he quit almost immediately. Since then, Libeskind has lived, among other places, in New York City, Toronto, Michigan, Italy, Germany, and Los Angeles, and has taught at numerous universities across the world, including the University of Kentucky, Yale University, and the University of Pennsylvania. Since 2007, Libeskind has been a visiting professor at the Leuphana University Lüneburg in Lüneburg, Germany. He is both a U.S. and Israeli citizen.
The Jewish Museum Berlin, completed in 1999, was Libeskind's first major international success and was one of the first buildings designed after reunification. Libeskind has also designed cultural and commercial institutions, museums, concert halls, convention centers, universities, residences, hotels, and shopping centers.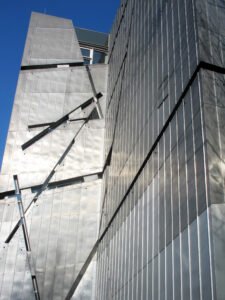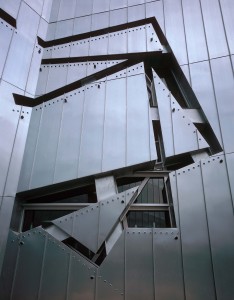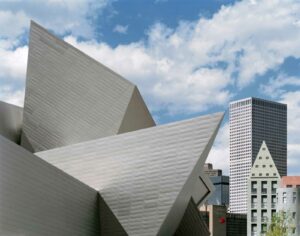 Contact Details: www.libeskind.com