MVRDV designed skyscraper
MVRDV designed skyscraper Downtown One in Tirana, presenting an image of Albania. The most striking element of the 37-storey tower is its relief of cantilevered houses and offices, which form a pixelated 'map' of Albania, each representing a town or city, turning this building into an icon in the heart of Tirana, Albania. Completion of the building is expected in 2024.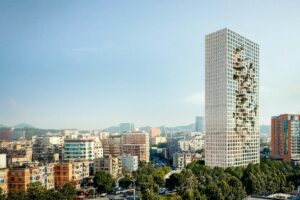 Downtown One is envisioned as an expression celebrating the progress of Albania, located in central Tirana on the Bajram Curri Boulevard, to the south of the Lana River. On its principal façades, the 140-metre rectilinear tower features a series of cantilevered houses and offices, forming a relief pattern on the building's surface. Every house or office represents a village or town so that when viewed from a distance, these cantilevers form an abstracted map of Albania.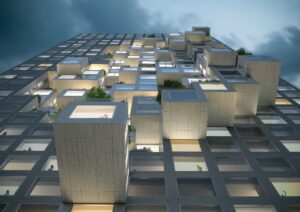 "Albania has come a long way. Ten years ago it was the poorest country in Europe. Now it is a country with energy and ambition, working towards great economic improvements. We want to express this with our building," says Winy Maas, co-founder of MVRDV. "The tower brings the feeling of a vertical village to the busy city centre, individual housing where communication with the neighbours is encouraged. Maybe it could even be seen as a vertical country! Every house or office adopts a town or city, together forming this map of Albania. The building will be visible from the nearby Skanderbeg square at the heart of the city. It forms part of the ensemble of towers that surround the square, the epicentre of the country"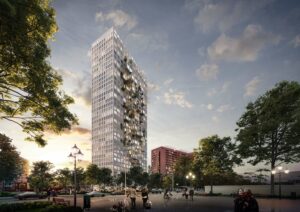 With a floor area of 77,000 square metres, Downtown One will give the centre of Tirana an important boost through the mix of apartments, shops, offices, and restaurants. The 37-storey tower does not sit parallel to Bajram Curri Boulevard, but is rotated on its plot so that its principal façade faces toward Skanderbeg Square. At its base is a park with local vegetation and an educational playground, while the inside of the building is divided into several layers: above the ground floor commercial spaces and underground parking, the lower half of the tower is devoted to office space, while apartments occupy the top 18 floors.
(This article was originally published in The Tiles Of India, May-June 2019 issue)