The Regimented House in Kerala
The Regimented House in Kerala is a residence designed by Reny Lijo and Lijo Jos of LIJO.RENY. architects, with a simple yet surrealistic feel to it.
 Lush tones of greens, browns, and whites welcome you to this beautiful residence in God's own paradise, in Tirur, Kerala. An award-winning project, it picked up the Best Residential Project prize at the Vanitha Veedu Architecture Awards (2018) and has been designed by architects Reny Lijo and Lijo Jos of LIJO.RENY. architects.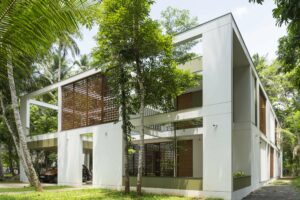 This project seemed like an architect's dream at first but upon closer understanding, of the site and the brief, revealed its complex nature. The seemingly large plot of 2.45 acres, populated with a variety of trees – small and large, was to be shared between the client and his brother, who had an existing house on site, without any compound wall in between. However, an informal pedestrian path, allowing the plot at the back to have access to the main road, literally cut the site into two. Moreover, the extending site towards the south, marked aside for the future commercial activity further reduced the buildable site to a linear strip. The clients wanted security, privacy, a strong sense of ownership and exclusivity without building any walls and yet had a deep desire for an inside-outside feel for the house.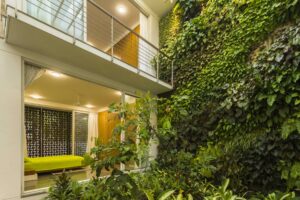 The result was 'The Regimented House'. The simple yet formal nature of this built form, with the extended front yard and backyard demarcated by hard landscape grids established a notion of a boundary, subtle, yet potent. Moreover, the grid layout was designed to accommodate landscaped courts of various types to ensure the essential blending in with nature as well as soften the otherwise bold presence of the built mass.

The layout of the house is designed in such a manner that each room in the house enjoys perfect cross ventilation, making the best of seasonal shifts of winds, keeping the internal temperature at a possible low throughout the year. Internally, all rooms around the central court open into it by means of large sliding doors that ensure an open layout when desired. This possibility of engaging with a fairly large internal landscape, with trees that may grow to touch the ceiling, gives one the feeling of being outdoors with the elements, enjoying each season, each moment.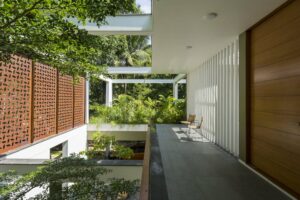 The large grid-like openings puncturing the shell of the building were strategically screened with perforated corten steel and G.I pipes to facilitate both privacy and ventilation. The material palette and decor of the house were refined towards simple minimalist possibilities creating a soft, surreal experience that is best witnessed at night when the lights inside the residence come up and the entire structure starts glowing like a lantern in the woods.
Contact Details: www.lijorenyarchitects.com       
(This article was originally published in The Tiles Of India, May-June 2019 issue)