Reading Time:
3
minutes
Ceramic Slabs By Laminam
Ceramic slabs by Laminam is large-sized ceramic slabs for architecture, interiors, and furnishing. They have recently completed private residences in the Florence hills.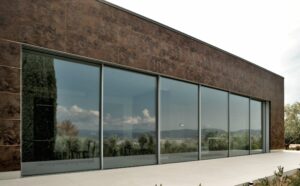 This project proof that Laminam slabs can truly be used as a unique surface with which to functionally decorate and clad any space. Not only for large-scale and public spaces then, but large sized Laminam slabs can also be easily used of any designer or interior designer space and particularly thanks to its simple maintenance and extreme durability.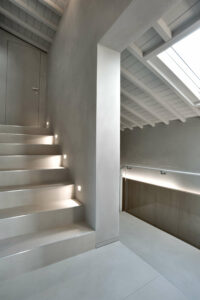 Immersed in the lush green of the Tuscan hills, this private home in the province of Florence combines a traditional structure with modern solutions, used to clad part of the façade and the external doors. Oxide, selected with the Moro finish, is used for the exterior, showcasing the surface three-dimensionality that this oxidized metal-effect texture offers when it reacts to sunlight.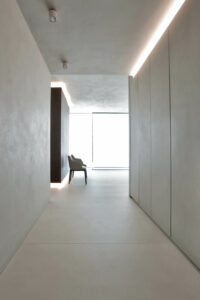 Inside, architect Alessio Viviani has interpreted the Laminam total look by using delicate and subtle tones such as Avorio, selected from the Calce series and used for the internal flooring of the living area, crossing over to the exterior of the home, one's attention drawn to the hilly landscape through the large window.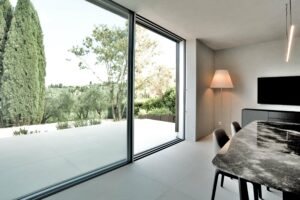 Material and colour continuity that is also found in the sleeping area, on the stairs and along the halls, all the way to the kitchen where slabs are used as a countertop and top for the large central island, as well as in the bathrooms, for the flooring and shower base. The texture, inspired by industrial plasters and concretes, gives spaces to a refined and contemporary look, for a sense of well-being that conciliates the peace and liveability of spaces.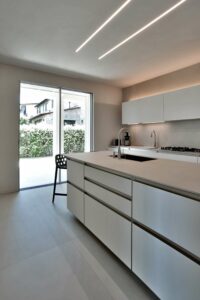 For harmonious colour contrast, the dark shades of the same Calce Nero series have been used for the flooring and cladding of another bathroom space, retaining the same hygienic properties offered by the perfectly natural material and almost total absence of joints. Ossido Bruno makes a real impact, used to clad the walls of the shower.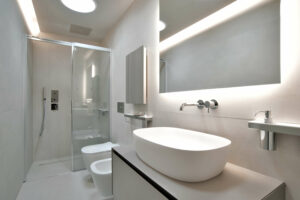 Contact Details: www.laminam.it