One-stop-shop for interior solutions
Founded by a power couple Smita Vijaykumar, Co-founder & CEO and Yateesh Contractor, Co-founder & CFO. of reNNovate. 
reNNovate is a Mumbai based hassle-free one-stop-shop for residential interior solutions. The brand believes in providing sustainable luxury to its clients. They offer 100% customization, 3D visualization, and end to end interior solutions with branded factory-finished products making your house a home within 45 days. The brand was established as a private limited company in 2017 after being an enormously successful design proprietorship for almost 10 years.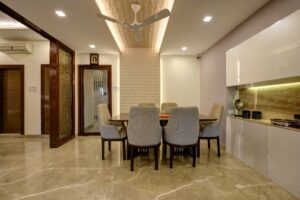 Their latest project is a home that was renovated in an old building in the posh area of south Mumbai, Malabar Hills, Walkeshwar. A complete renovation of floor, ceiling, furniture, and look was undertaken. The design brief of the client was to create a rich, modern interior with unique accents. The before and after transformation was quite dramatic.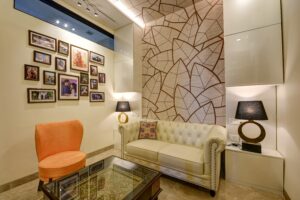 The design was conceptualized with a latte colored marble to set a beige tone with gold and grey accents. The design palette is modern with grey and white walls bringing out the beige marble tones. Built-in furniture was designed with a pearl finish with a push to open systems.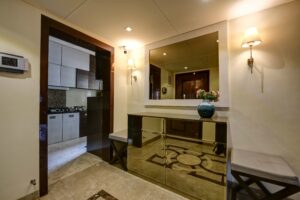 The home lacked adequate sunlight and used lights throughout the day. With another building in front of all their windows, the view outside was also restrictive. The curtains, ceiling, and lighting became important to this home in the day and night.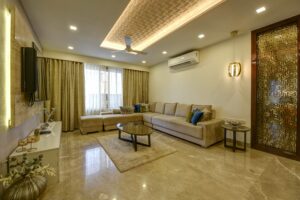 The most impactful in the design is the false ceiling in the living room and family lounge. The wall and ceiling accent is continued to create a unique look. In the living room, a 3D textured board creates that binding. In the family lounge, unique travertine textured leaf wall and ceiling combination create that highlight.
The antique gold jaali screen provided as a sliding partition between the living room and the family lounge helps in visual separation and privacy but with a lot of panache.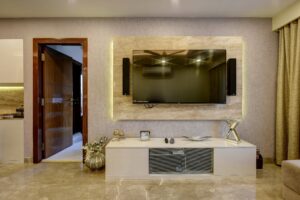 The dull gold pendant light from Cerco lighting with the L shaped sofa creates a beautiful balance of the composition. The entire furniture has been custom made with handpicked fabrics and textured from D Décor. The dining table, center table flaunt a rich chocolate brown Armani marble to contrast with the beige floors.
Marble has been used on the TV unit and crockery unit with a wall background of a rich grey linen wallpaper from Good Earth. We had also restored their antique center table with brass inlay to create an added wow factor to the family lounge.