Reading Time:
3
minutes
PaPaYa Modern Asian Bistro designed by Sumessh Menon
PaPaYa modern Asian bistro designed by Sumessh Menon Associates is a stylish, high energy bar and dining experience in Mumbai.
Pa Pa Ya is a modern Asian bistro and tapas bar from the House of Massive Restaurants and best described as a chic, modern and radical reinterpretation of Asian style. Sumessh Menon Associates, the designers behind this uber stylish space with a highly charged ambiance describe the client brief saying, "That they wanted a place which emitted a sense of style, with a swanky design and in sync with the revolutionary gastronomic experience that they planned to offer."
Thus began the work of translating this brief into the décor with absolutely stunning results. Space exudes a warm style with grand lighting, plush materials and finishes. The external sculptural façade is a single skin composed of burgundy metal fins in a louvered pattern that wraps around two sides of the restaurant and acting like a metal curtain that opens out in certain specific places thus allowing sufficient light to enter inside and at the same time provide privacy to the restaurant interiors. A striking metal main door adds to the intrigue of what lies beyond the walls.
The interior space is divided between a ground floor that incorporates a bar area and dining space, along with a mezzanine floor that continues with more intimate dining spaces. A cozy space has been scooped out for a sushi bar that is unfailingly a standard element in all PaPaYa outlets. A unique gold-tinted piano pattern cladding is seen on a double-height wall on one side and reiterated on all window glazing too. The stunning one-of-its-kind elliptical bar counter with a faceted mirror apron is further highlighted by the brass metal inserts on the Bronze Armani flooring that radiate outwards from the bar counter area. The countertop is made of unique Brazilian granite while the bar back display flaunts a parametric composition of mirror-clad boxes. A stunning DJ counter with checkered mirror cladding amps up the energy of the space while the radiant burgundy shade sets the tone of the entire interior space.
Mirrors have been generously used in creative patterns in the toilet walls and ceiling to create the illusion of space. Every nook and corner is well thought of with trendy elements like parametric mirror-clad walls and backlit staircase introduced along with a custom larger-than-life molecular polygonal light installation in a double-height space to add to the glamour of the space. Offbeat materials like wire mesh for ceilings, fly-ash bricks for a 3D feature wall, and metal mullion cladding pattern on a wall with backlighting were experimented with and blended seamlessly with the other polished stone and mirror finishes and futuristic furniture designs.
A rich colour pallete on the lines of vibrant burgundy, matt gold, and hints of brown with creative use of mirrors makes it a place one would want to spend a lovely evening far away from the maddening chaos of the city.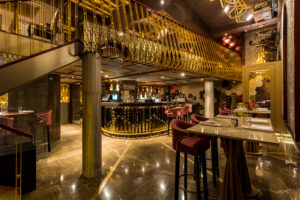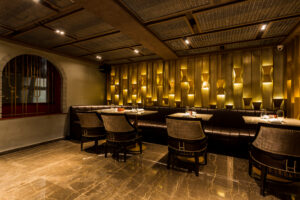 Contact Details: www.sumesshmenonassociates.com