A Stylish residence in Mumbai designed by Anish Motwani
Interior designer Anish Motwani of Anish Motwani Associates has designed a stylish residence in Mumbai which is low on maintenance.
Anish Motwani Associates' design with a passion. They aspire to translate the essence of our emotions and thoughts into forms, colors, and textures. They believe that beautiful decor can have a beneficial influence on our lives. Their designs are creative and practical, always guided by a spirit of total quality and a sense of completeness.
Their latest project is a residence in Mumbai.  The client brief was very simple – they wanted something that was neat with subtle colours and easy on maintenance.  In short a house that was subtly stylish yet exciting for the owners.
The whole house was therefore done in a single veneer colour. The wooden part on the doors, paneling, wardrobe, and TV unit had a common colour theme with the same veneer everywhere.
The flooring comprised of 1metre x 1metre marbonite tiles for the living room and kitchen. The two bedrooms were done with wooden flooring.
The whole house has a velvet paint finish and wallpapers have been used to highlight the walls.
A scene-stealer is a beautiful way in which they have used Onyx stone to highlight the living room with lights inside giving ethereal lit up effect to space. The dining tabletop is white onyx which can be lit from inside and the same has been replicated with the framing on the entrance of the passage for two rooms.
The master room has an air of quiet sophistication with veneer used on wardrobe, doors, paneling, and bed. The bed has solid acrylic materials on the front and the back is lit up with lights inside it giving a very mellow ambiance to the entire room. The wardrobe and TV paneling has shiny glass stone used on the borders to highlight the same. One of the small windows near the bed has Italian marble used on the sides and the window is made in French style with ducco paint finish. The ceiling has MDF which is used in center and ducco painted again.
The kid room has veneer on the bed, wardrobe, room door, and paneling. The window has Italian marble on sides while the seat portion is made of cushioning with a velvet cloth. The bed back also has the same cushioning. There is MDF running above the bed backrest and goes up to the ceiling.
Every house a focal point of attraction and the dining table serves as one in this house. Completely made on-site with white onyx top and lights inside, it glistens and shimmers because of the golden mirrors below on the sides.
A calm, comfortable welcoming experience with just the right elements of bling thrown in…perfect for a stylish urban residence!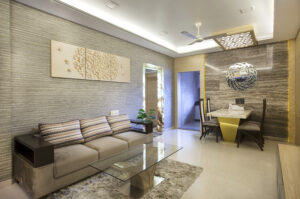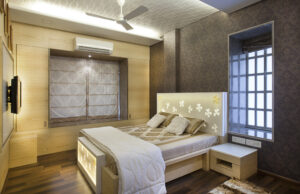 Contact Details: www.anishmotwani.in