Architectural designer: Aditi Vora Nair –AVN Interiors
Location: Mumbai
Aditi started with, AVN interiors in 2011. Design to her is about juxtaposing spaces to create an alluring environment of comfort, style and elegance. For her the final assessment of any design should be utility and the way people experience it. The approach has been a key to carving out a special place in the field of design.
Penthouse Insights…
Delivering to the client's requirement Aditi Vora Nair clearly gives the classic look to this Penthouse.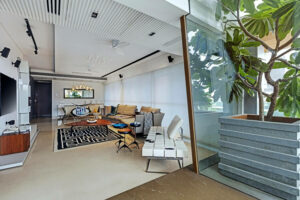 This penthouse is a display of architecturally designed interior spaces. The design approach is more spatial where the interiors have a very strong relationship with the landscape and nature outside. At the entrance one is greeted with a glazed courtyard that is open to sky with a single tree in the center.
Every space has a unique experience as it varies in scale and proportion giving it a feel of a house rather than an apartment. The Sun lounge extends into a covered deck area that opens to the terrace. The terrace is like a gallery designed in grey granite with a minimalist approach to give a Zen look displaying sculptures in the form of outdoor furniture. A huge art piece adorns the suspended stair case area. The double height space at the staircase is enhanced with a concrete cladding connecting both the floors. The powder room is hidden within this concrete wall.
The elegant design here nurtures every aspect of classic living.