Designer Alena Capra talks about current trends in the industry
Designer Alena Capra is the owner of Alena Capra Designs, an award-winning, interior design firm based in Fort Lauderdale, Florida. She is a graduate of both the University of Miami and the Metropolitan Institute of Design. Alena has more than 15 years of experience as an interior designer and is also accredited through the National Kitchen and Bath Association, as a Certified Kitchen Designer and a Certified Bathroom Designer. She has completed numerous interior design projects in Florida, as well as in other areas of the country, including New York and Minnesota.
She has also won several national design awards for her work, made numerous television appearances, and enjoys being involved within the design community. Ms. Capra is a member of the NKBA's Certification Test Board 2015-16 and has also had the honor of being selected as a judge for their 2013 National Kitchen & Bath Design Competition. She was a member of the host committee for the Salvation Army of Broward County's "Red Shield Re-Design Bash," where she has also designed a piece of furniture for the auction the past two years.
In conversation with Alena Capra
 You are considered to be a design icon. What has been your inspiration and how has the journey been so far?
I absolutely love the design and am inspired by many things…including fashion. To me, fashion and design go hand in hand. Many of the color and pattern trends we see in clothing, we see a variation of in design. I also love getting design inspiration from my travels. My design journey is still ongoing, and what I love is that no one day of work is ever the same! It never feels like work, because what I do is my passion. Meeting many interesting and inspiring people along the way is one of my favorite things.
Which are the current projects you're working on?
I'm currently working on several different residential design projects, in various areas of the United States, including Florida, New York, and Arizona. I love the variety of design and construction in different parts of the country.
Is there any special project that you would like to describe?
I'm working on a very special charity project called Kid Sanctuary Campus. I am designing a bathroom for the new Boy's Cottage and doing the whole design based on a Football theme. The floor is a mosaic green tile to look like a field, and there's even going to be a 3D mosaic tile football on the wall!
Tell us about your experience of Coverings 2017? 
Coverings 2017 was a great show!! I love that, it is a global show, and there are all sorts of amazing tiles, from all over the world. I'm excited to start using many of the beautiful new tiles in some projects this year. It's always great to stay on top of tile trends, and Coverings is the place to do that! I really enjoy working with the show as their Industry Ambassador.  This will be my 4th year in that role, and I'm looking forward to Coverings 2018 in Atlanta, Georgia.
How is the ceramic tile industry evolving? Tiles are being gradually perceived as a fashion product? What do you have to say?
I think there is such a fashionable aspect to tile. For example, at last year's show, we were seeing lots of blush pink tones on some tile, and there has been a lot of those tones in clothing, and in-home decor as a whole (fabrics, furniture, accessories) the tile industry has continuously been evolving…all of the technological advances allow for some beautiful 3D and printed tiles.
Which are the most talked-about tile trends for this year which inspired you the most and are in demand?
Some of my favorite trends continue to be industry-inspired tile, softer blush tones, and 3 D tile as well. I'm also loving some of the newer Terazzo looks. Also the larger format thin porcelain tile. I'm using lots of those for projects at the moment.
How important is the role that tiles play in making up the décor?
Tiles set the foundation for the design. The floor is what people often notice first, and it's somewhere where you can really make a design statement no matter what the size of the space! When you can use a tile to accent a wall, it's an added design enhancement. I love tile accent walls…whether it's 3D or printed.
Tell us about some recent experiences in tile installation that was very interesting.
I've recently used beautiful thin porcelain 4×8 panels of a Calacatta look for a project in New York City. We used the large tile panels for the back wall of a shower. I incorporated a smaller version of that tile for the rest of the walls. The look is beautiful. The printing technology really allows this to look just like Calacatta stone! And it installs very nicely!
What are your plans for the future?
I am looking forward to continuing to grow my design firm and take on a variety of different and exciting projects. I'm also very much looking forward to attending Coverings 2018 in Atlanta in May (8-11). As for other future plans, I hope to travel more this year, so I can continue to be inspired by my designs. It is also a dream to one day, create my own product line, so I'm going to continue to work hard at my craft, and hope that one day that can be a reality!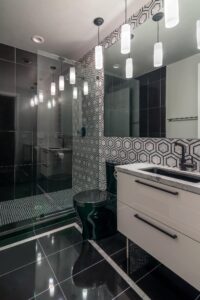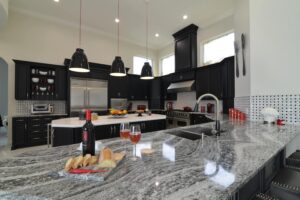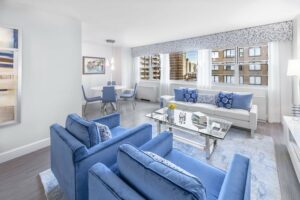 Contact Details: www.alenacapradesigns.com