Large size porcelain tiles collection from Flaviker
Flaviker, born in the early 60s, anticipated market trends by pioneering porcelain stoneware in the Emilia ceramic tile district of northern Italy. Today innovation- together with design and a marked awareness of eco-sustainable practices- are the qualities that distinguish Flaviker as a benchmark for porcelain stoneware Made in Italy. Geared to meet the exacting needs of architects and designers, the brand consciously explores the universe of contemporary surfaces, combining aesthetic excellence and technological innovation, providing a high-performance product that is also modern and avant-garde. Each collection becomes a versatile tool in the hands of the designer, always imprinting a distinctive feature, whether for indoor residential settings or outdoor public and commercial areas.
Flaviker showcased the latest trends applied to cutting-edge ceramic technology. The Wide collection, consisting of porcelain tiles in sizes up to 160 x 320 cm, has been updated with the addition of sophisticated new surfaces that open up fresh business opportunities, such as the countertops and furniture segment.
Cozy
Cozy from Flaviker is a warm, welcoming material that brings a sense of comfort to any project. The surprisingly natural wood look is further enhanced by the light, harmonious colour contrasts in a rustic-chic aesthetic ideal for various furnishing styles.
The appearance of the COZY planks is enhanced by realistic and almost three-dimensional details such as the presence of filled cracks. The soft and lightly textured non-reflecting surface has been created using new materials specially selected for this kind of product.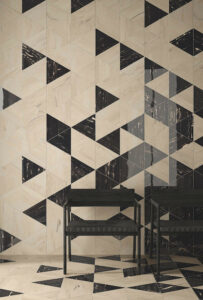 Hangar
Flaviker's Wide large-size panel range has been expanded with the introduction of a new collection. Hangar explores industrial materials and brings to light things that normally remain hidden, such as lightweight concrete slabs used for insulation and construction of partition walls. The original textured appearance stems from the combination of cement, glass fiber, and polystyrene beads and creates a novel aesthetic in line with current stylistic trends.
The Hangar collection is ideal for all kinds of projects, from large-scale retail and hotel architecture to custom residential spaces. Exploiting the product's characteristic directionality, it is possible to create unique solutions with great visual impact, giving floors and walls a distinctive industrial look softened by crossover solutions with other material effects in the Flaviker catalogue.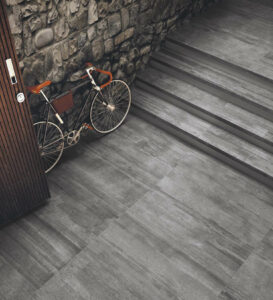 River
The new River ceramic tile collection skilfully combines a uniform surface with the beauty of fragments, firmly positioning itself within the macro-trend of agglomerates and textured materials. The project offers a reinterpretation of the old terrazzo floors created by master craftsmen that are still conserved in stately homes without hiding the signs of wear and tear that have accumulated over the centuries.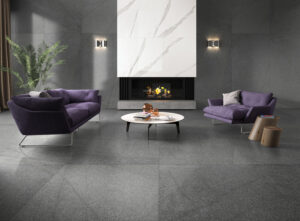 Supreme Wide
Flaviker's unflagging commitment to graphic research and customization hasled to the development of a constantly evolving "ceramic marble" collection. The Supreme wide large-format porcelain panels (up to 160×320 cm in size) with a thickness of just 7 mm recreate the beauty and timeless appeal of the most exclusive varieties of marble, amongst the most popular in architecture and interior design. It comes in a wide selection of sizes, all rectified, ideal for uses ranging from residential projects through to large-scale works in public and commercial spaces.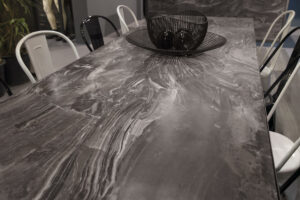 Contact Details: www.flavikerpisa.it