Designer Christian Haas has developed the new premium collection from Villeroy & Boch – Antheus
Fine materials, balanced proportions, and geometric contours inspired by the playfulness of Art Deco and the puristic clarity of Bauhaus – this is Antheus, Villeroy & Boch's new premium collection of lasting beauty. The exclusive Antheus design is developed by the designer Christian Haas who creates tableware, glassware, lighting, and furniture as well as complete interior concepts for renowned customers all over the world. Born in 1974 in Erlangen, Germany, Haas has already worked for the brand earlier for Tableware several times, but this is his first collaboration with the Bathroom and Wellness division.
Haas, who is known for his harmonious blend of sobriety and style, has combined lightness and elegance with a contemporary classic look wrapped in an unusual yet timeless design to create Antheus, resulting in unique shapes with an exciting blend of materials. Antheus is an extensive complete bathroom collection consisting of a number of washbasin and toilet solutions, a high-quality Quaryl bath with an optional stainless steel frame, elegant bathroom furniture, and mirrors.
The washbasin and toilet express their edginess with historically inspired facets, which are reminiscent of classic ceramics from the 1920s and create fascinating shadow and light effects on the surface depending on where the user is standing. The washbasin is made from TitanCeram, an innovative ceramic material developed by Villeroy & Boch especially for the production of expressive premium designs.
As TitanCeram allows for sharply defined edges and radii with extremely thin walls, it was possible to give the 65 cm surface-mounted washbasin – showcased on an elegant marble top with a high-quality stainless steel frame – a distinctive cubic shape for the outer part and combine it with the gently flowing inner surface of the bowl. An alternative to the open washbasin design is the 100 cm vanity washbasin with storage on both sides, which can be mounted on the wall or a floor-standing stainless steel frame.
The rimless toilet is available in two versions – as a modern, wall-mounted toilet and as a close-coupled toilet with an integrated ceramic cistern that highlights the classic character of the total collection even more. Furthermore, the toilet has a facet and comes with technical features such as the QuickRelease and SoftClosing functions.
The baths combine a delicate design with strength, which was only made possible thanks to the patented Quaryl material. By blending sanitary acrylic with the natural and hard mineral quartz, it allows baths to have a precise design while shining brilliantly at all times. The smooth, non-porous and pleasantly warm bath surface is not only sturdy, robust, and non-slip, but it is also very easy to clean as it is difficult for dirt to stick to it.
To provide flexible design options, there are three different overflows to choose from: without an overflow hole with a push-to-open feature, with a classic overflow hole or with the ViFlow concealed overflow function and electronic control device.
Christian has selected unusual combinations of materials to further emphasize the contrasting blend of history and modernity in the Antheus design statement.
Exquisite, charming, and elegant, all at the same time, the Antheus with its distinctive black Nero Marquina will leave you captivated…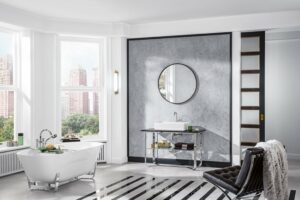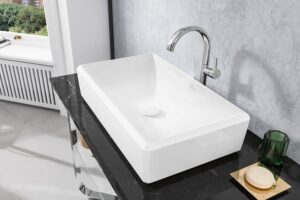 Contact Details: www.villeroy-boch.com