Reading Time:
2
minutes
Ella Canta Restaurant
Ella Canta restaurant takes its name from the Spanish for "she sings", a phrase that symbolises the expressiveness, passion, pride, and femininity communicated through Martha Ortiz's cooking. Celebrated worldwide for blending long-established cooking traditions with contemporary techniques and artistry, she brings the beauty, vibrancy and spirit of modern Mexico to the heart of London.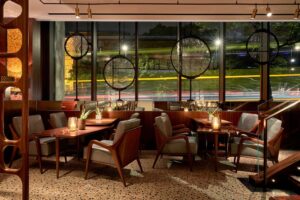 Ella Canta is an embodiment and coming to life of the unique vision of Martha which was translated in its brick-and-mortar form by the internationally-acclaimed interior architects David Collins Studio, overseen by Creative Director, Simon Rawlings. It is located at the crossroads where Mayfair, Knightsbridge, Hyde Park and Piccadilly all converge.
Ella Canta is a project of passion that holds true to Martha's philosophy of tradition blended with modernity. The close collaboration of Chef Ortiz and David Collins Studio sees subtle Mid-Century references from the great Mexican modernists, artists and designers paired with bold contemporary artwork.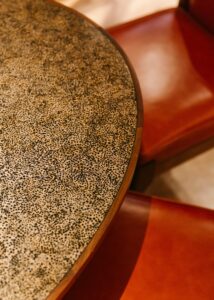 Strong shapes, soft colours, and clean lines celebrate the architecture of Ricardo Legorreta, ceramics of Gustavo Perez and textures of Ernesto Alva. The 410-square metre restaurant subtly evolves with palettes that gradient throughout three dining rooms. Blush pink, sun-bleached red, blue and tan is each uniquely inspired by the architecture and landscapes of Oaxaca.
Guests arrive to see one of the restaurant's key features – a 45-metre floor to ceiling walnut installation, inspired by the work of Mexican furniture designer Eugenio Escadero. Hand-carved in one continuous movement, the piece runs the entire length of the restaurant and ties the intimate dining spaces together.
The stylish bar evokes Escadero's influence again with black clay formed in an organic asymmetric shape, topped in rouge griotte marble and framed in walnut panelling. This is continued through the bespoke tables, cantilevers, walnut bar stools, tan leather banquettes and armchairs.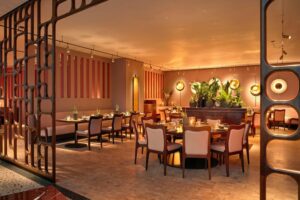 Tabletops throughout the restaurant are inspired by the tactile pottery of Gustavo Perez and are finished in a hand-crafted eggshell, ivory and black lacquer all trimmed in walnut. Large circular lenses of textured glass-framed in hammered gunmetal are set within the floor to ceiling windows adjacent to Hyde Park. The lenses are inspired by the work of Mexican artist Feliciano Bejar, who is known for his 'magiscopios' style of sculpture that used glass to distort vision. Handmade Mexican 'amate' wallpaper is finished in hand-brushed gloss paint and act as a warm backdrop to the custom wall lights and gold leaf mirror.
A glowing, soft and warm ambiance make Ella Canta a beautiful experience for lovers of fine dining and art.