Malaka Spice restaurant
Malaka Spice restaurant designed by Mitali Aharam and Supriya Lolayekar, Crafted Spaces. Founded in 2014, the design studio having Architectural and Interior Design Projects around the country.
Their one of the most famous project Malaka Spice is a restaurant which serves inspired South East Asian food. We were given a brief to not stray too far from the colour scheme and décor from their other restaurants for the franchise which was to open in Hyderabad.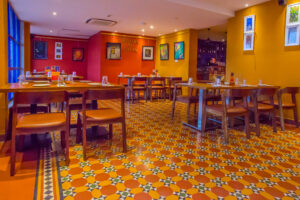 On the site there happened to be an old house and lush gardens which were spread across three levels. We had civil changes and layouts done so that it was now possible to have a huge kitchen that could cater to about 450 covers indoors and outdoors on a daily basis and parties as well.
We made changes to the façade so that the views and the outside hardscape and greenery could all be taken in while having a meal or enjoying drinks.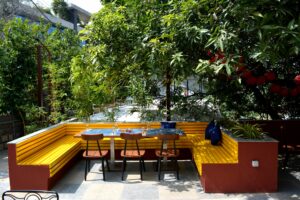 We used Bharat floorings for the walls. Some walls had to be left bare since artists continually chose to showcase their work there. The walls speak a different story every month as the artists come and exhibit their work.
The bar façade was also made from a mix and match of the leftover tiles to ensure sustainability. The tabletops were also made from tiles which were a prerequisite from the franchise. The furniture was kept simple and easy to maintain.
The outdoors adorn an outdoor bar, benches with colourful wooden slats with cushions thrown in for good measure and plenty greenery to make the seating cosy and romantic. We added a lot of the Malaka spice colours to the same. The Chinese lanterns were strung around the existing trees.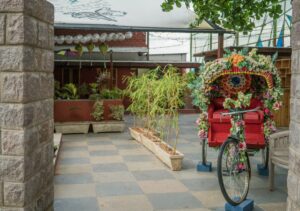 The final touch was the Malaka Spice TukTuk which takes its spot at the Entrance and becomes the perfect spot for guests to take some pictures.
Contact Details: www.craftedspaces.co.in
(The article was originally produced in The Tiles of India magazine, Mar-Apr 2019 issue)