Sustainable decor art is going to be the future of décor. Décor is an extremely intimate, personal expression of our most innate desires. We choose objects, colours and textures based on things and beliefs we identify with. In the  recent times we have seen an upsurge in environmental awareness and a demand for a lifestyle that is in alignment with being socially and environmentally responsible. Driftwood artist Alan Borg from South Australia, Yorke Peninsula is well known across the world for his intricate and lifelike driftwood sculptures which are intensely moving yet very chic.
They are highly versatile and can be added to almost any décor with an instant eye catching appeal. They are conversation starters with an intriguing quality to them. tell us about driftwood art and how you began? I have always been fascinated by the ocean, driftwood art is an extension of the ocean to me. There is so much history, each piece of driftwood has its own story. Whether it has crossed oceans or come from long lost ship wrecks. Because my art is ocean inspired, I prefer to represent the ocean creatures with the materials that the ocean has also delivered. I am also very happy to use environmentally friendly materials in my art and we also as a family collect beach plastic and flotsam and dispose of it responsibly, to give something back to the sea. I have been an avid beach comber since childhood. I have always marveled at the texture, shapes and history of driftwood. Every piece has a story.
Maybe even from long past shipwrecks. I soon started collecting and over time building ocean themed sculptures.
How is driftwood as a medium to work with?
Although I love working with driftwood it sure has its challenges. I am often walking and travel great distances to find driftwood I can work with. Last year we traveled over 15000kms in search of workable materials. Also because of its unstable nature driftwood can often split and crumble so the right timber is needed.
Can you explain your creative process?
I gain most of my inspiration from the days spent on the beach collecting driftwood. As I encounter coastal birds and ocean creatures I soon start assembling the driftwood in my mind in the shape and movement of the forms I see. My favourite sculptures are the ones I begin as soon as I return from beach combing.
How has been the response to your work?
The response to my work has been amazing and often humbling. I was lucky to never really go through the 'starving artist' phase. My art seemed to take off straight away and I now get commissions from international buyers which have inspired me to create more.
What are your future plans in terms of expanding your creativity and reach?
I have just recently gone full time with my art and have built a Bus to travel Australia with onboard art studio. I would love to continue the growth of international interest in my art and recycle more of the flotsam and jetsom in which I find on the beaches.
Here are a few images of his work: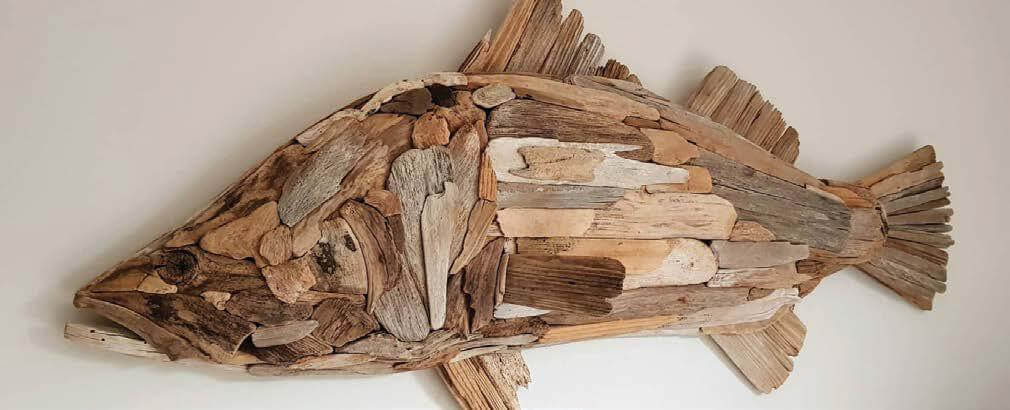 This article is originally produced from The Tiles of India Jan-Feb 2020 issue