In the wake of COVID – 19, the experience with 2020's tile design trends at Coverings was reimagined in an expanded digital format, Coverings Connected. This virtual format allowed a close-up of Coverings features, including a digital showcase of 900+ exhibitors and hundreds of new product images, educational webinars, podcast interviews with industry experts, live chats, a personal trend tour by industry expert Alena Capra, and more.
With so many shapes, sizes, patterns, textures, and colors available, trends continue to highlight that ceramic tile offers an aesthetic for any space, indoors or out, residential and commercial design alike. Applications include floors, walls, backsplashes, fireplace surrounds, outdoor living, restaurant spaces, bathrooms, bedrooms, and hotel lobbies. We said ANY space, and we meant it.
This year, Coverings Connected shared these trends in abundance, showing yet again that the versatility of ceramic tile is truly tile's greatest strength — the ability to answer any use with innovation, unique beauty, and durability.
The design trends presented at Coverings Connected promised an exciting and innovative year for the tile industry. Here's a review based on new products being offered.
Mixed Color Palettes 
While tile color preferences change and evolve, this year's popular color palettes are offering a highly creative mix of hues, tones, and moods. We see a return to a more decorative dimension where color is prominent. From warmer, earthier tones such as terracotta and sage, to a mix of greens and blues, the design industry is moving toward color palettes that offer a wide variety of combinations. If you are crazy for Classic Blue, the Pantone color of the year, or the emerging sage green and dusty orange décor favorites, ceramic tile has plenty of options. On the other side of the rainbow, pretty in pink is in vogue again.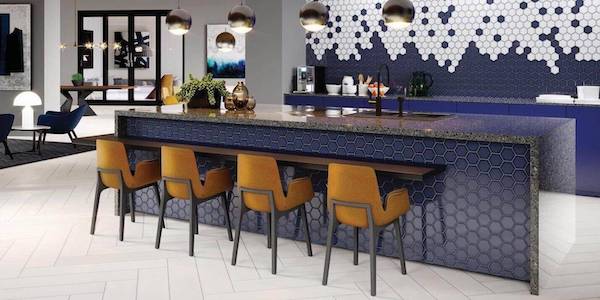 Refined Natural Wood Looks 
The natural wood look has been a staple in the tile industry for years. Thanks to evolving technology, the natural wood look remains uber-popular in 2020. This year, tile manufacturers are reinventing the look in an abundance of colors, details, and applications for one-of-a-kind styling. In addition, transitioning materials, such as wood looks that are used in the family room transitioning into concrete looks in the kitchen, create exciting opportunities for interior design in 2020.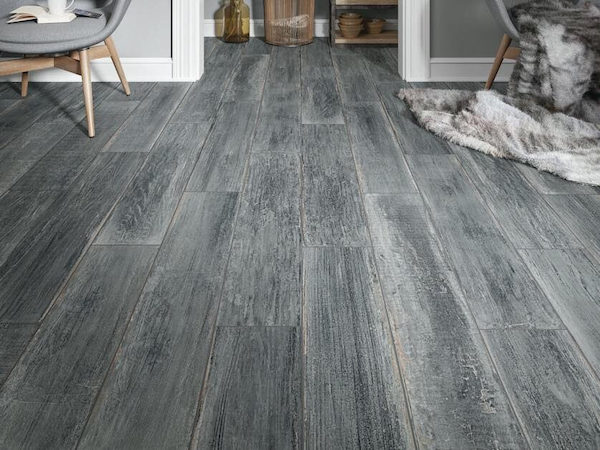 Precious- and Gemstone-Style Made Sustainable 
The look of precious stone takes the beauty of nature to a glamorous place. From designs emulating rare marbles and semi-precious stones, such as onyx and agate, to tiles with an iridescent finish reminiscent of Akoya pearls, precious material styles are set to make a splash in the tile industry this year. This trend also allows designers to source materials that appear rare and precious for a fraction of the price, without depleting Earth's natural resources!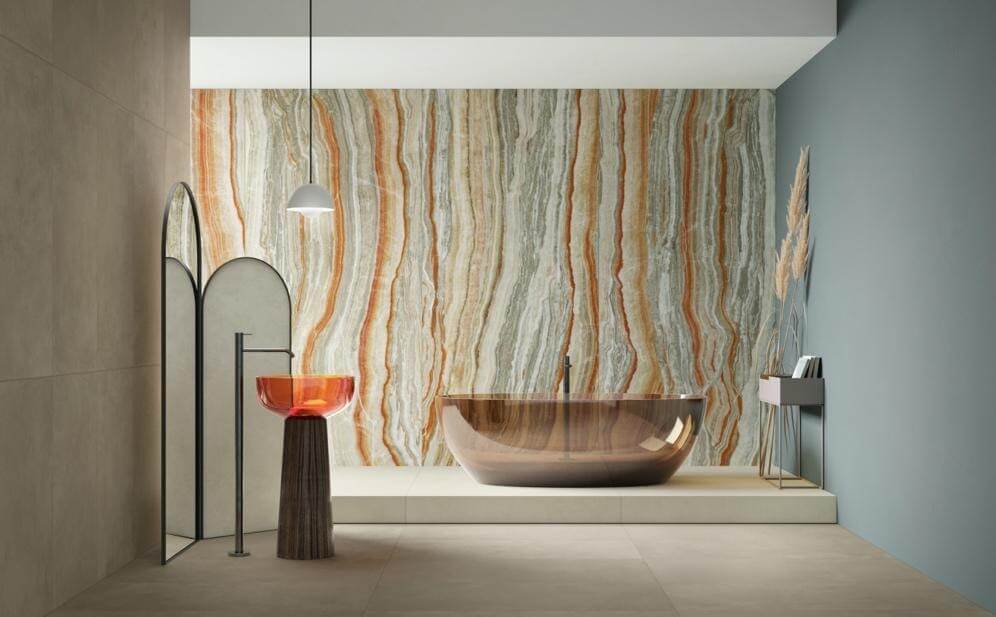 Nonrectangular / Mixed Geometrics 
Geometric tile shapes other than rectangles increase the interest factor of an installation. Trapezoid-, rhombus-, and diamond-shaped tiles allow for more interesting layouts than simple grids. Décor schemes can go even more creative by sprinkling a few same-shaped tiles of another color into a layout. Random or carefully positioned, the possibilities are endless with this innovative configuration.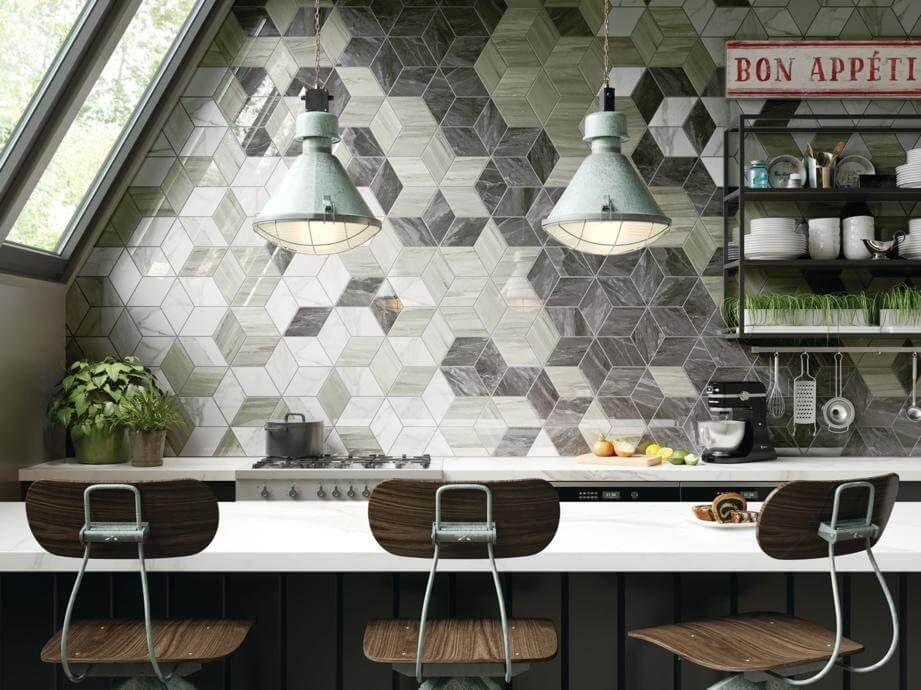 Counter Culture 
With the quantity of gauged porcelain tile panels/slabs steadily increasing in the market, their use is also expanding. Thick slabs in large formats are trending this year with a range of thicknesses for countertops from 3.5 to 12mm. The durability and stain resistance of porcelain makes it an excellent countertop choice, which is why this type of application will be a 2020 favorite.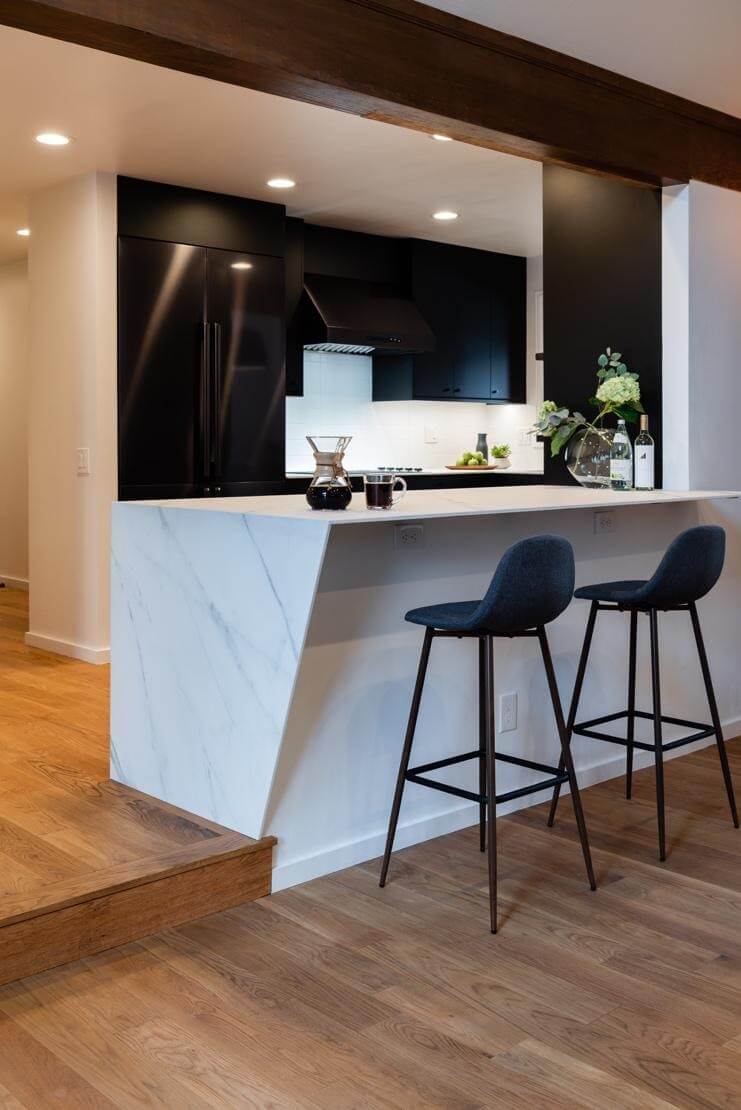 Psychedelic 
They say that "everything old is new again," and the same goes for tile. Retro-inspired design and midcentury modern interiors are making a return. Tile manufacturers are responding with radical references to the 1960s and '70s with bright, psychedelic colors, playful geometries, and trippy patterns galore!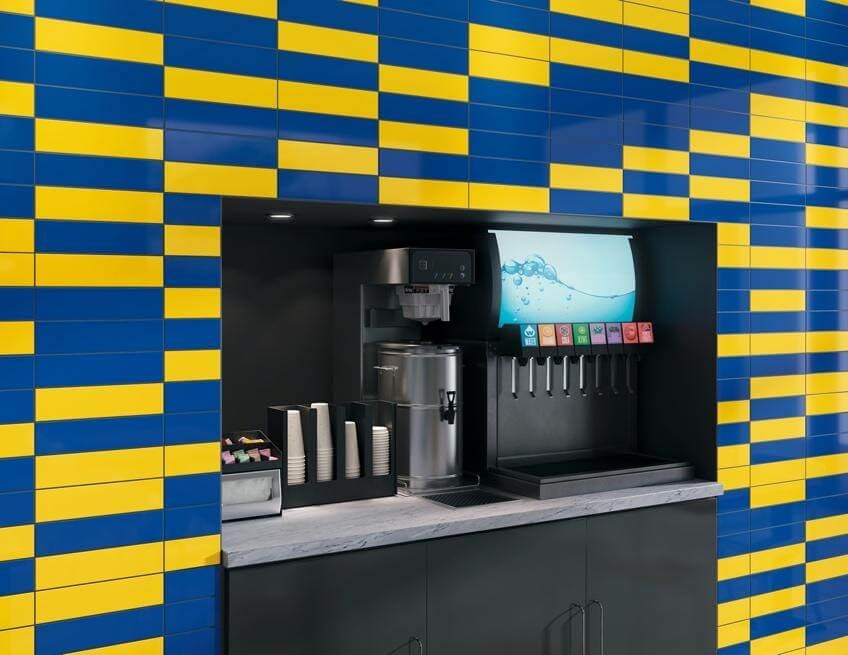 Industrial Chic 
In contrast to the warm, rustic, or potential rural feel of wood-look tile, we are starting to see an emphasis on urban design and its aesthetic traits in 2020. Concrete- and stone-look tile options enrich environments with a chic artfulness while opening the door to endless, unique style options.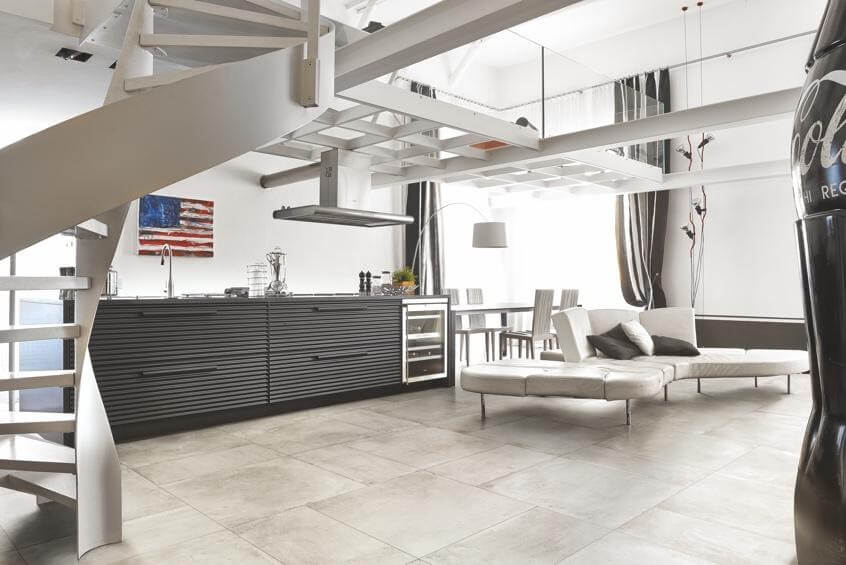 Modernized Marble 
Traditionally inspired ceramic materials, such as emulated marble, have been modernized to adapt to the contemporary styles of 2020. Highly sought-after luxurious designs typically reserved for floor tiles have been converted into large ceramic slabs now used for countertops, bathroom vanities, walls, and more.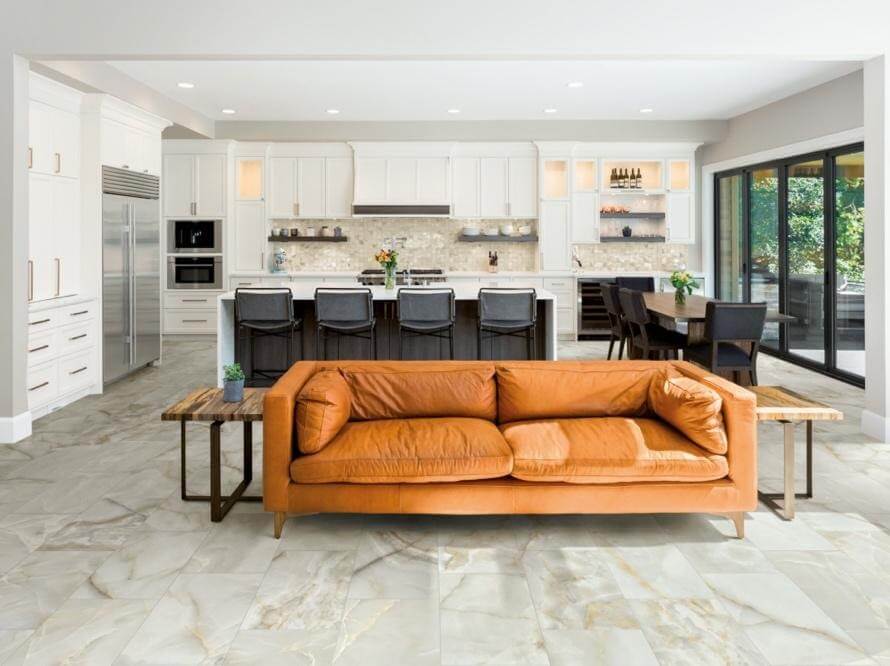 Speckled Surfaces 
Given postmodernism's recent comeback in the world of design, it's not surprising to see speckled surfaces as one of this season's biggest tile trends. Look for designs that display playful chips and fragments, both large and small, embedded in different sizes, shapes, and colors of tile. This trend features technicolor dots and specks, and modern interpretations of terrazzo.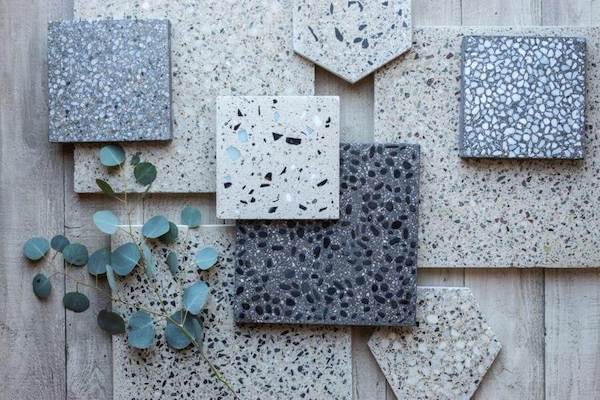 Large-Scale Patterns 
In 2020, we will see a shift from minimalistic designs toward ceramic tiles with big, bold patterns that instantly catch the eye. Available in a multitude of shapes and color schemes, large pattern tiles are perfect as an accent piece or architectural element in an understated space, turning surfaces into true works of art. Large-scale pattern tile is also taking the form of nonsquare geometric shapes.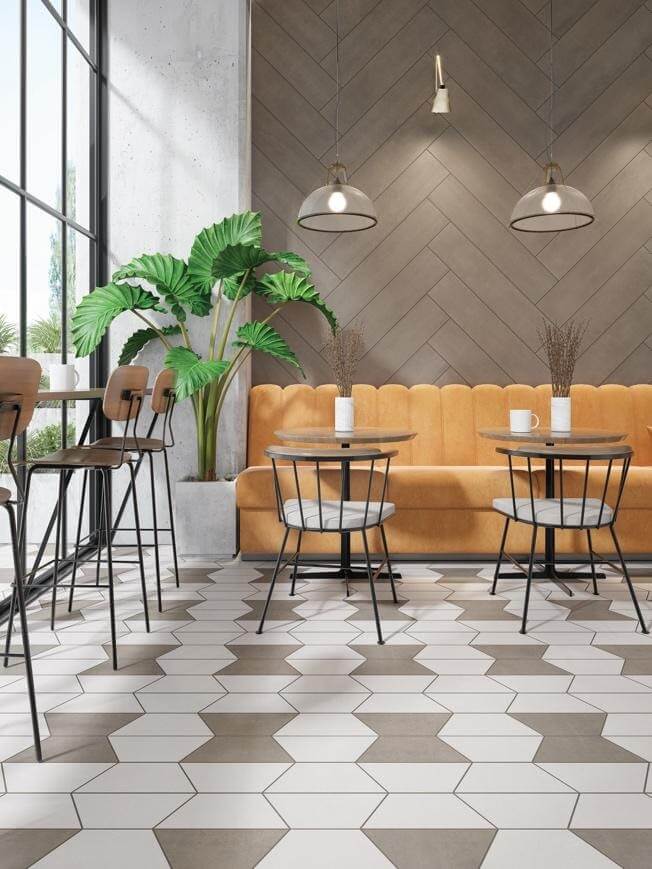 The Coverings 2021 will take place on April 13-16, 2021 in Orlando, Florida!