Interior Designers Parshad Waichal and Varsha Waichal designed Tanatan
Interior Designers Parshad Waichal and Varsha Waichal gave a quirky and vibrant look to their project Tanatan, a restaurant located in Kolhapur, India.
Interior designers Parshad Waichal and Varsha Waichalof Parshad Waichal Interiors always strive to create a better environment through their amazing projects."We obstinately endeavour to retain classical roots with an administration for everything that is natural and yet evolve with the changing times with a constant statement."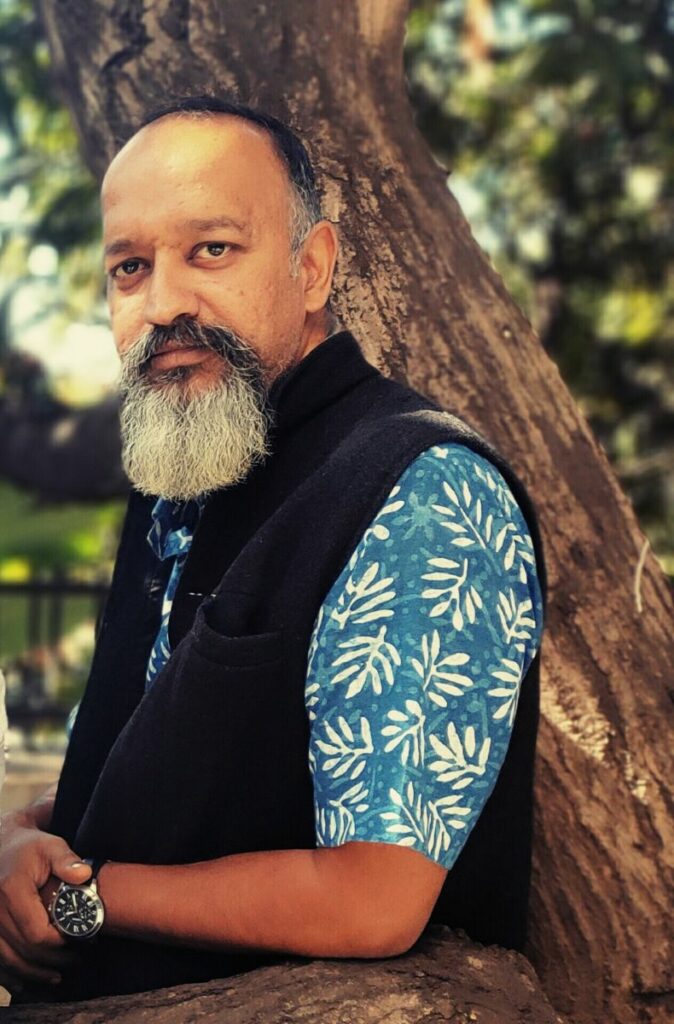 An artist has to be his own inspiration. It is a perpetual process as it is an illimitable journey. It's said that your own work should verbalize louder than your words. Such is the way one should set his practice. To be inspirational to others, our practice should not limit to a particular style or statement.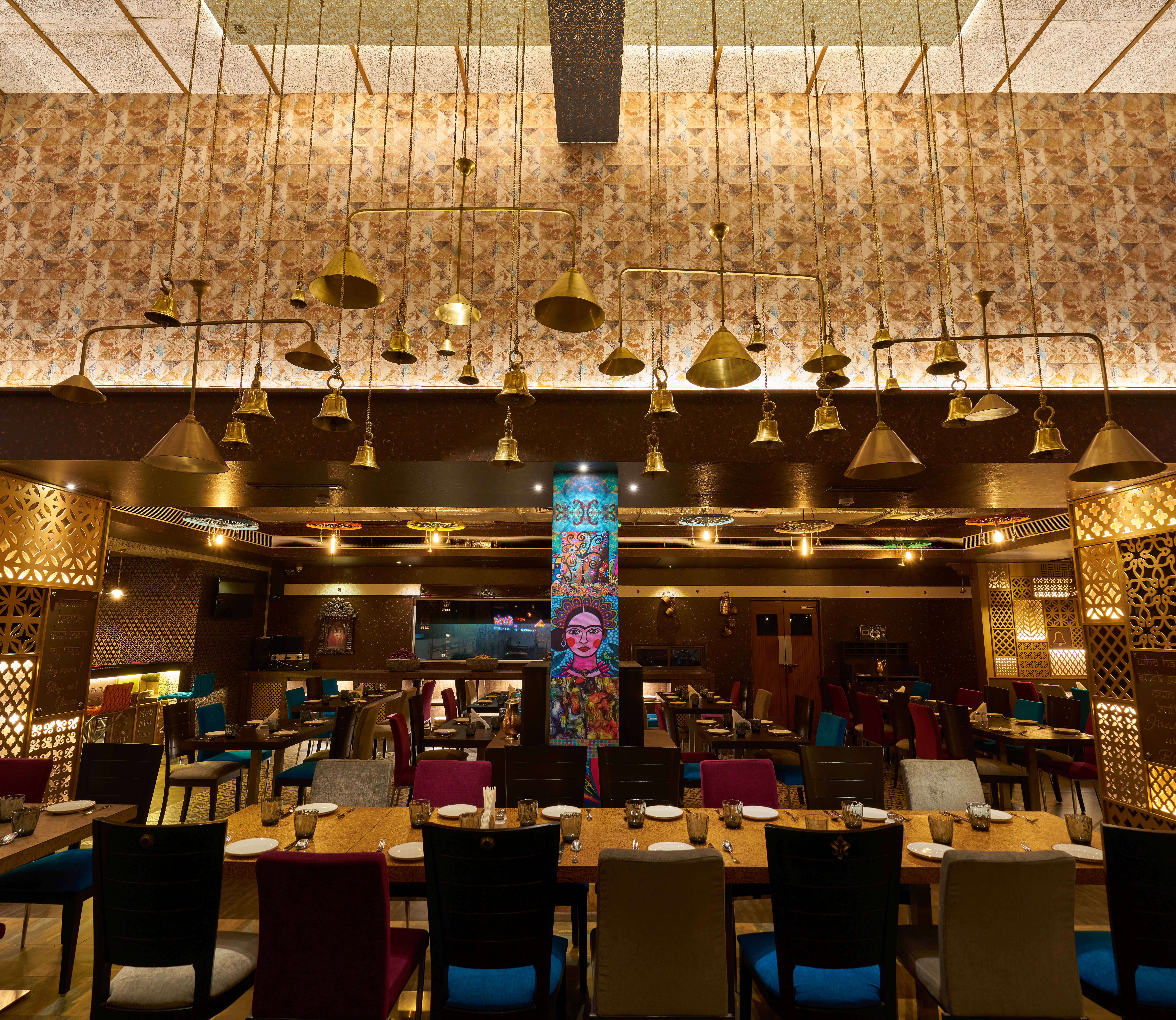 As an artist you have to communicate by getting involved and spreading cognizance about art and by being gregarious, sharing your designs through debate to inspire others. In this ever-growing, ever-transmuting field of design, the challenges are as important as creativity.
Our practice in design flexibility has gained its apperception to work on all fronts to be multifarious in the design approach.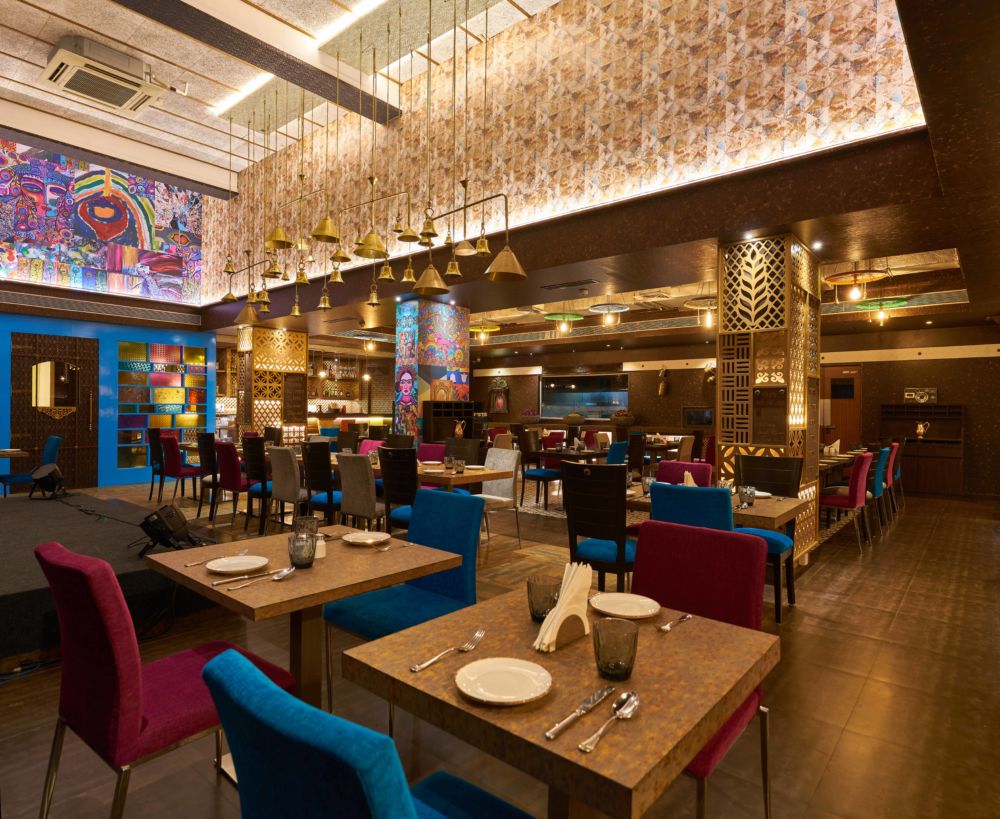 Their recent project is located at the most prime locations of Kolhapur and is a conceptualized restaurant called "TANATAN". Just like the name, it's quirky and vibrant. Its ambience glorifies the richness of Majesty and the monarchy of the city. The 1800 sq. ft restaurant came with a simple brief and that was to create an asymmetrical fusion with innovative use of local and reclaimed materials, an amalgamation of new skills with traditional crafts, adaptive use of elements like old cycle rims as chandeliers, cluster of brass bells as hanging lamps, and exploitative use of opportunities like part double height and a long street frontage.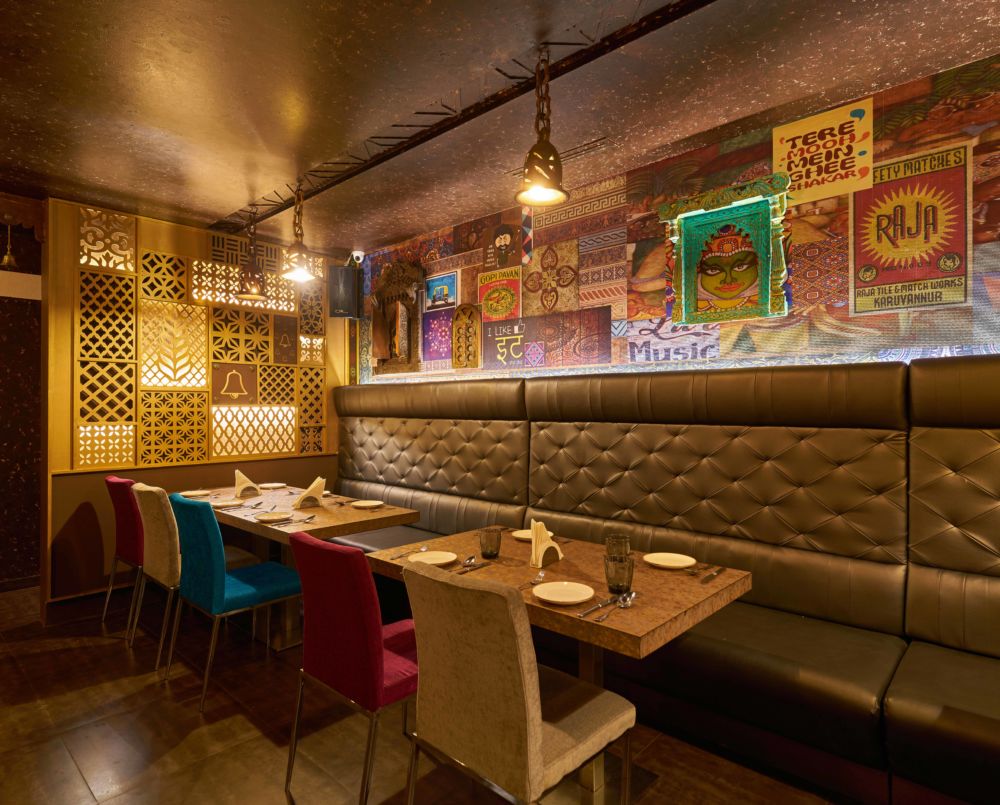 The colour palette ranges from golden sand to earth tones to multi-shades glasses, fabrics, and graphics. The welcome foyer relates to the blend of these finishes. All materials are left exposed in their natural colours and tones. Low height ceiling is open with AC ducts and multi patterns and a colourful cycle rim as a lighting element with small elegant bells hanging with them.
The double-height ceiling is exposed with acoustical material in a raw fashion, which also hosts a stage with a live band performing in the centre. The performing stage has a background of a busy street with a screen of metal chains which complements the raw ceiling effect, reclaimed antique materials are used in a manner to create a rhythm in the symphony with a live performing band as a story and a third dimension. Flooring is a combination of canvas, geometric, and roto finish tiles which creates spaces within space.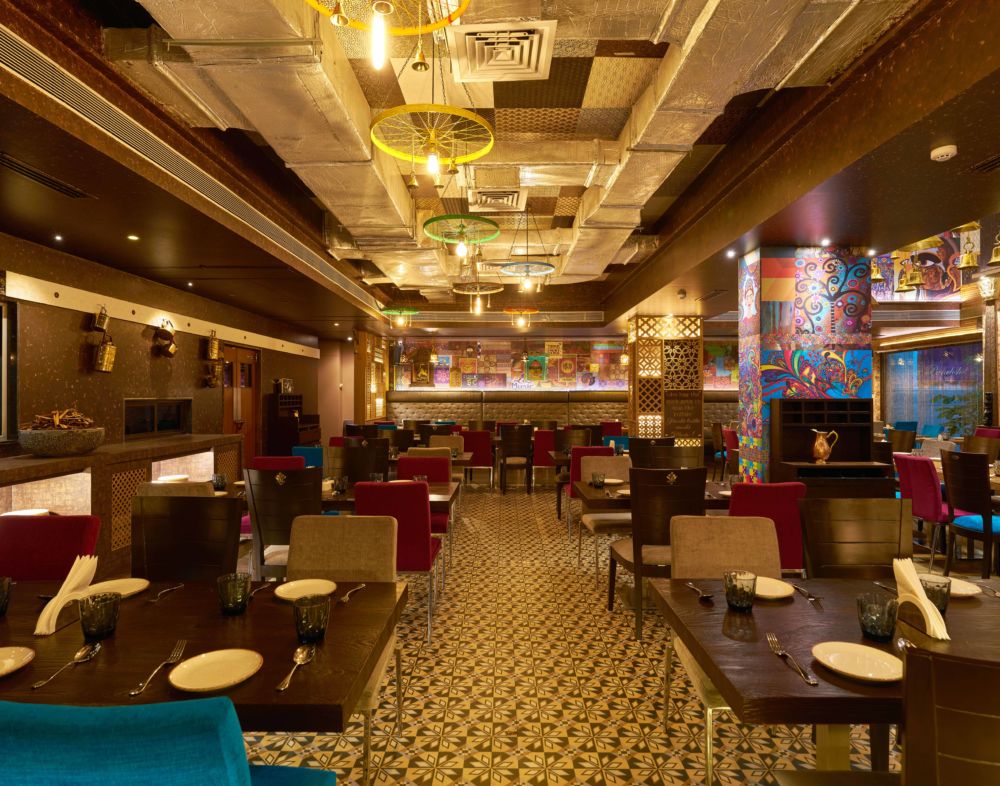 Golden tan finish contemporary lattice screen provides dynamic titillation to the sensory experience.  The graffiti on lattice screens adds a sense of humour. The kitchen is a part of the ambience, well placed, and visually accessible – transparent, clean, and hygienic. The bar counter is a blend of geometrical and liner patterns. The facial impression is a combination of asymmetrical forms and patterns of colour glasses, acrylic mirrors, reclaimed elements, and lattice panels.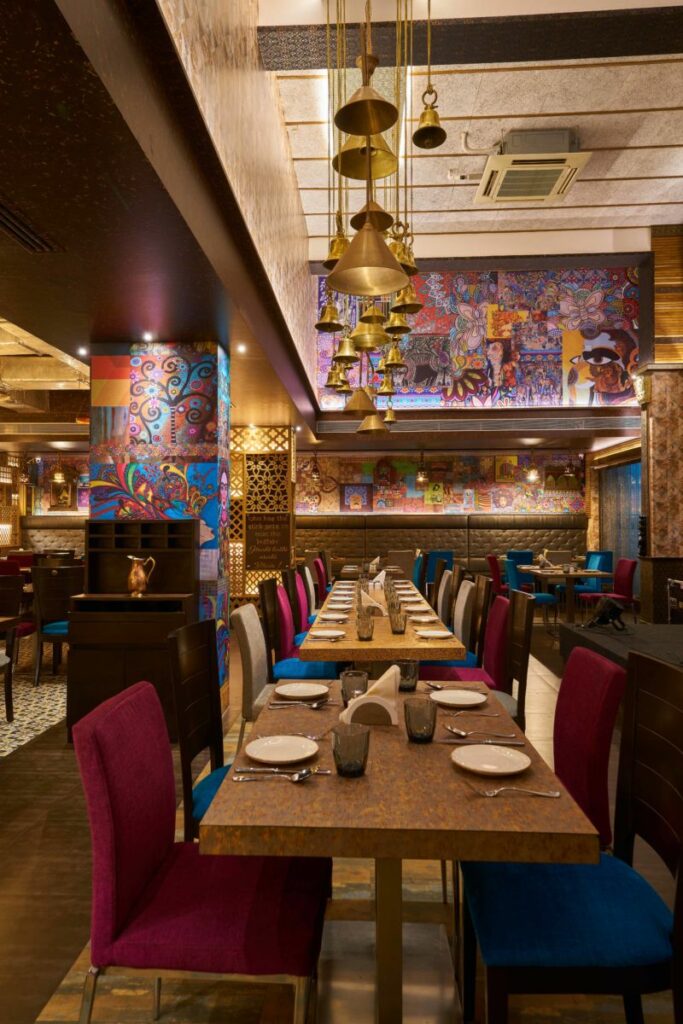 The end-user gets the most comfortable amalgamation of custom-made sofas and chairs. The colourful chairs get a motif as an added value to the décor. The table finishes are a combination of typical embroidery-styling cork with natural timber.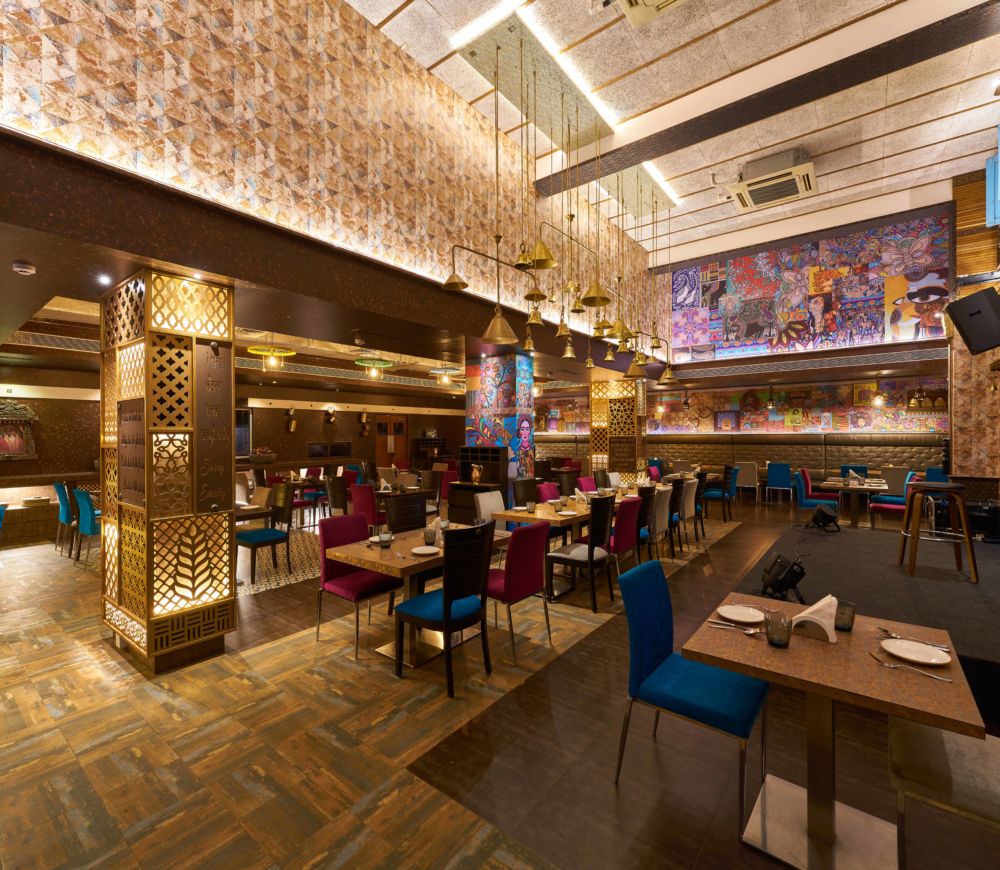 The entrance foyer which leads to a grand double height is welcomed by lord Ganesha in a very graphical manner along with Indian art, which creates a single entity. The colourful niches, the handsome cats, the intricately carved wooden sculptures, and the elegant wall graffiti enhance the walls while adding to the quality of the space. Artifacts' were carefully handpicked to abide by the overall interiors.
Quirky, yet inviting, overall a great look!