Reading Time:
3
minutes
The Resort House in Sevasi, Vadodara, Gujarat
Designed by Architects Anand Menon and Shobhan Kothari, of ADND architecture + interior firm.,The Resort House in Sevasi, Vadodara, Gujarat is an example of a design that allows two structures to remain disparate in their spatial existence and yet be bound together by a vision in the continuum.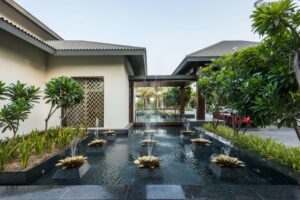 Spread across a sprawling land bank of approximately 4,00,000 sq.ft in SEVASI, Vadodara, Gujarat, the resort house is undoubtedly an attempt to create a building that brings you close to nature, a building that resonates with the feeling of living in a resort 'full time.' The Resort House was done in Atelier Design N Domain partnering with Architects Anand Menon and Shobhan Kothari of ADND architecture + interior firm.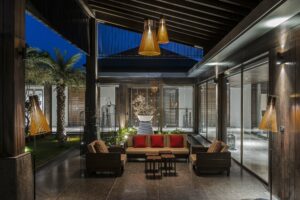 The aesthetic brief asked for a design that finds the right blend between tradition and modernity. The architectural interpretation of the same was established in the roof space which is a combination of primary functions having pitched sloping roofs to connecting corridors having a flat roof structure reflecting a modern minimalist language.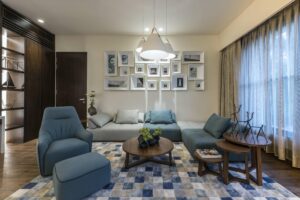 A tree-lined driveway brings you into the lofty formal living block. A wooden bridge over an expansive shallow lotus pond takes you from the drop off to the main entrance door. The formal living block was conceived as a double-height glass pavilion overlooking the plush central lawn flanked by the houses on each side. Stepped sloping wooden ceiling with elegant modern bronze chandeliers accentuate the sheer grandeur of the space. With large sliding glazed windows the same can become an extension of the living in fair weather. Neatly tucked away and hidden from public view are the pantry and toilet facilities.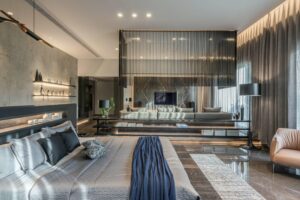 The four individual master bedroom suites reflect the aesthetics of the user's individual personalities and are complete with their own lounge, private study, a walk-in-wardrobe, and bathroom facilities.
All the master bedrooms enjoy access to a shaded verandah that overlooks a private garden. In addition to twin guest bedrooms that are tastefully anointed the individual houses have a family library and a more formal study room to create variable experiences. Incorporated into the master layout are service corridors that connect the central formal block and the twin houses to utility spaces like an elaborate central kitchen, store, cleaning and washing rooms as well as servant quarters.
Contact Details: www.adnd.in
(This article was originally published in The Tiles Of India July-Aug, 2019 issue)