Pantone 2021- Color of the year
Explore new ideas for your décor with these beautiful Pantone 2021 colors.
The Pantone Colour of the Year 2021 is finally here. PANTONE 17-5104 Ultimate Gray + PANTONE 13-0647 Illuminating, two independent colors that highlight how different elements come together to support one another, best express the mood for Pantone Color of the Year 2021. Practical and rock-solid but at the same time warming and optimistic, the union of PANTONE 17-5104 Ultimate Gray + PANTONE 13-0647 Illuminating is one of strength and positivity. It is a story of color that encapsulates deeper feelings of thoughtfulness with the promise of something sunny and friendly. Now the Pantone 2021 color is finally here, we give you new ideas for your décor with these beautiful colors.
1. Highlight your walls with Illuminating
Painting a front wall in bright yellow Illuminating conveys a warm and welcoming message when supported by solid and dependable Ultimate Gray in the exterior finishes. Give a warm and welcoming tone to your house by spreading the Illuminating yellow on the walls, which gives a soothing effect to your décor.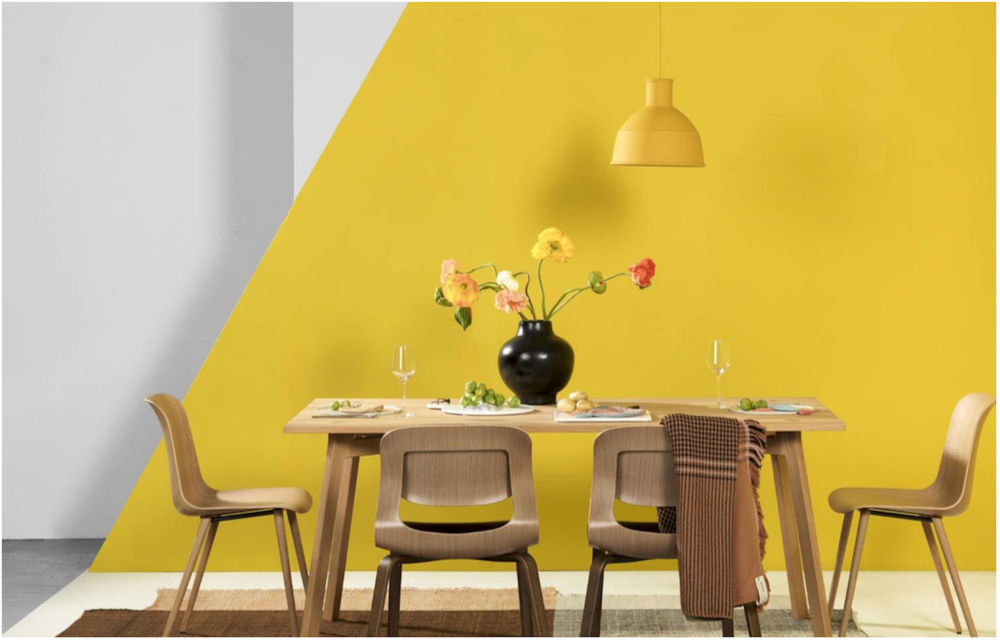 2. Design a timeless kitchen
As the trend of a colourful kitchen goes a long way, one can consider using these colours in the kitchen. Consider using Ultimate Gray on the cabinets with the bursts of yellow. One can play a lot with these colours. Also, add colourful crockery to give it a quirky look.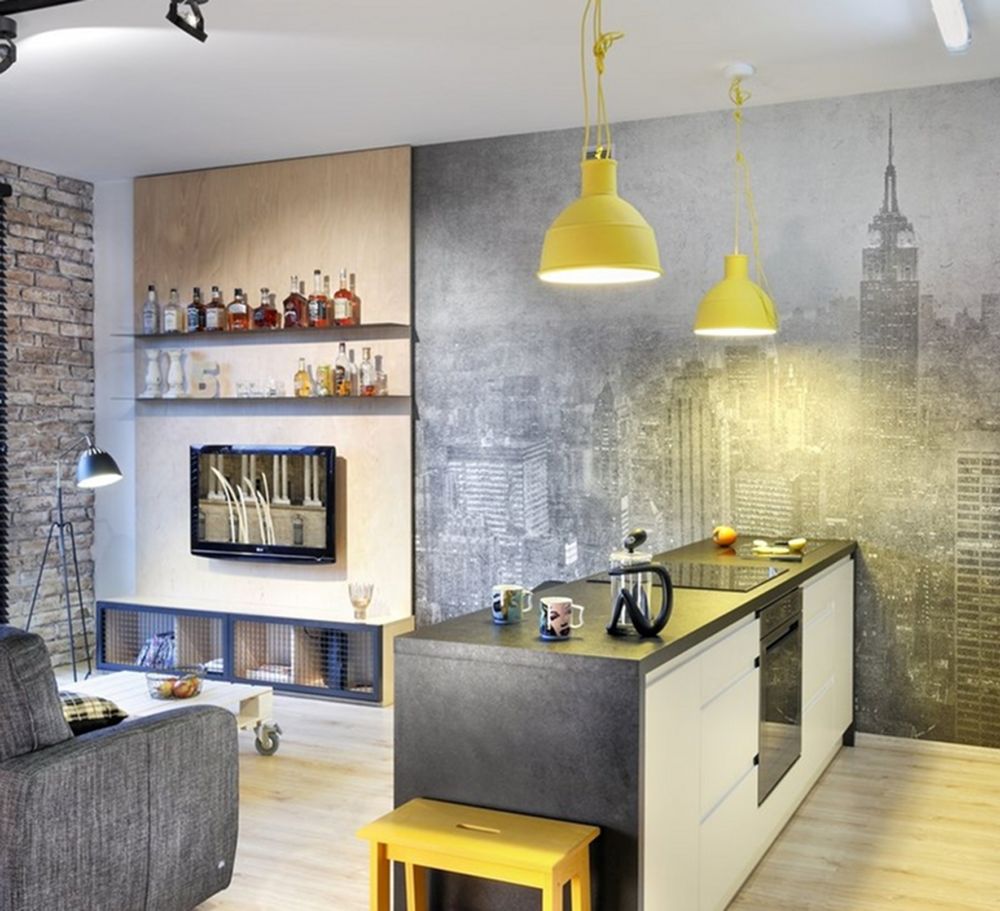 3. Adding Fabrics
With coloring walls and kitchen design, it is also important to add fabrics in your house which are the main elements that cannot be ignored. Choose textiles in gray and yellow tones to add another layer of comfort to rooms. Such as curtains, bed sheets, quilts, sofa covers. The warm tones lend an inviting feeling that's especially cozy in bedrooms and living spaces. These versatile hues work well with most neutral colour schemes as well as colours like blue and green.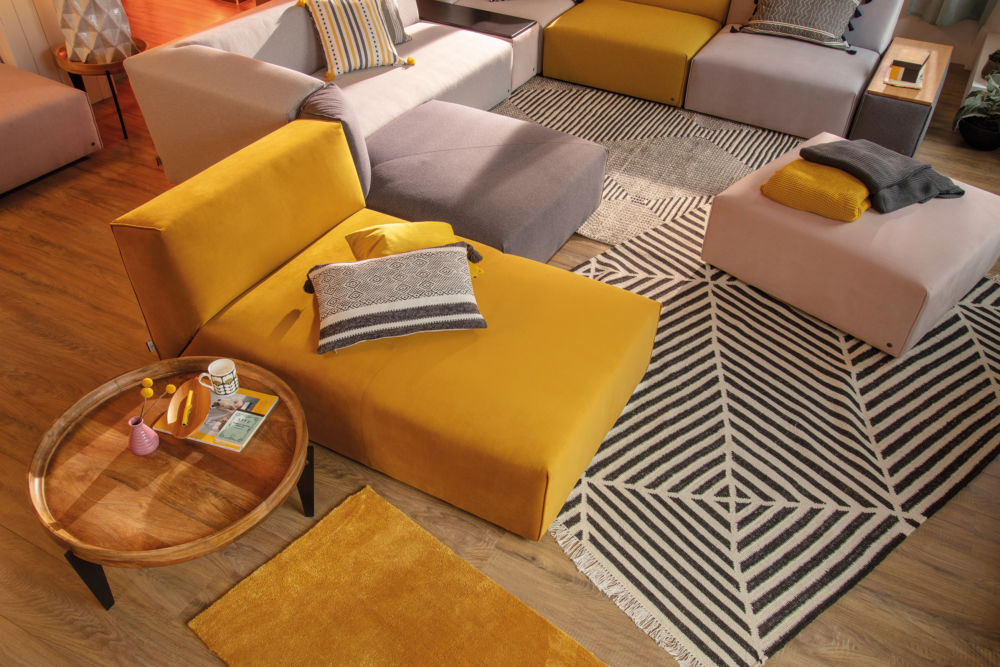 4. Bright & Modern Bathroom
Update your bathroom with these amazing colours to give a pop and modern look to your bathroom space. Ultimate Gray looks gorgeous as a bathroom paint color, on a backsplash, or as floor tile. Add in splashes of yellow through rugs, hand towels, and countertop accessories. For added contrast, opt for a gray paint color that's a few shades darker to make the yellow accents really pop.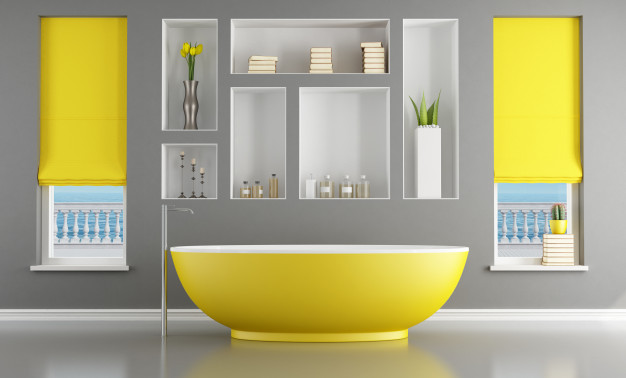 5. Deck your outdoor space
These colours also make your outdoor space look mesmerizing. Bring these colors outside for an inviting patio, porch, or deck. Create a neutral foundation with gray patio furniture, then accessorize with yellow pillows and other bright accents. For example, shiny yellow garden stools can stand in as side tables or provide extra seating options. Place a gray outdoor area rug underfoot to make the arrangement feel homier.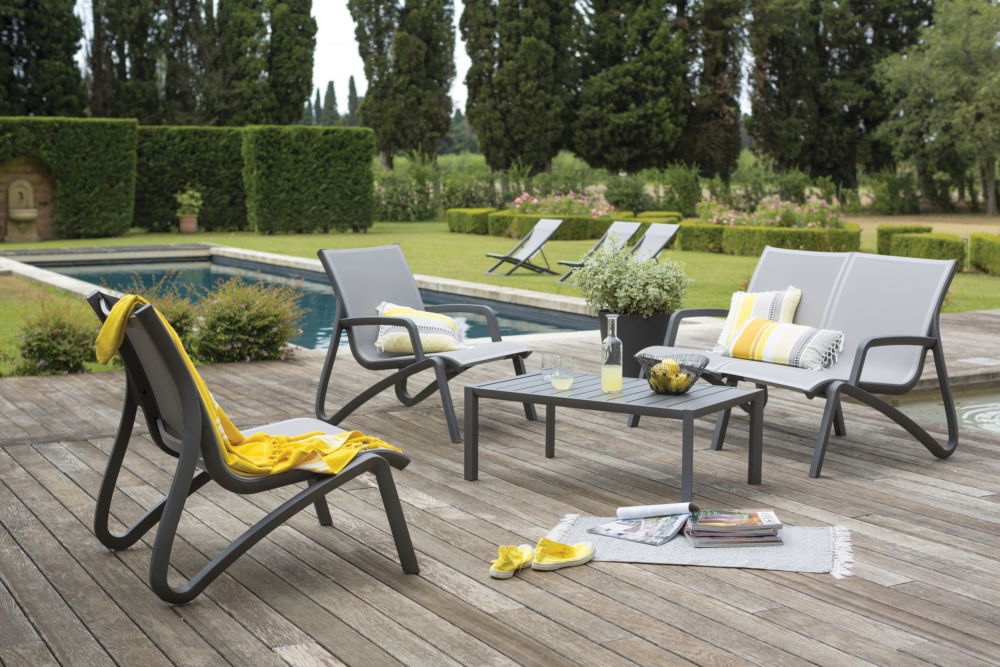 6. Tiling it up
Use Ultimate gray tiles in your living space, bedroom, bathroom, or kitchen to give a timeless look. With these gray tiles make sure to accessorize your house with yellow in small parts. This combination is fresh and will add personality to your overall décor space.