Karim Rashid designed Switch Mirdif City Center Dubai
Switch Restaurant & Lounge is a Dubai-made brand which is founded by Food and Beverage entrepreneur Deem Albassam, who has an eye for recognizing what is missing from the restaurant scene and has become an expert in implementing the 'you eat with your eyes' statement by not only focusing on the look and taste of the dishes but also by collaborating with renowned interior designer Karim Rashid also known as 'the poet of plastic' to give the restaurant a completely different look and feel from any other restaurant in the UAE. The idea behind Switch is to change the dining standards and create an environment where dining becomes once again an "experience" not just a necessity.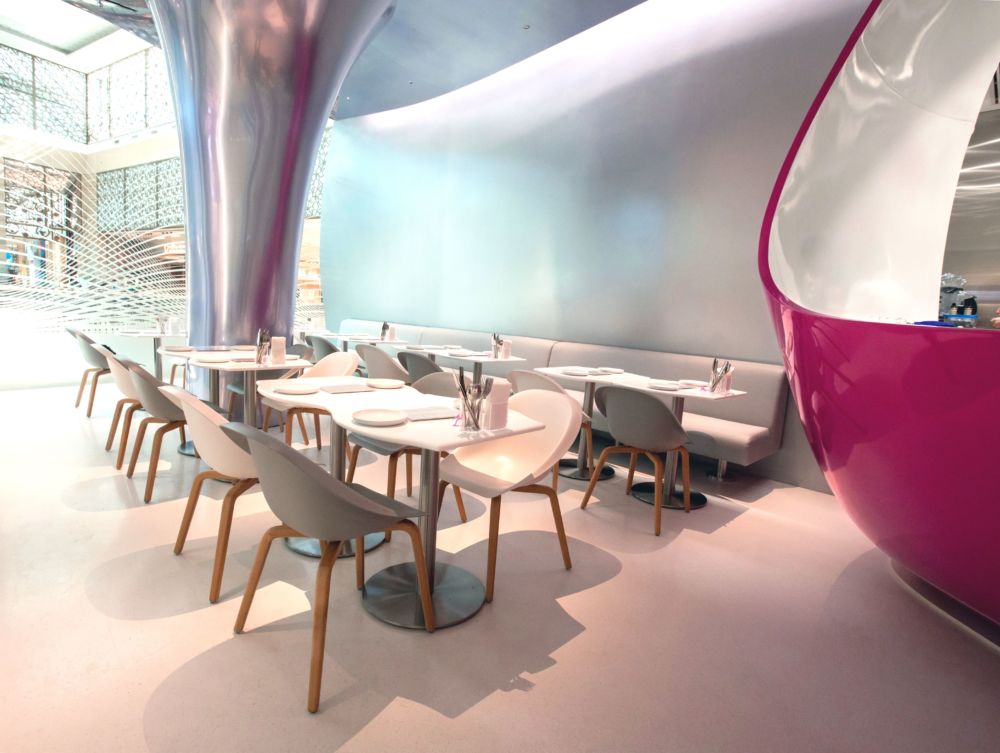 With a modern, futuristic design and an international menu of photogenic and scrumptious fusion dishes the restaurant is an exciting addition to the culinary scene in Dubai and has proved a great success.
Karim Rashid and the team once again collaborated with the Switch Restaurant and Lounge for its new restaurant in Mirdif City Center Dubai. This is Switch's fourth outpost and second Dubai location. The first Switch was completed in 2009 in Dubai Mall, followed by Abu Dhabi in 2017 and Bahrain in 2018, all being designed by Karim Rashid.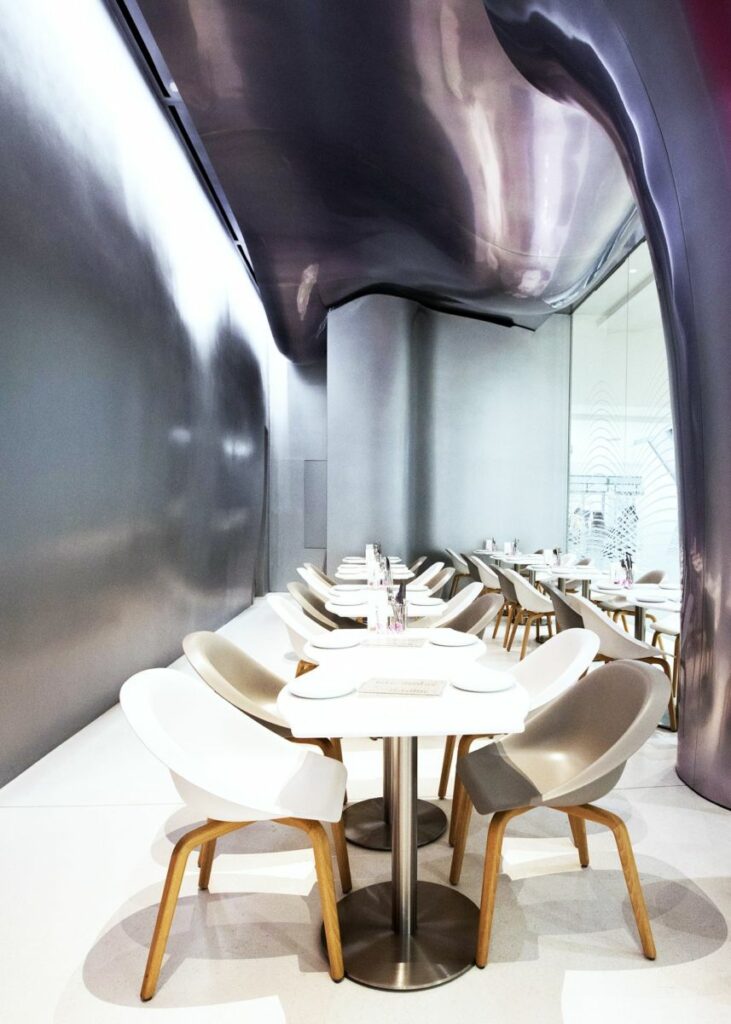 The new Switch Mirdif City Center Dubai creates a space that engages curiosity and delight. It is a soft, organic space, where the walls and ceilings undulate, creating a blend between nature and technology. The enveloping fiberglass surfaces softly diffuse reflections, light, and color to create a dynamic and lively environment that plays with the human senses.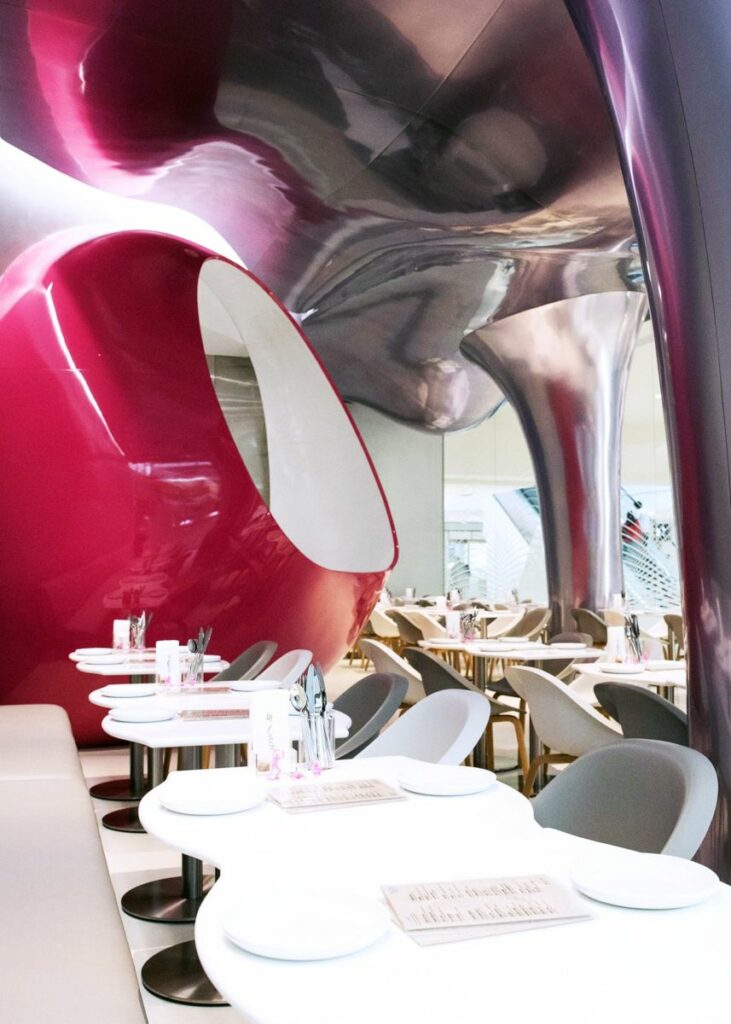 An over-sized display window emerging through the wall, aka The Pink Blob, is the only formal component that orients and anchors the space, acting as a stage to showcase the process behind the restaurant's products.
Full-height, frame-less glass, dissolves the boundaries of the café and emphasizes the feeling of the restaurant being "carved out". The storefront graphics further reinforce the sense of being in a man-made nature.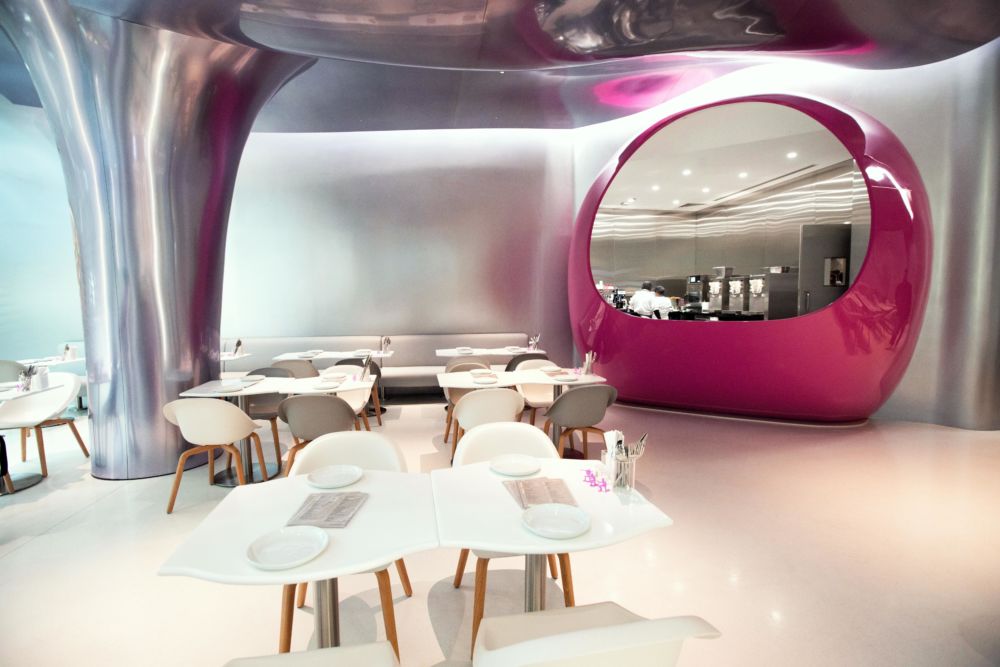 The challenge was that the fiberglass walls/ceilings had to be cast in sections and installed on-site in very tight conditions. Each fiberglass module is gigantic so the storefront had to be installed after the interior.
Coordination with HVAC, lighting, and security was also challenging as the penetrations through the fiberglass panels had to be integrated and part of the fabrication of the fiberglass panels in the shop before arrival to the site.
All Images: Courtesy Karim Rashid Inc.
Contact Details: www.karimrashid.com