Grohe's new Atrio collection
Grohe's new Atrio collection is the icon of elegance and precision, suitable for every bathroom style.
Grohe a global brand for complete bathroom solutions and kitchen fittings has exclusively launched their new Atrio collection, which is a visual metaphor for both, completeness and eternity. Great, lasting design is about the clarity of vision and refinement of aesthetics, paring away all the superfluous elements. Using these principles, the new GROHE Atrio has been created as an icon of elegance and precision. The comprehensive collection of bathroom brassware uses a purity of form that transcends style trends and local fashions, designed for consumers who demand both excellence and individuality and are brave enough not to follow the pack.
From the bold cross handle with subtle H and C markings to the slim cylindrical shape made possible by GROHE's state-of-the-art super-slim cartridge technology, the considered details add up to an object with a reassuring air of design permanence. Crafted with care and hand-assembled, Atrio also meets the highest standards of engineering and performance which it is famous for.
Its sleek, cylindrical form is the same diameter from the base to the top, while the spout itself curves in the perfect arc of a semi-circle, every element complementing each other to create a powerful single visual statement. Precise detailing forms the design both inside and out, with architectural attention paid to achieving balanced proportions and clean intersections.
With Atrio, one can design without restrictions. The collection is available in a choice of three finishes and different size options, offering the adaptability to meet the demands of personal taste that make it suited to every scale of design scheme: Contemporary, classic and cosmopolitan.
Contemporary
Atrio brings the rigor and clarity of the best contemporary architecture right into the heart of the bathroom design. Its superlative ease of use and guaranteed longevity come as standard and which is a joy to use each and every day.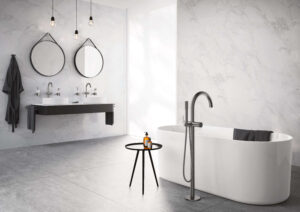 Classic
The handcrafted finish and engineering expertise that goes into every Atrio tap promise to bring a tangible note of luxury to classic schemes.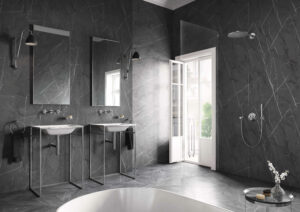 Cosmopolitan
The brand believes that the strongest trends are built to last, and the Atrio collection is defined both by its purity and quality. Based on the simplest, elegant geometric form – the circle, it looks as immaculate and relevant to the scheme as it does today.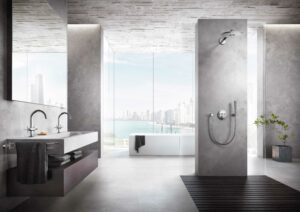 Contact Details: www.grohe.com
(This article was originally produced in The Tiles Of India July-Aug 2019 edition)