Pantone 2021 by Greenlam Industries
It's time to spruce up your homes with a pop of the fresh Pantone 2021 colors, we share some ideas with a new range of laminates, Pantone 2021, by Greenlam Industries. Take a look!
2020 has been revolutionary in many ways, our lifestyle has changed, and everyone has been cocooned inside their homes and spending more time indoors. We all somehow learned to maintain a balance between staying calm and aspirational. Inspired by this phase, Pantone announced 'Illuminating' which is a bright yellow color, and 'Ultimate Gray', together they bring about a sense of composure and resilience. Today, with the maximum time being spent at home, it's important to brighten our nests to be able to rise and shine. As we constantly crave an encouraging and positive space around us, it is a good idea to add these colors for a fresh new look!
Work Station
While offices usually remind you of boring tiny cubicles, working from home has given you an opportunity to state your style using all your creativity. Also, the coming year will see work from home continue to be a part of our lives for a few more months. To make this more interesting we can liven up the workspace with some infusion of these two brilliant colors. You could go for a study table and chair in the refreshing yellow shade 'Illuminating' and pair it with a book stand or case in the earthy shade of 'Ultimate Gray'. An instant fresh and new look!
To make this natural look in sync with other interior elements, go for light brown wooden flooring options. For instance, this Oak Topaz from Mikasa Floors will seamlessly blend with your color scheme. Moreover, Mikasa Floors are composed of three stability providing layers – real hardwood, a stabilizing core, and a balancing layer, you don't have to worry about climate change. To finish this look and give it a touch of style, add a photo frame, a white lamp, and a bamboo colored pen holder and you are good to go! This will help to boost your energy levels and make you more productive.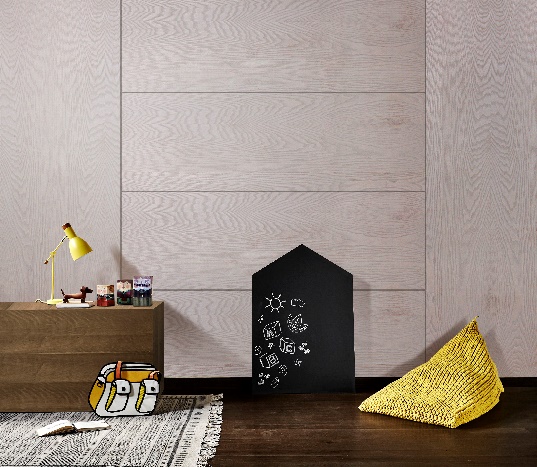 Into the Closet!
 Our closets are the start of our days! A bright, optimistic yet strong combination in this space will give you the energy and enthusiasm to start the day on a good note! Here you could choose to laminate your wall panels with the soothing essence of light grey shade giving it a very grounded look, you could pick grey color laminate decors from Greenlam Laminates which offers a safeguard plus technology with health & hygiene features – antivirus, antibacterial, an antifungal that retard and kill up to 99.99%* of viruses and bacteria which come in contact with the surface.
Greenlam Laminates are the world's first COVID-19 resistant laminates proven effective against SARS-CoV-2 (COVID-19 virus) with 99%* efficacy in 30minutes of exposure to the laminate surface so that you and your family can stay stress-free and healthy. As you will go about showcasing your clothes and other precious collections, make some room for a seating arrangement in one corner. Here, you can use a bright yellow throw along with some flowers by the side to make it look effortlessly flamboyant.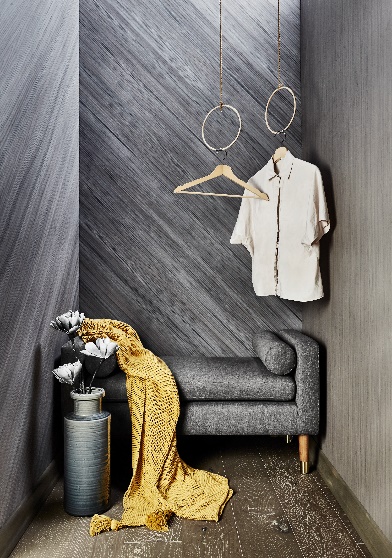 Children's Room
Now that kids are bound to stay at home for a longer time, make their space more fun, cheerful, and lively. Kids should have space where they can have their play dates, study, or even just scribble! This space should be designed like a blank canvas where your child can explore themselves freely and feel upbeat to match their energy levels. For the walls, opt for natural veneers from the extensive range of Decowood Veneers whose neutral light shades are perfect for distinguishing other vibrant colors in your space. Since these veneers are easy to maintain and durable, you don't have to worry about the wear and tear of your walls.
Adding 2021's Pantone shade- 'Illuminating'- a bright yellow, will add a positive element in the room. So, you can add this shade in smaller elements like cushions and lamps to give a fun look to this space. Place a soft and warm rug in the Pantone shade 'Ultimate Gray' so that your child too feels the encouragement and steadiness of this shade. Go for wood pattern laminates in the natural light brown shade for keeping all the toys and other hobby stuff arranged in one place. Trust us, this fun and frolic space will make your child go super happy!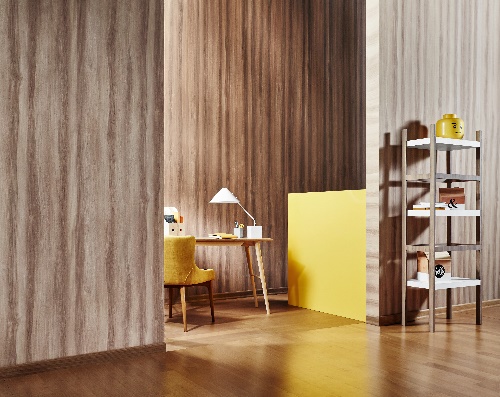 So bring in the cheer of the New Year by adding some fresh bursts of Pantone 2021 colors to spread hope and good vibes that are essential to the human spirit.