Luxury and Designer Furniture Pieces By BOCA DO LOBO in Dash of Gold
BOCA DO LOBO furniture is an exclusive emotional experience, a sense of belonging, and a state of mind. We strive to encourage sensational experiences by creating beautiful pieces which are passionately inspired and handcrafted in Portugal by a staff that loves what they do; experiences which pass on the feeling of exclusivity. Our designers possess an undeniable talent for composing pieces that stir emotion in their admirers. Our artisan's wisdom, accumulated from years of experience, is instilled with love and dedication in the art that they perform. No detail or element is overlooked as we offer the best at the frontier between design and art. Each piece will bring you on a journey to sources of pleasure you may have forgotten, and take you to places you have never been before.
These designer pieces are true selector for your ultimate decor for this festival Christmas:
Empire Center Table: The Empire Center Table is to find itself in the very heart of the most memorable of events and celebrations. It begs meaningful conversation and years of toasts, symbolizing the union of friendship and the celebration of life. Designed and built to make an impression and deliver an unmatched experience, this exquisite piece will add a breathtaking touch of elegance and glamour to your luxury living room.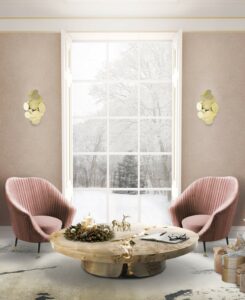 Filigree Mirror: The Filigree Mirror resorts to one of the oldest jewelry making techniques known. Completely handcrafted, with each brass cord fitted with precision, the Filigree Mirror flourishes in a shape traditional to Portuguese culture and art. A true work of art, this luxurious mirror plays tribute to Boca do Lobo's core values heritage and craftsmanship.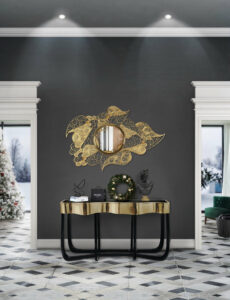 Cubic Sconces Big: Minimal Maximalism is the reflection of a harmonious symbiosis between different concepts of beauty, styles, and inspirations. The designs come to be eclectic but also Minimal; bold but always elegant; gold but with simpler traces. Thanks to these three new visions of Minimal Maximalism, Cubic Sconces emerge as a tribute to the new style in vogue: the minimalism grace of the design allied to the Maximalism strength of the material and foundry technique used will surely be the right choice for any kind of project or room.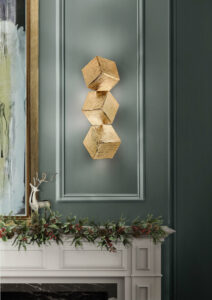 Contact Details: www.bocadolobo.com