8 Best Tiles for Kitchen Backsplash
Kitchen is the most versatile and active area in the house. Today modular or open kitchens are becoming popular, with more and more people choosing elegant and stylish kitchen décor ideas. Tiling the kitchen backsplash is a smart thing to do as it is easy to maintain and clean and is very much in trend. While quarry, ceramic, and porcelain can be used for counters and floors, glass tile is commonly reserved for walls and backsplashes. But today, tiles are available in different materials that effortlessly add colors, texture, patterns and give a distinct look to the décor of the kitchen. It is essential to go with tiles that complement the color and finish of the kitchen cabinets, the countertop as well as kitchen flooring. We give you the 8 Best Tiles for Kitchen Backsplashes which are easy to find and will also make your job easy, at the same time giving the best look to your kitchen that you will love! Also, check out Tiles for Stylish Kitchen which will make your overall kitchen look more stylish! https://www.thetilesofindia.com/tips/tiles-for-stylish-kitchen/
1. Glass Mosaic
Glass mosaic does wonder when applied on the kitchen backsplash. They are easy to maintain and also install. There are also glass mosaic sheets available in various sizes. They come in various colors and designs. One can easily remove and stick them on the wall. They can also be removed easily without any damage to the wall area. They are translucent, non-porous, and highly resistant to mold or mildew and give a modern look to the kitchen.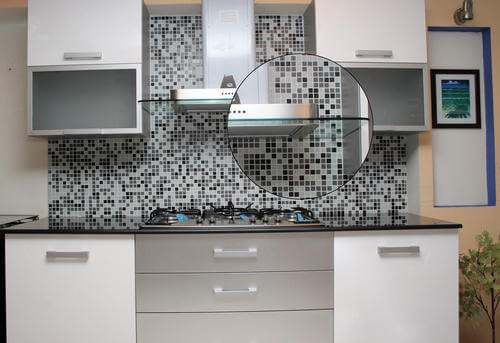 2. Porcelain and Ceramic
Porcelain and ceramic tiles are stain-resistant, affordable, and are available in a plethora of colors, patterns, shapes, and textures. They are available in different types such as natural or metal looks and are also available as 3D patterned tiles that give a decorative look and add depth to the kitchen decor. The major difference between porcelain and ceramic tiles is that porcelain tiles are dense and highly durable while ceramic tiles are comparatively fragile and may crack when subjected to pressure. It is advisable to choose large tiles so that there are lesser grout lines to clean and maintain.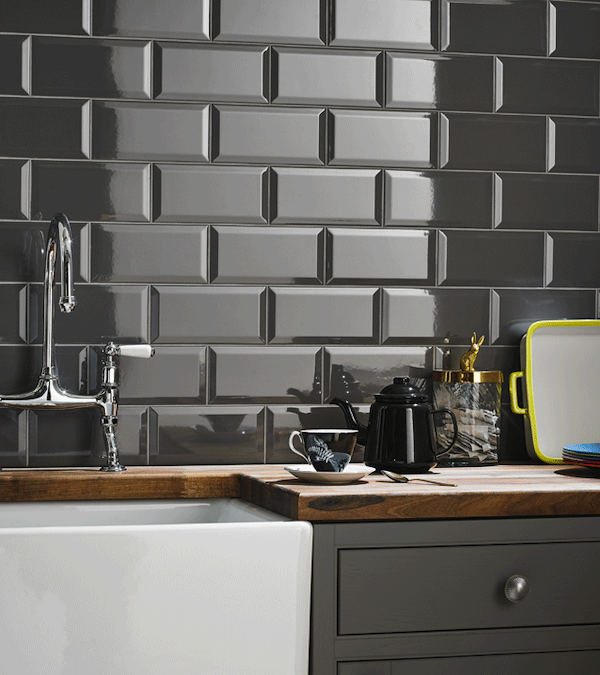 3. Marble Look-a-like
Marble look tiles are very classy and can be used on the kitchen countertops as well as a kitchen backsplash. They enhance the look of the kitchen and are very easy to clean. You can match your kitchen countertops and kitchen backsplash by using the same product in both areas. It will give a very elegant look to your whole kitchen. There are many prints available in these tiles, that have real veins of marble printed on the tiles. They normally are available in large sizes, so they are easy to install also.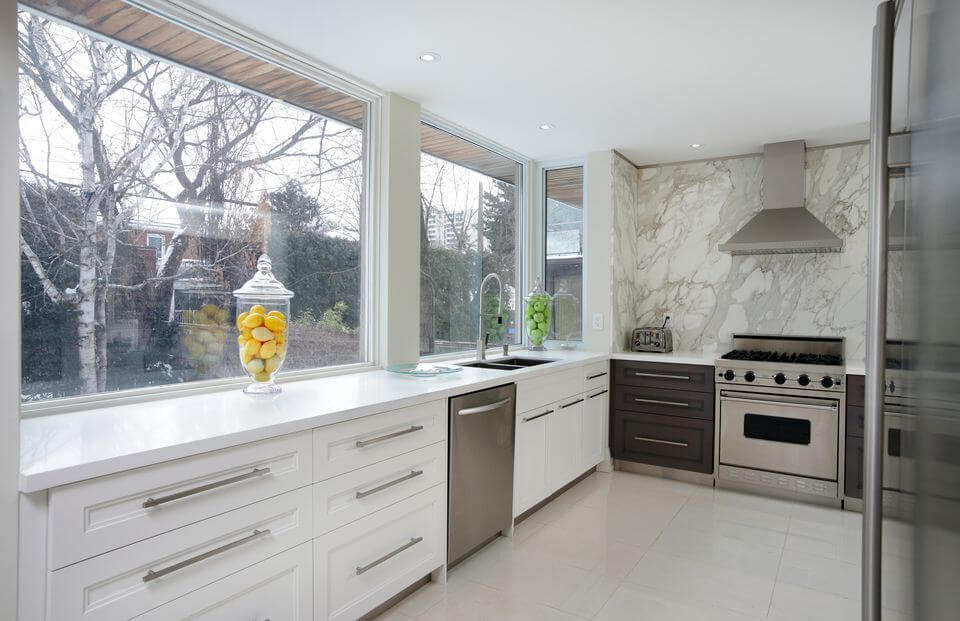 4. Natural Stone
Infuse an element of warmth to the kitchen with natural stone tiles that are cut to a specific size. Natural stone materials like limestone, slate, granite, and travertine come in natural grain patterns that give the tiles a unique look. It is important to seal these tiles periodically because they are highly porous and prone to catching stains.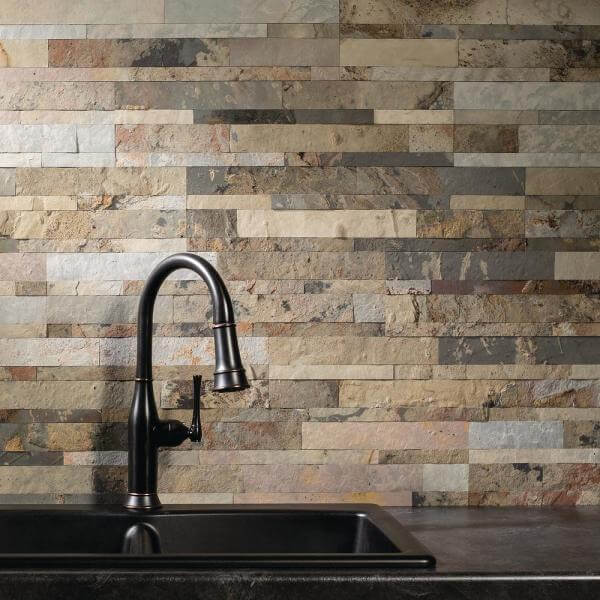 5. Cement
Cement tiles are traditional, handmade tiles that feature bold, traditional patterns that infuse an artistic touch to the kitchen. However, cement tiles are thick, heavy, and should be periodically sealed to make them resistant to moisture and stains.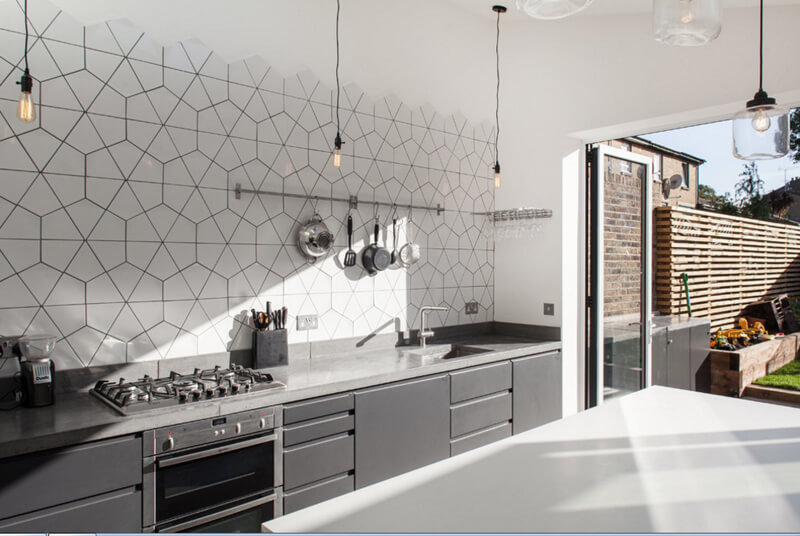 6. Hybrid
Hybrid mosaic tile is a combination of different materials like glass and natural stone, or porcelain and glass, or even a mixture of all three. Relatively new, these backsplash tiles are designed to get the best of both worlds. One can get both look easily with the timeless beauty of stone and the impact of the glass pieces when applied on kitchen backsplash. These are getting increasingly popular because they are so flexible.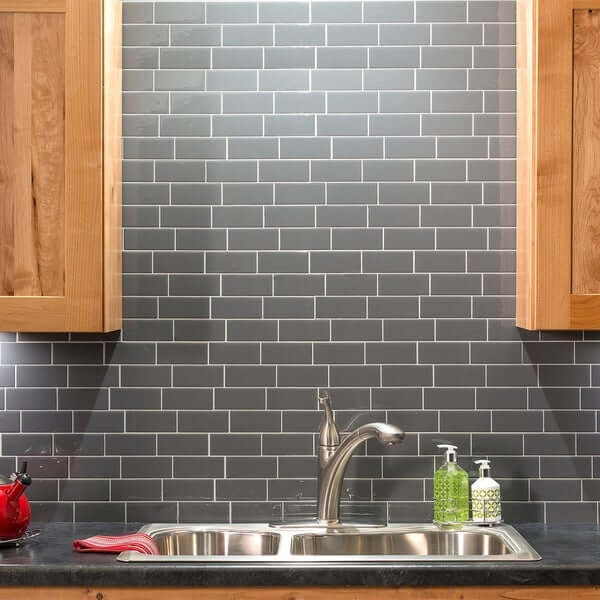 7. Metal Tiles
Metal tiles add an industrial look to your kitchen and are bold and minimalistic. Metal tiles are expensive as compared to other ceramic or porcelain tiles. They are waterproof and are available in matte and gloss finishes. Note that matte finish tiles are preferred over gloss finish tiles because the glossy tiles show scratches, grease, and fingerprints easily and require extra cleaning. Metal tiles are available in various shades like brass, copper, and SS (stainless steel).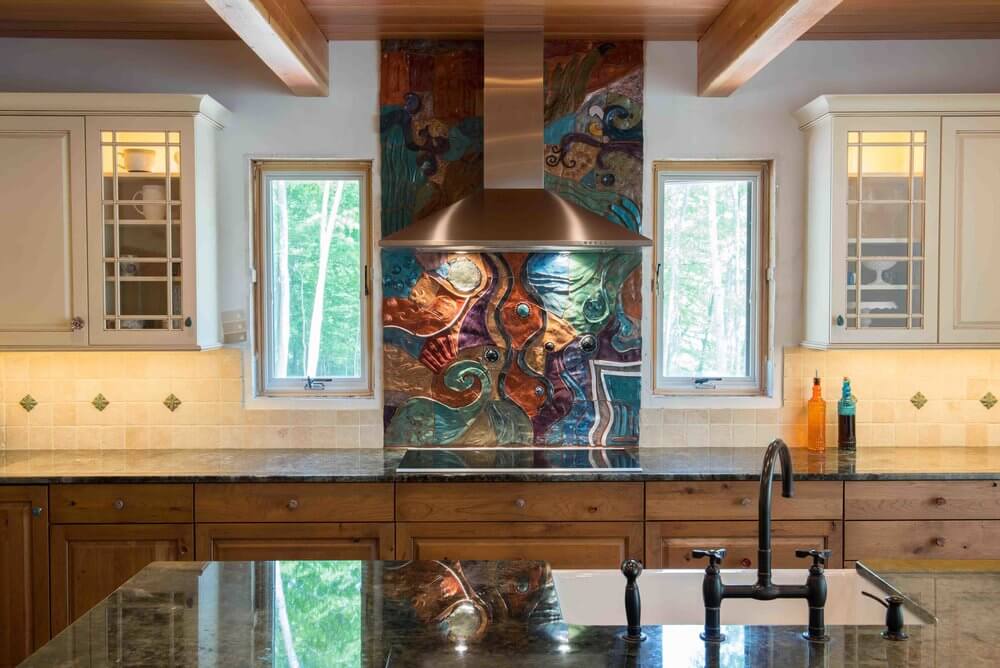 8. Wood
Now this will be a surprise for most of you, but yes, wood can make a beautiful kitchen backsplash material. With the appropriate sealing, wood can be a great addition to any kitchen, particularly a nautical or rustic kitchen design. The unique natural grains and textures of wood provide a nice backdrop to the home cooking environment.