Enliven your home with monsoon perfect themes and decorate your hidden nooks with the hues of monsoon and make your home a place that you always wished you have! Happy and vibrant monsoons to all!
If you simply enjoy this aromatic weather cloaked in the coziness and comfort of your home, then look out for these décor trends to make your home monsoon ready!
Breezy Blues
The secret to calm and serene bedroom lies within the neutral shades of blue, white and gray, teamed-up with minimal décor pieces. Break the monotony of your walls with the Classic Marble Laminate from New Mika that complements the new-age furnishings. To give it a perfect edge, pair it with darker tints of brown and play around with textures fostering its bold charm.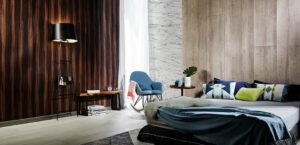 A Picturesque space
Minimalism has been a growing trend in the décor industry with white and minimalist kitchen continuing to rule this space. Incorporate small pendant lighting fixtures, statement chairs and seamless cabinets, that evoke a contemporary yet sophisticated appeal to the space. To make your kitchen look aesthetically chic, avoid cluttering your space with multiple kitchen appliances.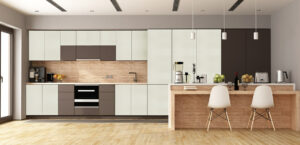 A chemistry of cabinets
Classic wooden furniture never goes out of vogue, instead with each passing year it brings in different design perspective.Making it to the top furnishing trends, seamless cabinets and shelves are all the rage this season and are an easy way to upgrade the design of any blank wall.
Further accessorize your space with a vibrant modern chair and knit couches to create a vintage aura. A pro-tip for the upkeep of your wooden furniture upholstery from monsoon is to look for anti-bacterial and steam resistant coatings.