8 Best Tile Applications
Tiles are one of the most versatile elements that can be incorporated in any exterior or interior design plan. They are easy to clean and maintain, look beautiful, and age well. They are available in a plethora of sizes, colors, textures, and different materials. There is a huge array to choose from which includes ceramic tiles, porcelain / vitrified tiles, mosaic tiles, cement tiles, natural stone tiles, and ultra-luxury bespoke tiles engraved with semi-precious stones, glass, and metal among others. An important thing to note here is that in India porcelain tiles are called vitrified tiles and these tiles are gaining traction with over 200% increase in laying in 2019-2020 compared to the previous year.
Here are the best 8 Tile Applications
1. Flooring
Flooring is known to be the most important area in any space so choosing the right type of tile is important for the floor surface. The most significant application areas are the floors. Whether your tastes run to stone or wood lookalikes, colorful penny tiles, or lattice-patterned squares, you're likely to pick among the offerings of ceramic and porcelain tile. Whether it's ceramic, vitrified, or other types of tiles, there are many options available today in floor tiles for internal and exterior use.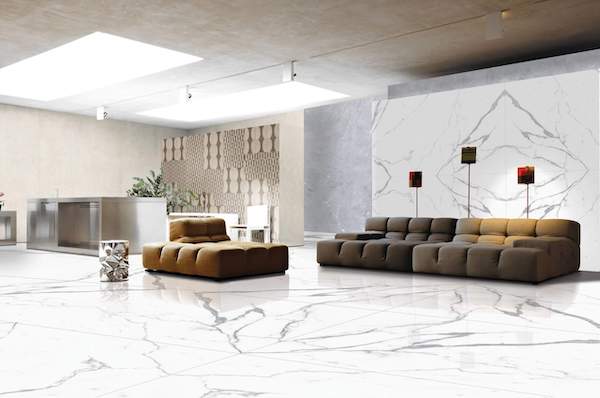 (Image Courtesy: AGL- Calacatta Mirror – Grestek MarbleX- Floor Tile)
2. Walls
Tiles are widely used on interior walls and exterior walls. They can immediately enhance the look and feel of your interior space. They can be used as wall highlighter for your living room or to add pop up colors to the children's bedroom or provide a soothing effect to your master bedroom. Tiles have become an ideal choice for interior designers. They are also highly preferred for external wall cladding as they are easy to clean and do not absorb heat.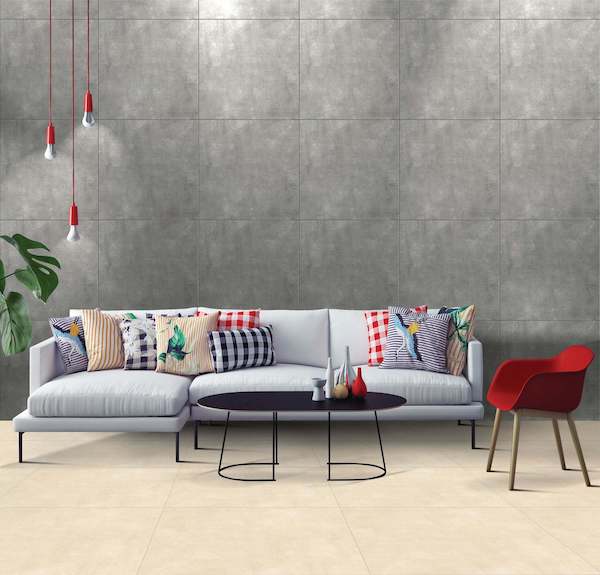 (Image Courtesy: AGL- Frotar Grey – Wall Tile)
3. Kitchen Countertops
Kitchen countertops are way more popular now-a-days, as it symbolizes a lifestyle product. Tile on kitchen countertops has become trendy. They come coated with a glaze, making them water and stain-resistant, and can be cleaned very easily with minimal effort.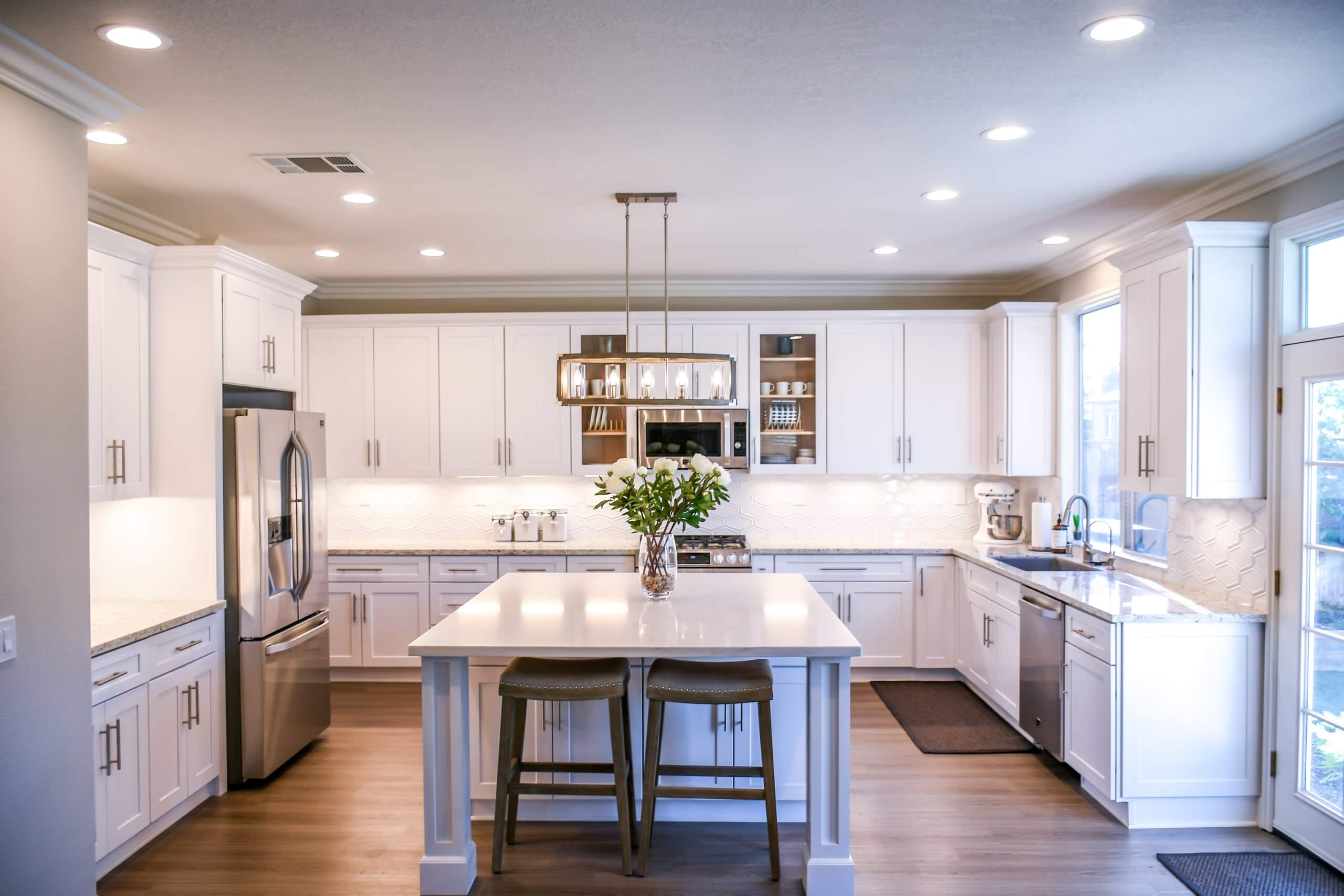 (Image Courtesy: Mark McCammon from Pexels)
4. Bathroom
Tiles on bathroom walls and floors are very popular because of the sheer variety of available textures, anti gloss property, and germ-free technology. It is one of the most cost-friendly options when it comes to the application as they come with various advantages such as stain and water resistance, easy application, easy to clean, a wide range of colors, shapes, and textures. A major factor is a slip-resistant quality, making them the top choice for these areas as they can prevent falls.
Bathroom floor tiles are available in a large number of materials. Ceramic, porcelain, and vinyl tiles are some of the most practical options. Newer options in stone, cork, etc keep coming and it might make good sense to check these too. Various options in vitrified tiles are also available such as stone or wood look-a-likes which provide a more durable alternative to either. Mosaic tiles are also often used for bathroom floors and walls as they are now hugely fashionable in bathrooms. They can be made with a number of different tiling materials, including ceramic, marble, and glass.
The tiles are tiny in size, and they can be pieced together to create fascinating effects and designs in a wide variety of colors and patterns. Because of its small size, numerous grout lines are created during the installation of mosaic tiles, which gives an anti-skid floor surface. Glass mosaic is the easiest way to add pop-up colors, shine and shape to your shower backsplash. You can create a stripe, a framed accent, or a full wall with a glass mosaic, matching your floors. Contrasting both the color and shape of your shower tile is a great idea. The best part about mosaic tiles is that they can be mixed and matched to create beautiful flooring and wall patterns.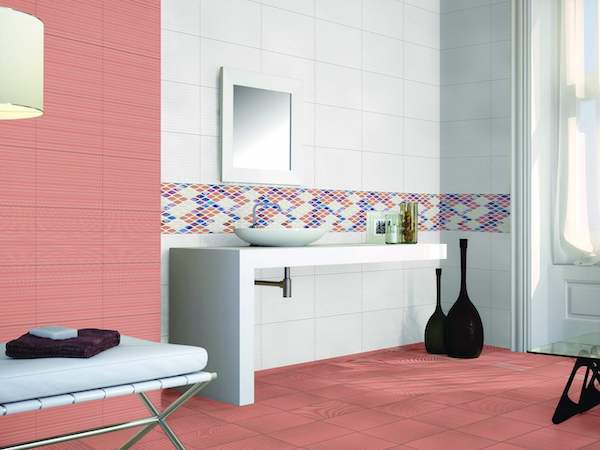 (Image Courtesy: Orient Bell- Duazzle tiles- Pink New)
5. Kitchen Backsplash
The trend of open kitchen and countertop table has made the kitchen the most prime area. Kitchen backsplash tiles have recently seen much experimentation and this is an area where you can go bold! Things to keep in mind are – choosing products that are scratch-resistant and convenient to clean. The best option for this area is ceramic/porcelain tile because of its easy adaptability, least tendency to catch streaks, and ease of cleaning. Glass and natural stone are the next best choices.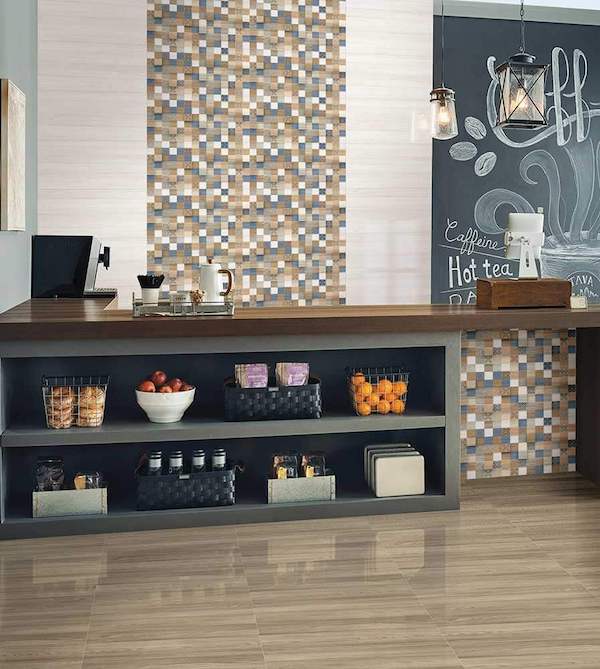 (Image courtesy: Kajaria Ceramics)
6. Exterior Patio
Tiles for exterior patios are a perfect choice as they provide texture, are anti-skid, effortless to clean and maintain. They keep the place looking new for a longer period of time. There is wide experimentation that can be done here, with innovative applications for outdoor sit-out areas, outdoor terrace, near parking areas, balconies, driveways, and swimming pool areas. You can mix and match and let your creative juices flow, choosing from patterns to geometrics and art, it's a beautiful world to explore!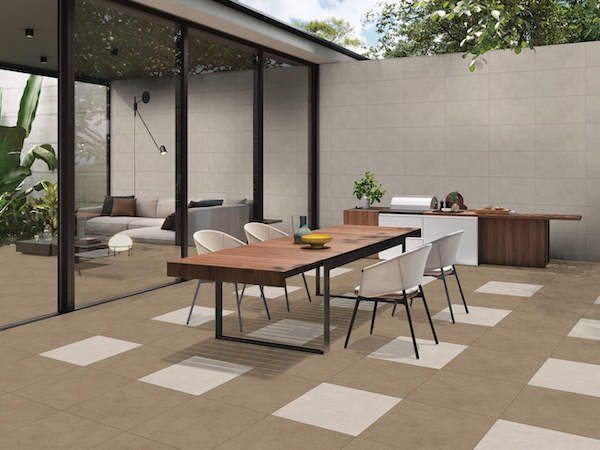 (Image courtesy: Orient Bell- Inspire series- DGVT Cemento Grey)
7. Walkways, Patios, and Wet Areas
Tiles are highly recommended for walkways and the outdoors. They are used on the exterior footpaths. They are heat resistant and are made with high-grade raw materials for long term use. Tiles on walkways are popularly used because of their anti-skid properties.
Porcelain tile is a denser and stronger form of ceramic and is good for patio applications. Just remember to choose tiles that have a textured surface, without a high gloss to ensure that they don't become slippery when wet. Quarry tiles are also a good choice as they offer strength and function very well as paving material too. They come in limited colors but offer a Mediterranean look which is beautiful to look at. They are resistant to water but stain easily. Slate is also preferred for outdoors because of its durability, strength, and water-resistant capacities.
Granite is a high-end, premium paving material. But it tends to get slippery when moist and is more porous, thus requiring frequent seals to prevent staining and water penetration. Interlocking Plastic Tiles are a new entry into this area with fall resistance, anti-slip, and easy installation for DIYers. Not a very elegant choice but highly utilitarian. They are easy to remove, durable, and are perforated to let the water drain through. Rubber is also another easy choice and can use for sport and play areas, they are similar to plastic tiles, easy to install, durable, and are also a good choice around wet areas such as pools.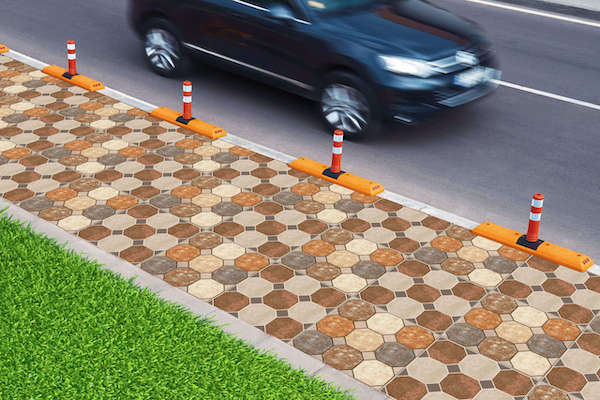 (Image Courtesy: Orient Bell- Timeless series)
8. DIY and Interior Decor
You can use tiles with easy DIY in your decor. Tiles on tabletops in the living room, dining tabletops, wall highlighters, and various decor items are highly popular and can give your space a creative and fashionable look. Tile table tops are also popular in restaurants, cafes, and at different commercial places. Ultra-luxury bespoke tiles are engraved with different materials like semi-precious stones, metal, etc can also be used to give a special look to your space.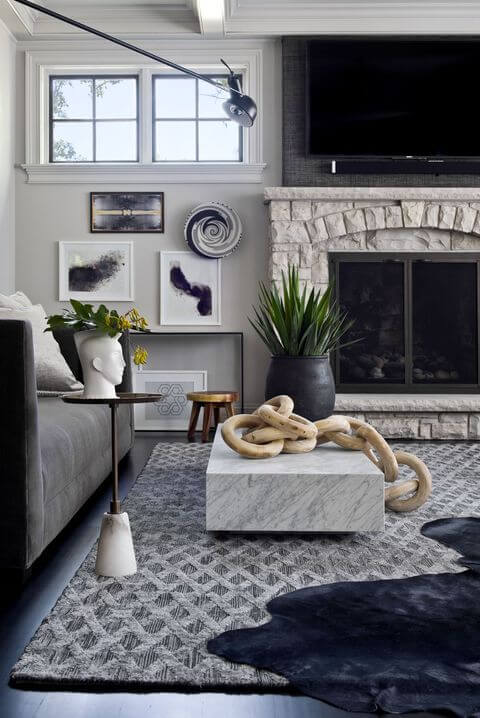 (Image Courtesy: Pinterest: elledecor.com)