Ceramic Surface Trends
Ceramic is a historic material that has been used for function as well as a decoration for centuries. It is an intrinsic part of everyday life that has stood the test of time. Italian ceramics bring generations of craftsmanship and creativity into conversation with the needs of modern-day – from exterior cladding and air-purifying tiles to design-forward porcelains for indoor-outdoor transitions and kitchen countertops.
It has seen a tremendous changing trend in surface and we look upon some latest styles in the surface.
Wood-look ceramic
Surfaces likewise take on the same variations in colour. Inspired by a return to woodworking as a noble form of art and craftsmanship, they come in the contemporary pale tones of caramel, honey and raw oak as well as the darker classic shades of chestnut and walnut.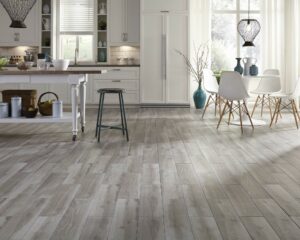 Large-size slabs
It reflects the sheer power of the material, available in 6 mm thick panels with side lengths of up to 3 metres or more and extra-thick versions (2 cm and 3 cm) that guarantee the maximum reliability for indoor and outdoor applications.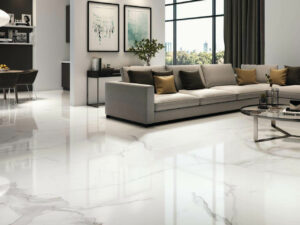 Concrete-effect tiles
Today's ceramic products dialogue with the world of architecture. Concrete-effect tiles, in particular, are highly innovative solutions that stand out for their perfectly silky, monochromatic surfaces and pleasant, uniform touch, ideal for spaces embracing a metropolitan look.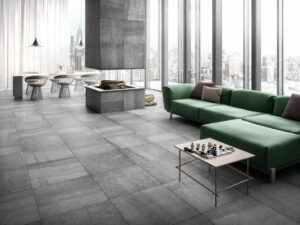 Terrazzo
Finally, ceramic draws from tradition in its reinterpretation of terrazzo and agglomerate tiles with their precious stone and mineral inclusions, their glittering, sandy speckles on cementitious bases. The retro-style lends a timeless atmosphere to even the most contemporary spaces.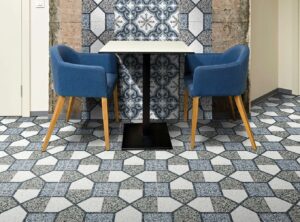 Marble-effect
One of the most enduring and fashionable of all ceramic trends, these ones continue to undergo aesthetic research in a quest for elegance and harmony in large spaces. They stand out for their astonishing graphic realism and attention to detail in terms of colours, veins, fossil inclusions and crystal fragments. From the classic statuario through to arabesque, breccia and black, they are transformed into precious stones such as geodes, onyx, alabasters and agates.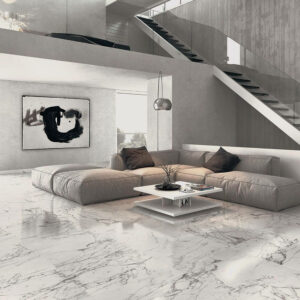 Popular Patterns in Tiles
We saw a wealth of circle and dot patterns in a magical celebration of Italian tradition and creativity, decorative elements in solid colours or on raw concrete slabs, multicoloured pointillist-style watercolours, and accent pieces that offer a contemporary reinterpretation of vintage cement tiles. The circle merges with other geometries, disintegrating in a play of shapes and breaking up into ever-smaller irregular fragments to create a sense of movement on light or dark coloured walls, lending the utmost originality to any ceramic surface.