Ceramic Floor Tiles Collections 2020
'Home is where the heart is,' this famous proverb is an emotional bond and an extension between home and person's personal space. This year, many brands have come up with several ceramic floor tiles collections 2020 which will make it easy for one to make the right choice and will state the ceramic tile market.
Ceramics tiles are considered to be the most modern product of today's time which can help to make any space luxurious. They are applied to various areas of floor, walls, roofs, kitchen, bathrooms, exterior or claddings, outdoor walkways, parking, etc. With ceramics, it's now possible to divulge a glossy and fashionable vibe to any space having numerous designs, colours, shapes and textures, making them popular over the years. Ceramic floor tiles are considered a significant application in your décor. While decorating or renovating the house, it is important to make sure your flooring surface is durable, attractive and most importantly fulfill your expectations.
Here we bring to you some of the most popular and trendy ceramic floor tiles collections of 2020.
 Decorative floor tiles
Decorative floor tiles which are latest in trends come with a mix of decorative patterns, geometric designs and efflorescent motifs. These tiles can be widely applied to bathroom and kitchen floor areas also and are available in various sizes. Its geometric patterns, vibrant colours and captivating patchwork design are the USP of these tiles which have made them popular and trendy in 2020. The similar tiles which are very popular and are in trends are Moroccan tiles by Somany Ceramics from its Duragres brand.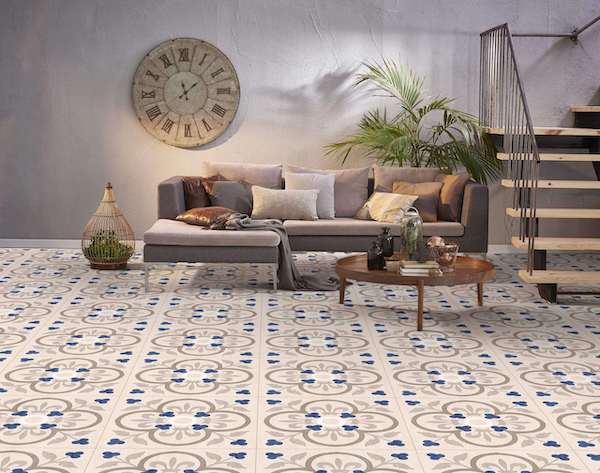 (Image Courtesy: Somany Ceramics)
Heavy duty outdoor floor tiles
These floor tiles can be used for all internal and external spaces that are exposed to high load and everyday traffic such as terraces, seatout areas, balcony, roof sunbathing areas, veranda, seaside, beach, swimming pools, sidewalk, airport, metros, train stations, industrial buildings, parking lots, underpasses, villa gardens, educational buildings etc.
Maintaining all the vital parameters such as surface hardness, water absorption, breaking strength, load bearing capacity, etc., they are a flawless blend of elegance and durability.  The main features of these outdoor flooring tiles are that they are skid resistance, highly UV resistance and resistant to scratches.  Many leading Indian ceramic brands like Kajaria ceramics have launched these tiles, this year.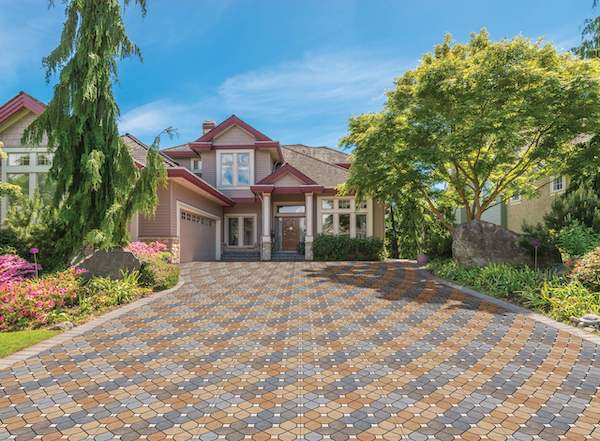 (Image Courtesy: Kajaria Ceramics)
 Stoneware floor tiles
Full Body Stoneware tiles which are a blend of functionality and aesthetics Sintered Stoneware. These tiles offer stone-like strength and durability while maintaining the grandeur of colours and aesthetic finish. They are highly resilient to wear, unalterable due to weather and tough working condition. These tiles do not demand extra care and maintenance. They eliminate disadvantages of other artificial stone materials such as Granite, Quartz and are safe and eco-friendly. These tiles are normally available in sizes of 1000 x 3000 and 1200 x 1200 and thickness of (15mm and 12mm) and (9mm) respectively.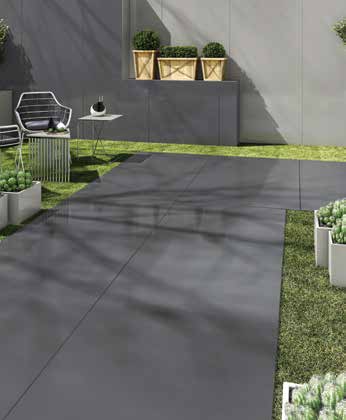 (Image Courtesy: Qutone Ceramic)
Natural look floor tiles
Natural look-a-like tiles are sure to keep the magic of nature alive in every sense.  These unique tiles are aesthetically superior to its contemporaries and promises to fulfill the functional requirements of any intensive project design. They are available in various stunning designs, sizes and thicknesses. Mostly considered for interior and exterior of residential spaces, one can surely look and feel the natural vibe in them and are very long lasting.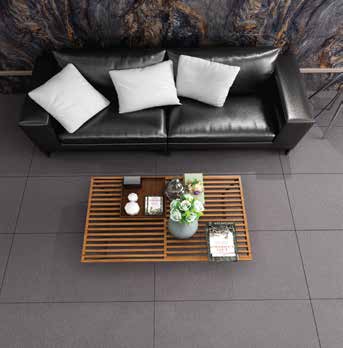 (Image Courtesy: RAK Ceramics)