How to Install Mosaic Tiles
Mosaic tiles are very popular and highly useable tiles for decorating houses. Whether using it on the floors, walls, kitchen backsplash, countertops, bathroom walls, they come in great varieties and made out of different materials, be it ceramics tiles, porcelain, vitrified, or glass, they create an intricate design effect that lends a look of luxury in any room. We will show you how to install mosaic tiles in three basic steps: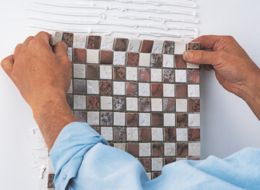 1. Apply Mosaic Tile Adhesive
Start by spreading mosaic tile adhesive onto your wall with a notched spreader. Then place a panel of tiles onto the adhesive and press evenly across the surface with spread fingers. You'll need to work accurately because once the backing paper or mesh is moistened by the adhesive, it dissolves. This makes the panel very difficult to adjust.
2. Resizing the Mosaic Tile Sheet
If you need to make a panel smaller, you can either use a craft knife to cut between two rows of tiles, or tile nibblers to cut them. There's no need to score them first.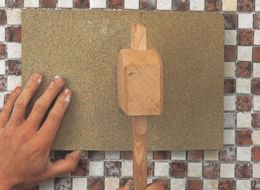 3. Apply Mosaic Tiles & Hold It with the Scrap Board
Hold a piece of scrap board over the tiles while the adhesive is wet, and tap this lightly with a wooden mallet. This will give the tiles a flat, even finish.
So go ahead, style your space, and rediscover your own home in a totally new light!
Also, Do check out Tips for laying Tiles for a Flawless Look: https://www.thetilesofindia.com/tips/tips-for-laying-tiles-for-a-flawless-look/

Did you like reading this article? We are sure you will enjoy reading the below article as well.